"We're MINT to be, you and I", he said to me.  "I've waited my whole life to meet a baker like you.  I know that together with that boxy fellow right over there, you and I will create beautiful and magical memories for all who come across our paths."
He was right.  He, of course, was Andes mint pieces.  And the boxy fellow was a cake mix.  You see, it only takes 4 ingredients (okay, 5 if you count each egg separately, but who does that?!) to make these cake mix cookies.  They're chocolate-y. They're mint-y.  They're cake mix-y.  Actually, you don't really notice that it's a cake mix cookie.  The refreshing "Ahhh!" that the mint pieces provide are all you're really focusing on.
In fact, these would be good cookies to take on a date.  If you run out of breath mints at a key moment (say just before a goodnight kiss), pop one of these bad boys in your mouth.  One of two things will happen: Your breath will be perfectly minty and chocolatey OR your mouth will be occupied eating these, discouraging any kiss.  I guess it depends on whether you want that kiss to happen or not.  I'll leave that up to you to decide!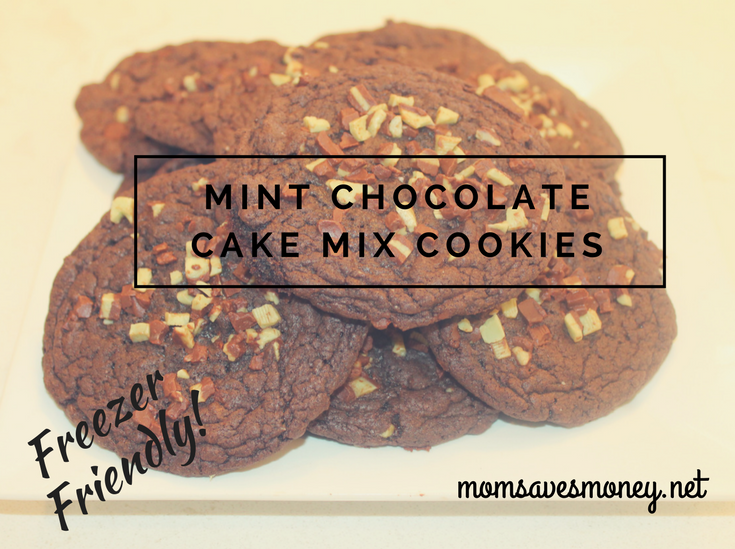 Mint Chocolate Cake Mix Cookies
Take a boxed cake mix to the next level with these cookies!
Ingredients
1

chocolate cake mix (just the box)

1/2

cup

vegetable oil

2

eggs

1/2

cup

Andes mint pieces (plus more)
Instructions
Preheat the oven to 350ºF.

Mix together the cake mix, vegetable oil, and eggs until mixed.

Stir in Andes mint pieces.

Form the dough into balls and place on a greased cookie sheet.

(Optional) Place more mint pieces on top of the cookies. It'll make for prettier cookies!

Bake for about 10 minutes.

Let sit a bit before removing to a cooling rack. If topped with additional mint pieces, let completely cool before stacking- the chocolate will be soft!
Recipe Notes
To freeze:
To freeze before baking: Place cookies a cookie sheet, close together. Freeze for a few hours. Place in a freezer-safe container like a baggie. When ready to bake, bake at 350 for about 12-14 minutes.
To freeze after baking: Let cookies cool, then place in freezer-safe container. These are delicious just slightly thawed
Jayme is a wife to 1 and a mother to four little boys. She coupons, price matches and meal plans. While she likes to cook, she's in the stage of life where simple is usually better – she never knows how many hands she'll have free at dinner time! You can find her at No Regrets Living.