My husband loves me for many reasons, I'm sure.  There's my awesome 'Setting up a budget in Excel' skills.  And my White Chocolate & Butterscotch Cookies.  And my 'Drive the Kids to Preschool' talent.  And my Peanut Butter & Chocolate Chip Cookie Bars.  But there's also my willingness to go to a famous ice cream place and pick up some dairy delightfulness.  You might know the shop as Dairy Queen.
While we have a discount card that makes it cheaper to go there, the price can still add up.  So that's when I came up with the idea to make a homemade version.  It might not be as fancy as theirs.  It might not have all the same combination of ingredients that their store offers.  But it's as customizable as you want it to be.
Call 'em what you want, but I call them "Snowstorm" desserts.  It just seems logical to call them that.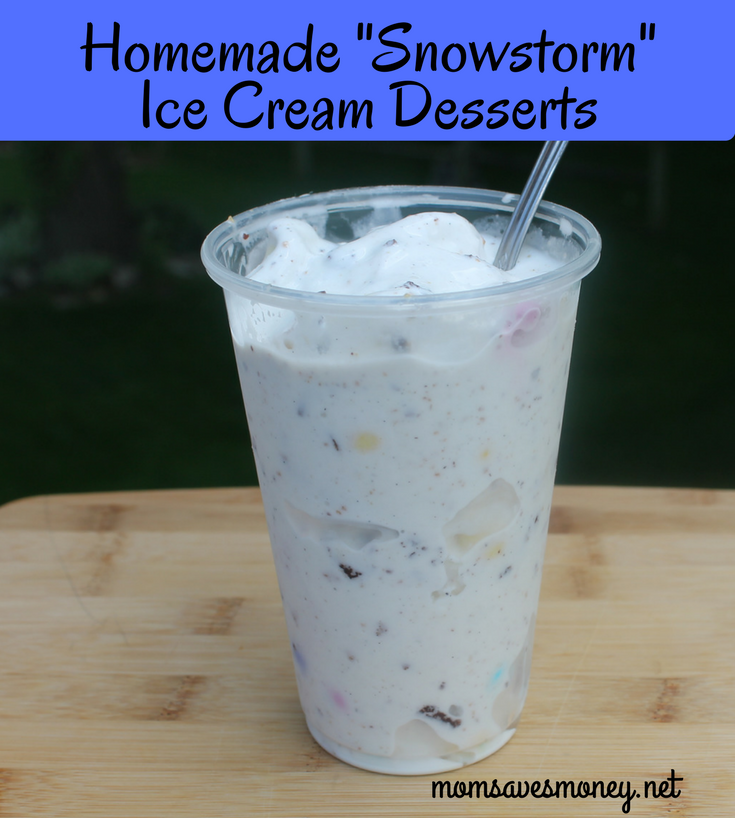 First: When to serve these?
You can use them to celebrate ANYTHING! Make these for:
A lot of snow (called a snowstorm?!) causing school to be canceled
Birthday parties
A job promotion celebration
An A on a test
The first (or last) day of school
Successfully getting off the PTA committee
Learning to ride a bike
Ace-ing a big presentation at work
Hitting the gym enough times
Whatever the reason is, celebrate the everyday special moments of life with this awesome dessert!
Second: What to put in them?
My husband likes a lot of chocolate in his, so for this one, I cut up a couple of brownies (I almost always have some stored in the freezer!), added M&Ms and chopped up some Reese's Peanut Butter Cups.  But you can do whatever you can get your hands on.  Some popular combinations:
Anything candy – Heath bars, M&Ms, Reeses Pieces, Snickers
Brownie pieces
Ice cream toppings – caramel, fudge, butterscotch, sprinkles, chocolate chips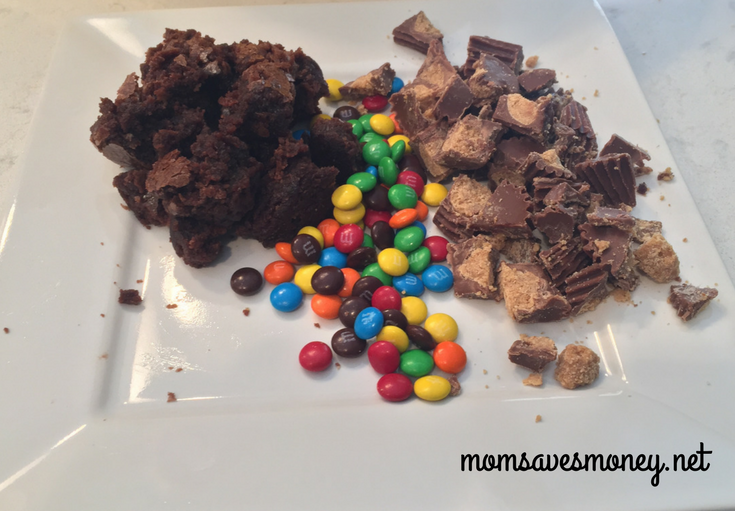 Third: How to make them?
Super simple!  Combine ice cream and mix ins.  Put in glasses.  Freeze.  Enjoy!  It's really that simple.  But simple doesn't have to mean that it isn't special.  Guarantee if you serve these, there will be a smile on your face!
Snowstorm" Ice Cream Desserts
Homemade "Snowstorm" Ice Cream Desserts
Make the everyday events of life special with these homemade desserts!
Ingredients
Ice cream (how much varies by how many you're making and the size of your container)

Mix-ins
Instructions
Scoop the ice cream into a large mixing bowl. Let soften a bit or microwave for a few seconds to quicken the process. You don't need it liquidy, just mix-able.

Add in the mix-ins and stir.

Pour into cups.

Freeze until you need them. If you freeze them for a long time, you might need to let them soften before serving.
Jayme is a wife to 1 and a mother to four little boys. She coupons, price matches and meal plans. While she likes to cook, she's in the stage of life where simple is usually better – she never knows how many hands she'll have free at dinner time! You can find her at No Regrets Living.