We've been dealing with food allergies and sensitivities here in this house.  My oldest son is almost 5 and over the last 6 months or so, we've been suspecting that certain foods have been affecting him.  The kicker?  We don't know which foods.  Or at least, we don't know ALL the foods yet.  So we've been going through an elimination diet of sorts, drastically scaling back our foods and then adding them back in one-by-one to see if there are any changes.
It's quite the process.  It's been pretty draining – at least on me.  My son is handling it really well.  But it's thrown me for a loop on what to cook.  It's dramatically increased our grocery budget as we've moved to more organic foods, including grass-fed beef (holy buckets!).  But I have great hope that it won't be forever.  There will be a finish line; it'll just take a bit to get there.
One thing that hasn't changed – I still bake goodies for my husband's office every other week.  That actually has been really nice.  They don't have the diet restrictions that we do.  So I can bake all the things that I've been used to baking and don't need to obsess over it.  Want cookies?  Just make 'em.  No need to figure out how to make a cookie without eggs or milk.  No need to wonder if someone is sensitive to apples or strawberries.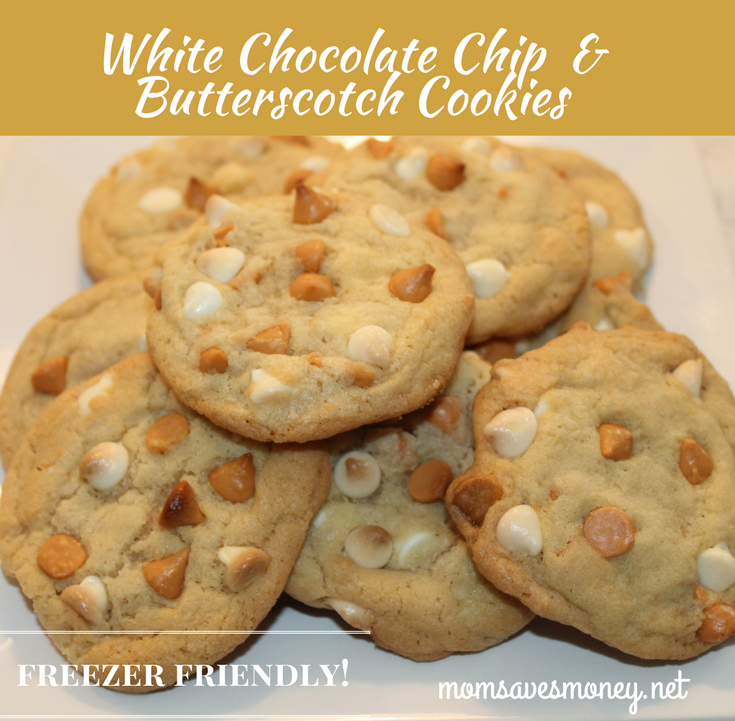 I recently stumbled onto the combination of butterscotch and white chocolate chips.  On pinterest, I've seen others use that combination, but it didn't sound all that spectacular.  I went to make chocolate chip cookies, discovered half a bag of white chocolate chips and thought "Hmm…worth a try."  Since I always have butterscotch chips on hand, I tried it.  So glad that I did.  My husband loved them! His co-workers loved them!  He even requested them again by name a couple of weeks later – that's pretty rare!  When I ask him if he's in the mood for anything in particular (in the kitchen, people.  In the kitchen!), he usually doesn't have an opinion.  "Anything is fine!"  This is a true winner!
As I've written before, if you want to have "prettier" cookies, add a few of the toppings on top of the cookie dough once you've formed it into balls.  Then when they bake, the deliciousness is inside the cookie, but also on top!  Making for serious flavor, but also prettier!  It does take an extra few minutes, but it's worth it.  When I'm cooking with my kids, this is an easy way for them to help me.
And cookies are awesome to have in the freezer.  Instead of baking them right away, just freeze the formed cookie dough for a few hours and then store in a freezer-safe bag.  Freshly baked cookies any time you want!
White Chocolate Chip & Butterscotch Cookies
Ingredients
1

cup

shortening

1

cup

sugar

1/2

cup

brown sugar

2

eggs

2

teaspoons

vanilla

2

cups

flour

1 1/2

teaspoons

salt

1

teaspoon

baking soda

1/2

cup

white chocolate chips (plus a bit more)

1/2

cup

butterscotch chips (plus a bit more)
Instructions
Preheat oven to 375.

Combine shortening, sugar and brown sugar.

Add eggs and vanilla. Mix again.

Add flour, salt, baking soda. Mix until just combined.

Stir in most of the white chocolate chips & butterscotch chips.

Using about a teaspoon's worth of dough, roll into balls. Place on ungreased cookie sheets.

If time allows, place a few more of the white chocolate and/or butterscotch chips on top of the balls.

Bake for 10-11 minutes.

Serve warm with a glass of milk.
Notes
To freeze: Instead of baking, place the formed cookie dough balls on a cookie sheet, close together without the cookies touching. Freeze in the freezer for a few hours. Then place in a freezer-friendly bag. When ready to bake, bake at 375 degrees for 10-12 minutes.
Jayme is a wife to 1 and a mother to four little boys. She coupons, price matches and meal plans. While she likes to cook, she's in the stage of life where simple is usually better – she never knows how many hands she'll have free at dinner time! You can find her at No Regrets Living.