"I think I love you", he said, taking another cookie bar.
"You're the most awesome baker in the world", he said, taking yet another cookie bar.
"You're the best wife ever", he said, taking another cookie bar.
"I've got good news.  I just won a million dollars in the lottery and I'm giving it all to you because of these cookie bars", he said, taking the last cookie bar.
Okay, these statements aren't really true.  Well, maybe a couple of them are.  (Hint: the one about the lottery is a lie). But it is true that I made these cookie bars and my husband loved them.  Adored them.  Desired them.  Fond of them.  Infatuated with them.  Desirous of them.  In case I've been unclear, he really, really, really liked them.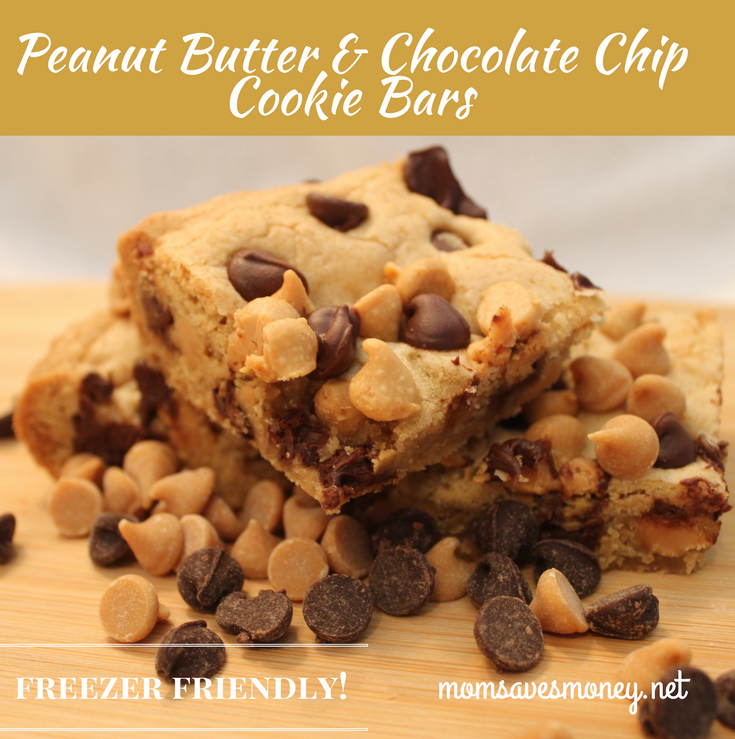 I hadn't intended to make these bars.  I had meant to make butterscotch cookie bars (another favorite flavor of my husband's), but I didn't have any butterscotch chips.  But I had peanut butter chips aplenty.
As I was gathering my ingredients, I thought "Hey, I know that chocolate is an awesome partner to peanut butter…what if I used both of them together?"  And a match made in heaven was born.  Love at first bite!  Knocks the socks of just chocolate by itself.
So, if you're in doubt, make these.  Make them several times.  If you can, try to freeze some before you eat them all.  They re-heat super well and they're a great after-school snack. Or a before-bed snack.  Or a on-my-way-to-the-grocery-store snack.  Or anytime snack really.  Just make them and love them.
Peanut Butter & Chocolate Chip Cookie Bars
Ingredients
2 1/2

cups

flour

1

tsp

baking soda

3/4

tsp

salt

1

cup

oil

1

cup

brown sugar

1/2

cup

granulated sugar

2

eggs

1

tsp

vanilla

1 1/2

cups

total of chocolate chips and peanut butter chips (in which ever ratio you prefer - I do about 3/4 cup of each)
Instructions
Preheat oven to 350. Combine flour, baking soda, and salt. Set aside.

In mixer bowl beat together oil and sugars. Beat in eggs. Add vanilla.

Gradually beat in dry ingredients.

Mix in most of the chocolate chips & peanut butter chips.

Spread into 9×13 pan. Sprinkle remaining chocolate chips & peanut butter chips on top.

Bake for 15-25 minutes or until light brown.
Notes
To freeze: Let cool, then cut bars. I wrap individually in plastic wrap, then place all in a freezer-safe container (like a Ziploc bag).
Jayme is a wife to 1 and a mother to four little boys. She coupons, price matches and meal plans. While she likes to cook, she's in the stage of life where simple is usually better – she never knows how many hands she'll have free at dinner time! You can find her at No Regrets Living.