Disclosure: Contains Amazon affiliate links. All opinions are mine.
Peak camping season is here and we wanted to share some of our favorite must have camping items with you! Whether you're a seasoned camper, or a newbie starting out for the first time, you might be wondering what to pack on your first trip of the year. Stick around for the 5 must have camping items.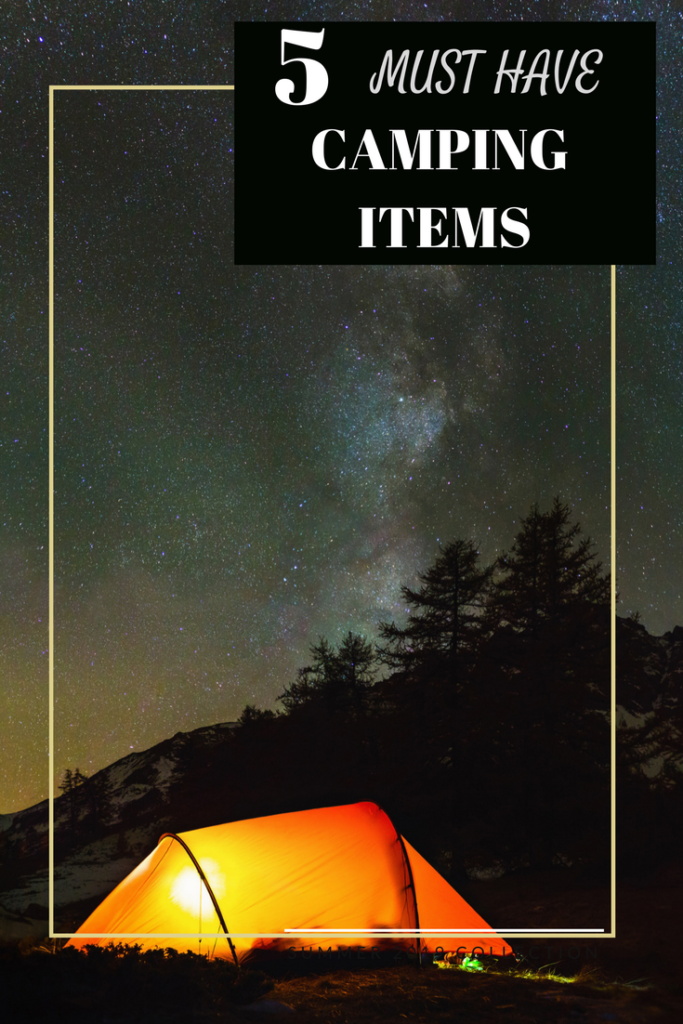 1. Good tent
This seems obvious, but a good tent is something you have to really research. Make sure you spend plenty of time researching different tents before committing to buying one. You'll want to make sure it's weather resistant in case you run into any inclement weather, and you'll also want to make sure it's big enough for everyone. If you have a larger family, consider this 12-person tent. It is durable through weather and has tons of great reviews, all while staying on a budget! If you're looking for a smaller tent, this tent is a great option and great value as well. It's all about finding a tent that has the perks and luxuries that you want when you're camping. If you want something more than the basics, search around for something that suits your needs.
2. Quality cooler
A cooler is important for storing food and drink, especially depending on how long you'll be out on your camping trip. This is one of those must have camping essentials that you can't afford to go without. Whether you get a basic cooler or something more extreme for longer trips, making sure you have something that will keep everything cool is super important!
3. First aid kit
This goes without saying, but the better your first aid kit is, the better you'll do in an emergency situation. Feel free to splurge here. Safety matters! Amazon recommends this first aid kit, and it seems to include everything you might need. Do not skip this must have camping item – it could be a lifesaver!
4. Lanterns
These lanterns are great for both practicality and also for in case of emergencies. They last for 30 days which is great if you get caught somewhere unexpectedly. They're budget friendly too! I also really like these headlamps for hands free lighting.
5. A quality grill
Of course you could always do the old fashioned hot dogs over a fire, but having a grill allows you to have a more versatile menu in the outdoors. This is especially helpful if you're trying to eat healthy – grilling meat and veggies is extremely simple no matter where you go with a grill like this. There are tons of different ones to choose from and ultimately all of them will make your camping trip much more enjoyable!
I will add that staying warm while camping is very important, since it can get chilly at night. While you don't need an expensive sleeping bag, make sure you have plenty of blankets to stay warm and a few pillows for comfort. While not an essential, a sleeping pad, airbed or a cot can also make your sleeping experience more enjoyable (and save your back).
What other must have camping items do you recommend? Do you have a camping trip planned this year? Where to? Let's discuss in the comments below!