Hi-Ho! Hi-Ho!
It's off to school we go!
Mom, pack my lunch,
Thank you very much!
I did the math and with three kids, I pack over 60 lunches every month. We definitely save money packing our own lunches, but we tend to get stuck in a rut of the same boring sandwich day after day. I love finding new recipes that are simple, healthy and fun for my kids.
These 20 recipes are easy sandwich, roll and wrap lunchbox ideas that kids will love. Create fun animal faces, add more veggies and discover some new favorite main dishes for lunches.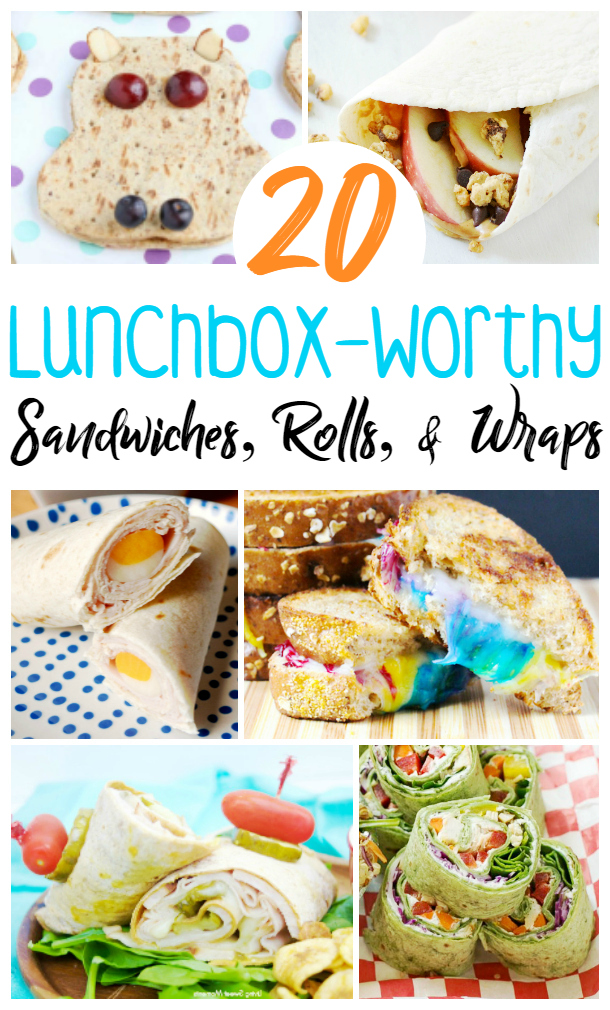 1. Turkey and Cheese Tortilla Rollup (pictured above)- Throw this delicious wrap together in no time using string cheese and deli meat.
2. Crunchy Apple Peanut Butter Wrap (pictured above) – This is a unique wrap with peanut butter, apples, granola and chocolate chips.
3. Hungry Hippos Fun Sandwich (pictured above) – Kids will love these adorable fun faces with many options for fillings.
4. Peanut Butter and Grap Rollups – This simple wrap goes beyond the traditional PB&J!
5. Rainbow Grilled Cheese (pictured above) – This colorful sandwich is so fun!
6. Easy Cuban Sandwich Wrap (pictured above) – Want a wrap that is full of flavors? This recipe is for you.
7. Homemade PB&J Uncrustables – Skip the expensive 'Uncrustables' and make this homemade version.
8. Rainbow Veggie Pinwheels (pictured above) – These colorful pinwheels are perfect for a veggie lover.
9. Cucumber and Cream Cheese Sandwich – Try these rolls for lunch or as an appetizer.
10. Easy Meatball Sliders – Make these for dinner and pack the leftovers for lunch the next day.
11. Salami and Cream Cheese Sandwich – The herbed cream cheese makes this sandwich amazing!
12. Ultimate Veggie Wrap – This wrap is simple and full of delicious vegetables.
13. Southwest Ham Wrap – Simple wrap that will be a hit with both kids and adults.
14. Apple Walnut Chickpea Salad Sandwich – Try this unique sandwich full of healthy goodness.
15. Avocado and Tuna Salad Wrap – A unique tuna salad salad recipe that is amazing.
16. Monkey Sandwiches – Create little monkey faces that are so adorable. Your kids will love this one!
17. Mayo-Free Tuna Hummus Sandwich – Simple tuna salad recipe that is mayo-free.
18. Peanut Butter Roll Ups – The secret ingredient, marshmallow fluff, takes the boring peanut butter roll to rock star mom level.
19. Almond Butter and Fresh Blueberry Sandwich – Simple sandwich that is a fun spin on the classic PB&J using fresh ingredients.
20. Healthy Rainbow Sandwiches – Create colorful sandwiches using vegetables. These are so fun and do not include any food dye!
What's your child's favorite sandwich or wrap combination?