Summer's here!  Well, it's almost here.  Depending on what part of the country you live in, your kids are probably getting out of school sometime this next month – possibly next.  Either way, those of us that suddenly have kids at home might have a little moment of panic about "What do I feed them?"
When it comes to breakfast when school's in session, "quick and portable" might be the priorities.  But when school's not in session?  Well, maybe there's more time for a slightly more involved breakfast.
And when it comes to lunch, the rules are different.  Maybe you are used to pack a lunch every day, but packing a lunch is different than making lunch at home.  Some of our kids might eat hot lunch every day, making lunch a new concern.
And snacks are also something to think about.  When kids are home all day, possibly running around, it seems like they're always asking for a snack.
So, to help take the panic out of summer eating, here are some of my favorite tips for summer eatin'!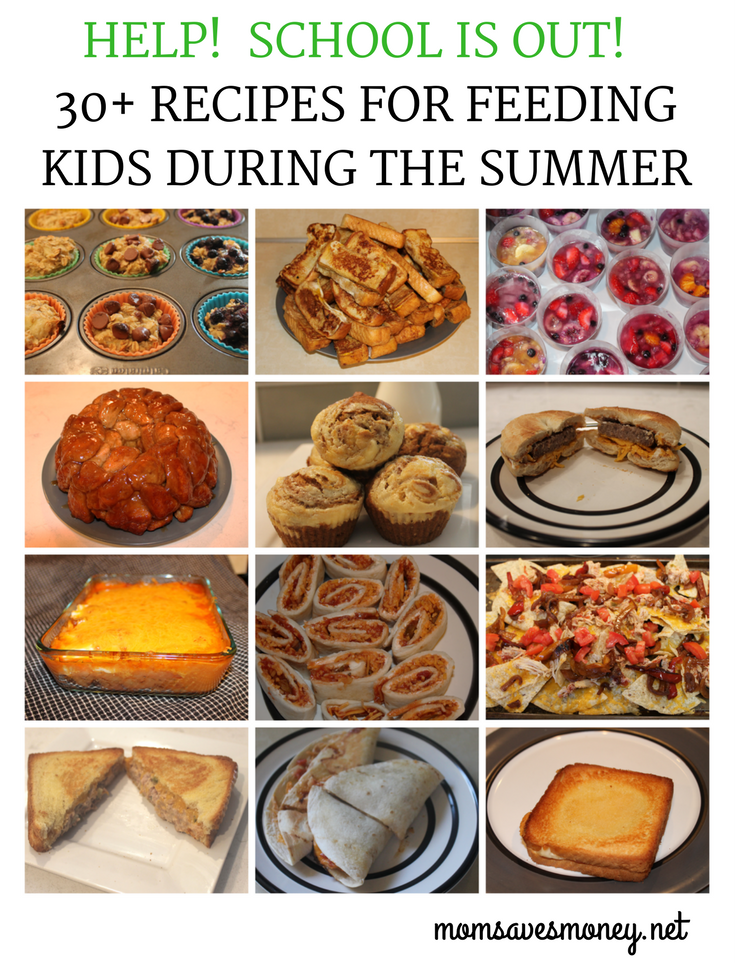 Breakfast
Breakfast Quesadillas – Bacon, eggs, and cheese all wrapped up in a tortilla?  Ole!
Egg Cups – Think of these as mini crustless quiches.  Fill them whatever veggies you like.
Sausage Bagel Breakfast Sandwiches – Just 4 ingredients and everyone can assemble their own sandwich as they wake up.
Cottage Cheese Pancakes – 4 ingredients with lots of protein.  Keep your family full and satisfied throughout their whole day.
Freezer Ready French Toast Sticks – Speaking of fun, this is the most fun!  Kids love them.  I love how easy they are to make and serve.
Baked Oatmeal Cups – Put in whatever toppings your family enjoys and everyone will be happy and fulfilled!
Oatmeal – My kids do well with oatmeal.  I'll make a batch and they all like it.  Usually, they want it topped with brown sugar.  Sometimes, we drizzle in a little bit of peanut butter.  You could also use fruit like strawberries, blueberries or raspberries.
Overnight Monkey Bread – Keep it easy while also keeping it fun. Imagine your child(ren) waking up to monkey bread without it being a special occasion.
Eggs – No need to be too complicated! Hard boil them.  Fry them. Scramble them.  I particularly like eggs with buttered toast!
Bagel bar – Set out bagels, english muffins or toast and some toppings such as peanut butter, almond butter, jelly, butter, honey, and cream cheese.
Lunch
Lunch is where I panicked when I became a stay-at-home mom.  But never fear!  It doesn't have to be too complicate.
Snacks
Try one of these to wow your kids!
Jayme is a wife to 1 and a mother to four little boys. She coupons, price matches and meal plans. While she likes to cook, she's in the stage of life where simple is usually better – she never knows how many hands she'll have free at dinner time! You can find her at No Regrets Living.