Cool weather always makes me eager to fire up the stove and oven and make sweet treats for the family.
Make your own version of popular candies with these 20 amazing homemade candy recipes. Whether you love chocolate, gummy candy or fall favorites, like candy corn, there is something here for every sweet tooth.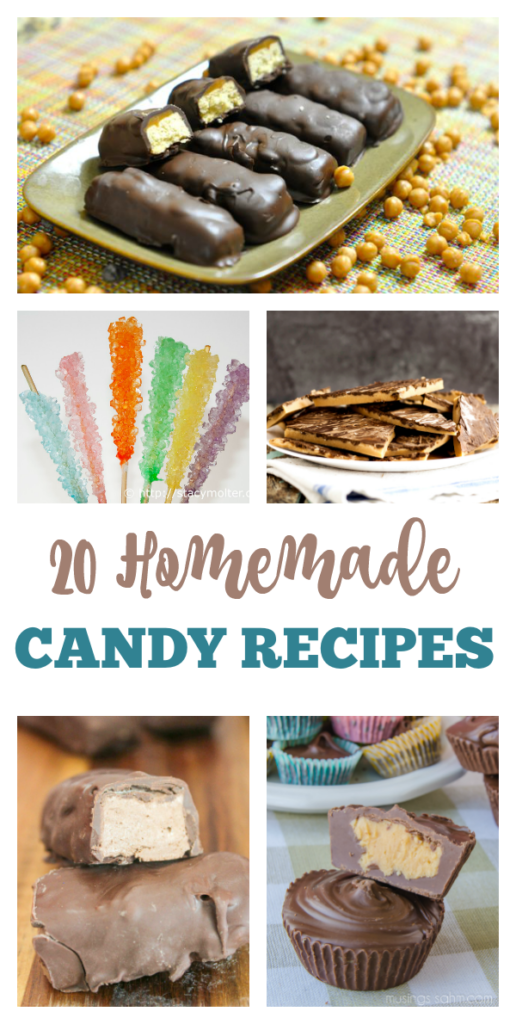 1. Homemade Rock Candy (pictured above) – These are so fun make and kids love watching the crystals form to make this delicious candy.
2. Shamrock Gummy Candy – This is a Jell-O recipe perfect for St. Patrick's Day celebrations.
3. Homemade Candy Corn – You will be amazed how easy it is to make this fall favorite candy.
4. Homemade Hard Candy – This is customizable recipe and you can choose any flavor or color that you want.
5. Homemade Tootsie Rolls – You will never buy Tootsie Rolls again when you try this homemade version. So delicious!
6. Cookies & Cream and Krackle Candy Bars– Only 5 simple ingredients in this scrumptious candy bar.
7. DIY Candy Kisses – Using only candy melts, create your own kisses shaped candies. Customize them with cute labels.
8. Homemade Caramels – Made with real butter and heavy whipping cream, these caramels are out of this world amazing!
9. Copycat Three Musketeers Bar (pictured above) – You only need two ingredients for these copycat candy bars.
10. Gingerbread Truffles – You can't go wrong bringing homemade truffles to a holiday celebration.
11. Butterscotch Kit Kat Bars – These candy bars are incredibly simple with only two ingredients and are ready in under 10 minutes.
12. Homemade Chocolate Toffee (pictured above) – Toffee is delicious and a great homemade gift for the holidays. Just wrap them up in pretty cellophane and secure with a festive ribbon.
13. Homemade Twix Bar (pictured above) – This is an amazing copycat recipe for Twix bars.
14. No-Bake Peanut Butter Cups (pictured above) – I love peanut butter cups and these are dangerously easy to make.
15. Homemade Kit Kat Bars – This recipe makes a large pan of candy bars perfect for sharing.
16. 3-Ingredient Coconut Ice Candy – Soft and chewy candy that only requires three ingredients.
17. Homemade Whatchamacalit Bars – Made with crispy rice, this is one of our family favorites.
18. Homemade Almond Joy Bars – The perfect treat for coconut lovers.
19. Homemade Mallo Cups – Marshmallow fluff coated in chocolate. It doesn't get much better than this.
20. Homemade Peppermint Patties – These remind me of those famous Girl Scout cookies you can only get once a year.

Leave a comment and tell us your favorite candy. Which of these candy recipes are you excited to make?