Fall will be here soon. I'm so ready for pumpkin patches, football, spooky decorations, cooler weather and pumpkin everything! There's nothing quite like the sweet scent of pumpkin spice wafting through a home.
Here are 22 amazing recipes with pumpkin. Love pumpkin drinks? Check out the delicious drink recipes. Want some yummy pumpkin desserts? You will love these easy recipe ideas! What is your favorite way to enjoy pumpkin?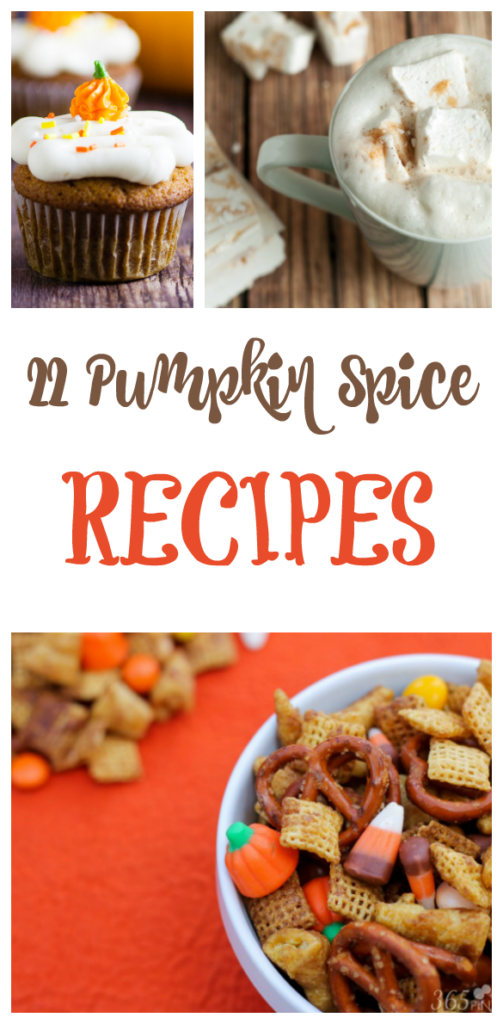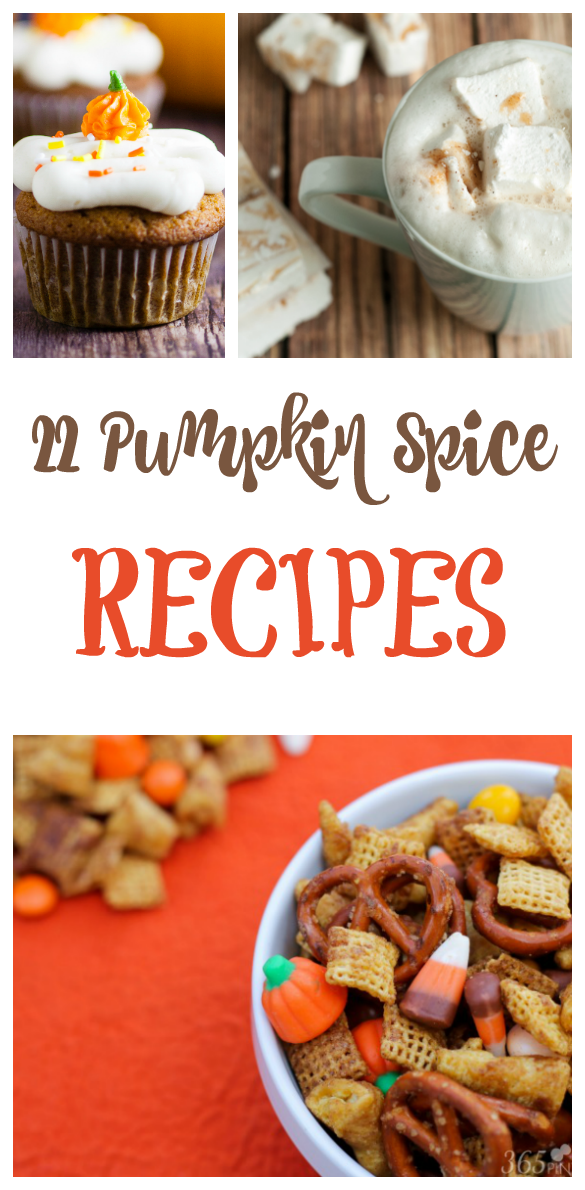 Drinks/Toppings
Pumpkin Spice Latte & Pumpkin Spice Marshmallows (pictured above) – Take that pumpkin spice latte up a notch with these homemade pumpkin marshmallows.
Crock Pot Pumpkin Spice Latte – Serving a crowd? This slow cooker latte recipe is sure to please.
Pumpkin Spice Syrup – This homemade syrup is great for drinks or pancakes.
Pumpkin Spice Smoothie – Super easy smoothie recipe that uses a whole can of pumpkin puree.
Pumpkin Spice Breakfast Shake – This shake is full of healthy ingredients. A perfect way to start your day.
Pumpkin Spice Dip – This dip is similar to hummus, with a pumpkin twist. Yum!
Desserts
Pumpkin Chocolate Chip Blondie Cookie Bar – A traditional blondie cookie, in a bar, with pumpkin. It's amazing!
Pumpkin Spice No-Bake Cookies – You had me at no-bake…
Classic Pumpkin Spice Cupcakes (pictured above) – Simple cupcake recipe with delicious cream cheese frosting.
Pumpkin Spice Snack Mix (pictured above) – Take this snack mix to parties or pot lucks this fall.
Pumpkin Spice Bark Candy – This candy is dangerously easy to make and so delicious.
Baked Pumpkin Spice Donut Holes – If you've never had homemade donuts, you are missing out. Try this pumpkin spice donut hole recipe.
3-Ingredient Pumpkin Spice Cookies – These cookies are so easy to make with only three simple ingredients (one being a can of pumpkin puree.)
Pumpkin Muffins with Cream Cheese Swirl – These muffins are simply amazing with cream cheese baked right into them.
Pumpkin Spice Monkey Bread – If you like pecan rolls, try this pumpkin spice version.
Pumpkin Spice Energy Bites – These no-bake energy bites are full of healthy ingredients.
Pumpkin Spice Bread – Simple homemade bread recipe. Your house will smell amazing while this is baking.
Pumpkin Spice Muddy Buddies – This is the classic puppy chow with fall flavors.
Pumpkin Spice Cake Pops – Decorative cake pops are perfect for a fall celebration or party.
Pumpkin Pancakes – Add extra nutrients to your morning pancakes with pumpkin!
Pumpkin Spice Cinnamon Rolls – 100% homemade cinnamon rolls with delicious pumpkin flavored filling and icing.
Pumpkin Spice Truffles – Only 5 ingredients in these heavenly truffles.