One of the things that my husband most appreciates about me is my willingness to use butterscotch chips in baking.  I can't say for sure that it's what has kept us happily married for 7 years, but I'm guessing it's a factor somewhere.  In case that's true, I'll continue buying those little gems AND I'll keep baking with them.
That's how this recipe came about – I was looking for a way to both satisfy his love of butterscotch AND my desire to bake enough cookie bars for him to take to work. I found a Monster Bar recipe, tweaked it and came up with this keeper!
And a keeper it is!  I used chocolate chips.  And peanut butter chips.  And butterscotch chips.  But you wouldn't have to – if you only have a couple of those, that's okay.  If you only want to use 1 of those, that's okay too.  You just need about 4 cups of chips – whatever variety they are!
These are great as they mix up quickly.  They don't take long to bake.  And they feed a crowd.  Love having this one in my collection!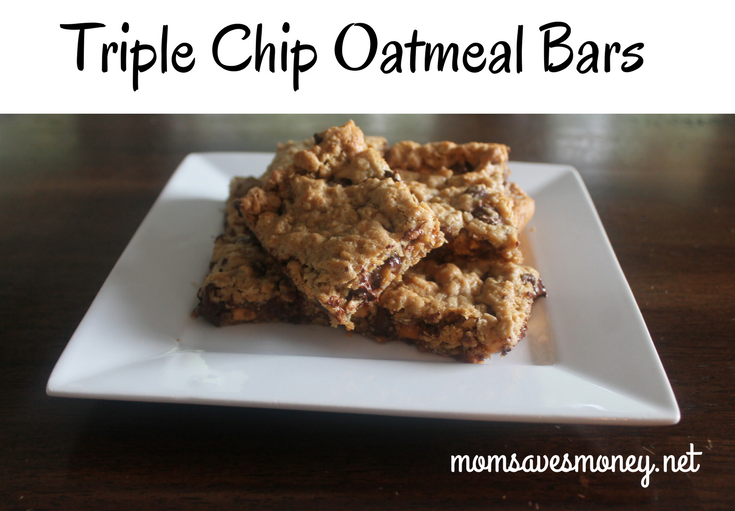 Triple Chip Oatmeal Bars
Made for a jelly roll pan, these Triple Chip Oatmeal Bars make a crowd happy!
Ingredients
1/2

c

butter, softened to room temperature

1

c

white sugar

1

c

brown sugar

3

eggs

1 1/2

c

peanut butter

1

tsp

vanilla

2

tsp

baking soda

4 1/2

c

oatmeal

2

c

chocolate chips

1

c

butterscotch chips

1

c

peanut butter chips
Instructions
Cream the butter and sugars together.

Mix in eggs and peanut butter.

Stir in vanilla, baking soda and oatmeal.

Stir in chocolate chips, butterscotch chips, and peanut butter chips.

Put in an ungreased jellyroll pan. Bake for 15 minutes.
Jayme is a wife to 1 and a mother to four little boys. She tries to coupon, sometimes price matches, but always meal plans. While she likes to cook, she's in the stage of life where simple is usually better – she never knows how many hands she'll have free at dinner time! You can find her at No Regrets Living.
Like this? Try these!