If you have friends and family spread out across the world, you likely know what it's like traveling during the holidays. There are tips and tricks that you begin to learn the more you travel, and these tips will making traveling during the holidays a breeze if it's your first time.
If you're planning on traveling during the holidays this year and your family size has increased, these tips can be extremely helpful for families as well. Keep reading for some awesome tips to make your holiday travel much simpler and more affordable.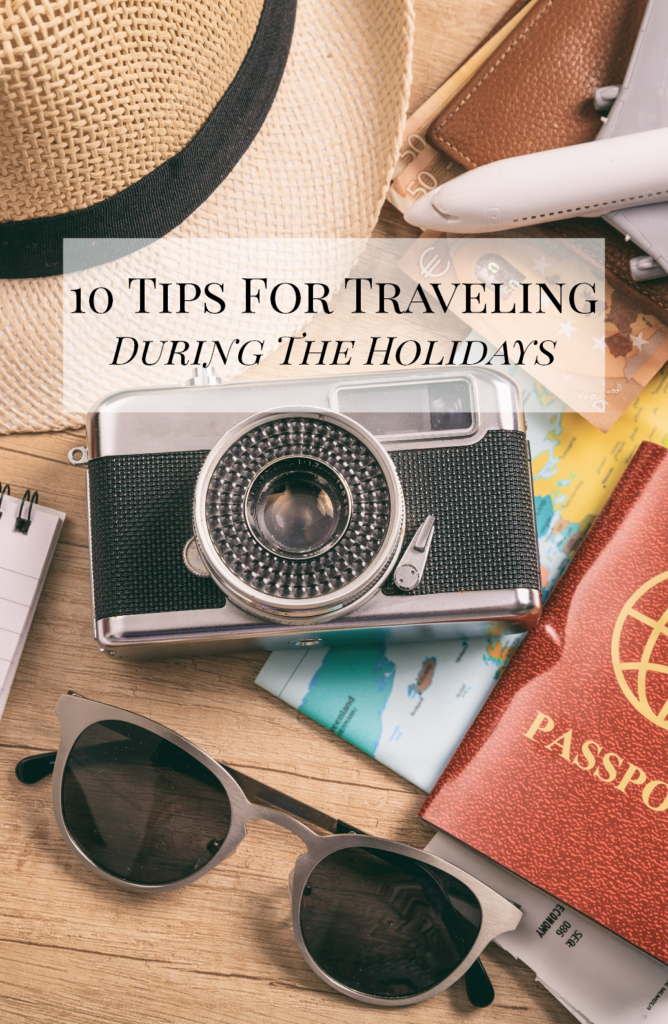 10 Tips For Traveling During The Holidays
1. "Day-of" travel
Traveling the day of the holiday you're planning on visiting for can cut into your time, but it's usually a fair amount cheaper. For example, flying on Christmas Day is cheaper than flying the day or two before Christmas. If you don't mind celebrating a few hours later or catching up the night of, this is a great route to go that helps save money and stress.
Pro Tip: It's usually much less crowded on holidays too, so if you're traveling with a family, you'll get to avoid massive crowds!
2. Try to buy tickets early
If you're planning on flying, try to buy your tickets a month or two in advance to get the best rate. Both for the purpose of purchasing and traveling, Tuesdays and Wednesdays tend to be the best days for deals so make your purchases then if you can.
3. Pack your bags wisely
It's important to make sure you aren't packing too much when traveling. Those dreaded baggage fees can add up quickly, so in this case, less is more. If you're traveling during Christmas and you expect to be bringing gifts back with you, make sure you have enough space left in your baggage for stuff on the return flight.
4. Consider frequent flyer options
Whether you sign up for frequent flyer miles or you use some to pay for your holiday travel, checking all your frequent flyer deals is a great idea.
5. Always get to the gate first
If you have layovers and connecting flights, always get to the gate first before running off to search for food or airport souvenirs. Traveling during the holidays can be confusing if you're changing time-zones so it's a good idea to check the local time with the gate attendant.
6. Dress super casual
This goes without saying usually, but if you have a long flight, don't worry about how you look. Dress so that you're comfortable (within reason) during your flight. Additionally, it's a good idea to skip the jewelry so you don't have to remove any during security checks and wear shoes that are easy to take off and put back on.
7. Look at different airports
If either the place you're departing from or arriving at have more than one airport, it's a great idea to shop around when you're looking for tickets. If you plan on parking a car while you're gone, checking daily parking rates is important too. You might find that a smaller airport offers better prices, though this isn't always the case.
8. Ship gifts
If you don't want to worry about leaving packing space open for gifts, just ship them home. If you are bringing gifts with you to visit, you could ship those out ahead of time as well.
9. Take birth certificates for lap children
Some airline representatives will tell you that you don't need a birth certificate for lap children, but it's a good idea to take it anyway. If your child looks older than 2, they can ask you to pay for a ticket if you have no way to prove it. Better safe than sorry!
10. If driving, plan stops ahead
If you're driving, you can plan out your drive with Gas Buddy and find all the cheapest places for gas to stop. This will help you save a few bucks and make it easier to break up long drives, too. If you'll have to stay in a hotel overnight, it's a good idea to plan where you'll stop for the night and reserve a room ahead of time. You'll save money by making reservations earlier.
What other tips do you have for traveling during the holidays? Sound off in the comments below!