I love mug cakes! They are simple to make and perfect for when I want just a little something sweet. If I bake an entire cake, I usually end up eating at least 3 or more slices. With a single serve mug cake I can satisfy my sweet tooth and don't have leftovers to tempt me later.
I also enjoy making mug cakes with my kids. Each of them can fill their mug with ingredients and have their own dessert! No more fighting over who got the bigger piece of cake (If you have multiple kids you know they fight over anything.) My kids love having their own dessert that they helped make.
The best part about mug cakes is you don't have to wait an hour for it to cook. Just mix up a few ingredients and microwave for a minute or two for a piping hot and delicious single serve cake. It's so easy, it's dangerous. Here are 20 of my favorite mug cakes recipes. Enjoy!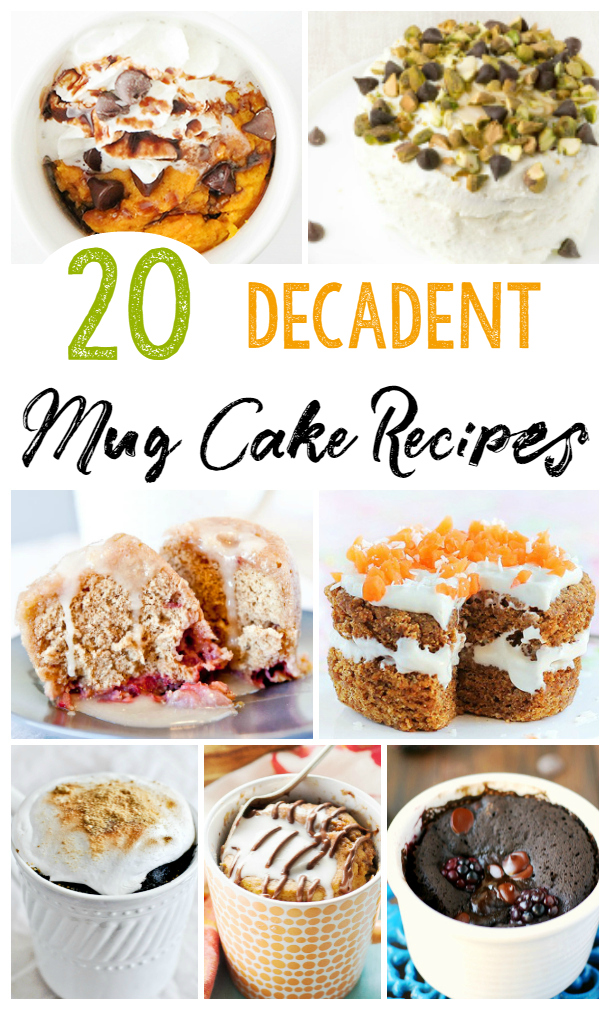 Banana Nutella Molten Lava Mug Cake (pictured above) – This mug cake is filled with delicious Nutella. The recipe calls for a banana and that means it's healthy for me. Right?
Cookies n Cream Mug Cake – Crushed Oreos and only a minute to cook. This recipe is dangerous (in a good way!)
Salted Caramel Apple Spice Mug Cake – If you love apple pie, you will love this mug cake.
Dark Chocolate Blackberry Mug Cake (pictured above) – Use any type of berries in this dark chocolate cake recipe.
Pumpkin Spice Mug Cake – Use pumpkin spice coffee creamer to create a delicious fall flavored mug cake.
Flourless Chocolate Peanut Butter Mug Cake – Peanut butter and chocolate makes a perfect combination of flavors in this flourless mug cake.
No-Bake Gluten Free Lime Mug Cake – This is a simple recipe with just a hint of lime for an amazing citrus flavor.
Pumpkin Chocolate Chip Mug Cake (pictured above) – Add a scoop ice cream to this simple mug cake for an amazing dessert in less than 5 minutes!
Reese's Stuffed Peanut Butter Mug Cake – If you love peanut butter cup candy, this recipe is for you.
Five Minute Carrot Cake (pictured above) – This quick version of carrot cake is simply amazing.
5 Minute Chocolate Fudge Smores Mug Cake (pictured above) – Enjoy the classic flavors of s'mores without the campfire.
Sugar Free Low Carb Cannoli Mug Cake (pictured above) – A layered cake filled with cannoli filling is an amazing dessert.
Lemon Poppy Seed Muffin Mug Cake – Fresh lemon and poppyseed make for a perfect treat.
Strawberry Vanilla Mug Cake with Vanilla Buttercream Glaze (pictured above) – Fresh strawberries cooked into a simple vanilla mug cake. So yummy!
The Moistest Very Vanilla Mug Cake – If you want a plain vanilla cake, this recipe is for you. Add a scoop of ice cream for dessert.
Eggless Red Velvet Mug Cake – This cake has a beautiful color and tastes delicious.
Lemon Mug Cake Lemon Glaze – You will love this simple lemon cake with homemade glaze.
Pineapple Upside Down Mug Cake – Only 6 ingredients in this quick pineapple upside down mug cake!
Birthday Mug Cake – A few sprinkles turn a basic cake into a festive birthday one.
Mug Sponge Cake – Make this basic sponge cake and top with your favorite fruit and whipped topping for a quick dessert anytime.
What's your favorite mug cake recipe?