If you've fallen in with the rustic looking home style like we have, you might be wondering how to get the most bang for your buck on your decor. Since rustic style is so popular now, you can find highly expensive handcrafted items to suit your decor needs just about anywhere – but what about the inexpensive decor? If you're on a budget (aren't we all?) here are some of the best tips to create a more rustic looking home on a dime!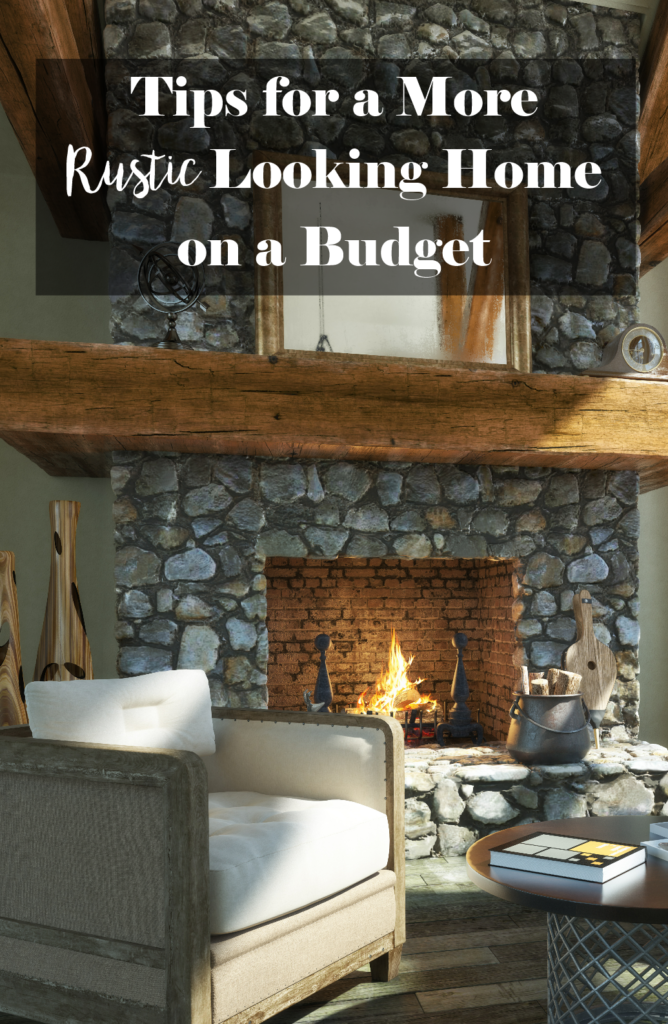 Tips for a More Rustic Looking Home on a Budget
1. Check your local thrift shops
You'll likely be able to find some rustic decor at your local thrift shops. Rustic is "in" which means it's relatively easy to find decor in your local thrift shops. Check the big name thrift shops, but if you have small local thrift shops, those would be a good place to check too. Plus, the appeal of rustic decor is that it's weathered and used, with a story. At thrift shops, you might actually be able to find some great pieces with a backstory!
2. Look for barn sales
If you have any barns nearby, consider driving around on a Saturday or Sunday and looking for barn sales. Barn sales are a great way to find items that can be repurposed as decor for a rustic looking home. You can often find things that are unique to add to your decor as well for a great deal.
3. Keep your eyes peeled
Keep your eye out when you're driving around for any items on the curb marked as "free"! This can be a great way to find rustic looking decor or items that can be repurposed to be just that. You can often times find pieces of furniture on the curb and you can easily paint and sand them to make them look rustic and fit in with your style.
4. Use pallets!
Pallets are fairly easy to come by (especially if you're frequenting barn sales) and you can make so many different rustic pieces using pallets and a little elbow grease! Try looking on local buy/sell/trade Facebook groups or Craislist as well for a great deal on pallets (sometimes even free)! Pinterest has some great DIY ideas to repurpose pallets.
5. Wicker baskets
Wicker baskets are a great way to give a rustic feel to your home, but they can be a bit pricey if you need a lot of them. Instead of buying them at places like Target and Home Goods, try purchasing some at dollar stores and yard sales when you're out and about. You can often find these for much cheaper if you know where to look.
What other touches of a rustic looking home do you want to add to your home? Have you found any great rustic decor pieces out and about? Share your tips with us below!