Ahhh…chili.  Such fond memories of it.
Football season is drawing to a close.  High school football is done.  College football is done.  The NFL is in playoffs.  I don't know why I associate football and chili together.  I have images in my head of big football parties and a whole vat of chili on the stove.  Or of sitting on the bleachers at a live game, eating chili out of a styrofoam cup.  Am I alone in tying chili and football together?  Maybe.
I also associate chili with Halloween.  My mom would always make it with grilled cheese sandwiches.  We were required to finish our bowl of chili before we could go out trick-or-treating.  We liked chili, so that wasn't the issue.  We just didn't want anything to delay us from our candy!
It was also a staple on Christmas Eve.  In fact, we used to have chili on Christmas Eve every year.  My mom's family loved oyster stew, but not many of us cousins did.  So my mom would make a HUGE pot of chili for the non-oyster-stew eating people.  Thank goodness!  So I also think of Christmas Eve when I think of chili.
BUT…Halloween and Christmas Eve are over.  And football season is almost over.  But there's still plenty of winter time left to enjoy this soup.  I'll make a crockpot full of it and serve with either hot dogs (for chili dogs) or with grilled cheese sandwiches.  It's a great and quick meal, especially on ridiculously cold days like we've had so far this year.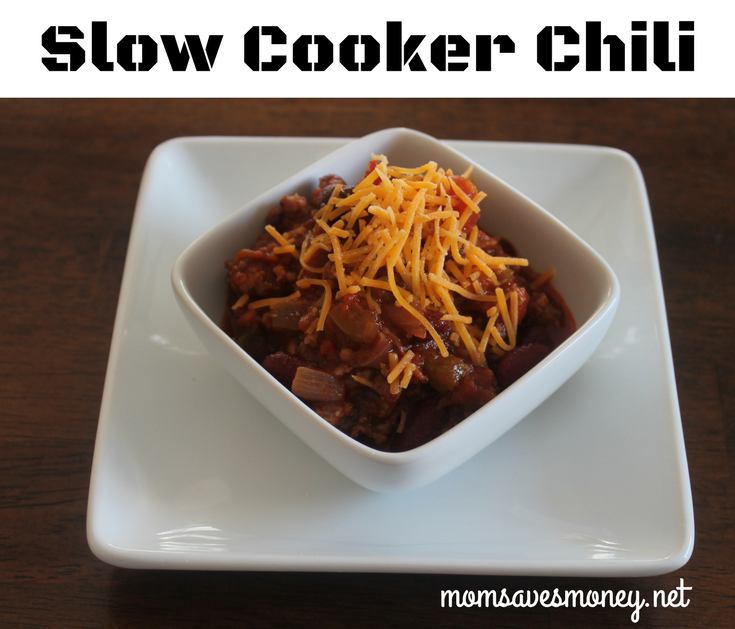 I know there's a debate amongst chili lovers if chili is supposed to have beans or if beans or forbidden.  That's okay.  Let the debate rage on.  If you're of the "no bean" camp, leave them out.  A-OK in my book.  I don't like to add beans until the end anyway in order to prevent them from overcooking.
I love this recipe because it's simple and it's homemade.  Because it doesn't use a spice packet from the store, you can control how mild or how spicy it is based upon what you add to it.  It's also made with a jar of salsa (or a can of Rotel), which is another way to control the spiciness.  I'm feeding young kids, so I keep it mild with mild salsa and on the lower end amount of chili powder.  But kick it up a notch if you want to!
Slow Cooker Chili - Freezer Friendly!
Ingredients
2

lbs

ground beef or pork (or combination)

1

tsp

garlic powder

1

bell pepper, finely chopped

1

onion, finely chopped

1

can diced tomatoes (undrained)

1

jar

salsa (16 ounces) or 1 can of Rotel

1

tsp

chili powder

1/2

tsp

paprika

16

ounces

tomato sauce

1

can

beans (I usually use dark red kidney beans) (optional)
Instructions
In a skillet, brown hamburger/pork with garlic powder, bell pepper and onion until done. Drain. Place in slow cooker.

Add diced tomaotes, tomato sauce, salsa/Rotel, chili powder and paprika to slow cooker. Mix well.

Cook on low for 6-7 hours or on high 3-4 hours. Add beans when there's about an hour of cooking time left (if using)
Notes
This freezes really well! You can either place all the ingredients (once the meat and veggies are cooked) in a freezer-safe bag to cook at another time OR you can cook, then freeze in individual portions.
This is a mild chili - assuming you're using mild salsa/Rotel. If you like chili with a lot of heat, use a spicer salsa/Rotel and/or add another 1 teaspoon of chili powder.
We like to top with cheddar cheese and sour cream.
Jayme is a wife to 1 and a mother to four little boys. She tries to coupon, builds a smart stockpile, and always meal plans. While she likes to cook, she's in the stage of life where simple is usually better – she never knows how many hands she'll have free at dinner time! You can find her at No Regrets Living.