We've recently cut quite a few things from our diet in order to identify any food sensitivities a couple of my kids might have.  It's a long process of eliminating a lot of foods, then adding them back in one-by-one to see if there's any impact.  The ingredient that I miss the most?  Tomatoes!
I mean, holy buckets, do a lot of my recipes have tomatoes in them.  Spaghetti.  Pasta bakes.  Pizza.  Stuffed Peppers.  Chili.  Stew.  Soup.  We just really like tomatoes.  They do wonderful things to food!
In particular, this soup.  This soup is tomato-based, but it's not your cookie cutter recipe.  It uses italian sausage instead of ground beef.  It has diced tomatoes, but italian style, which adds incredible flavor.  It's just wonderful and I adore it!
I add cheese tortellini to mine, but you don't have to.  It's great without it, but, with it, you have a very hearty soup in a bowl.  Add some garlic bread and you'll be so satisfied in a comfort food kind of way.  I love having it the next day too – even better as the flavors meld together!  Make this today!!!
I make it on the stove top in a big soup pot (which, feel free to double or even triple the recipe and freeze the leftovers — yummy!), but you can also do it in the slow cooker if you want.  Just cook the sausage & onions and combine all ingredients in the slow cooker.  Let it cook for a few hours.  Delicious and easy that way too!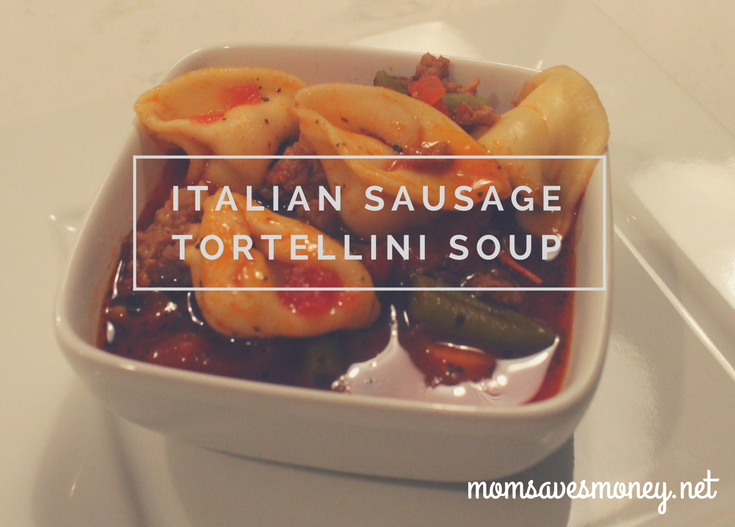 Italian Sausage Soup with Cheese Tortellini
Ingredients
12-16

ounces

Italian sausage (I use the sausage that comes in the rolls, but I've also been known to use link sausage and cut off the casing.)

1

onion, chopped

1

teaspoon

minced garlic

6

cups

beef broth (or 6 cups water with 6 beef boullion cubes – that's how I roll)

2

(14.5 ounce) cans Italian diced tomatoes (can use regular diced tomatoes and add in more seasonings. But I really think the italian style is incredible.)

1

cup

diced carrots

1/2

teaspoon

basil leaves

1/2

teaspoon

dried oregano

1

(8 ounce) can tomato sauce

1

can of green beans, drained (or 1 1/2 cups if you have fresh/frozen)

8

ounces

tortellini pasta (I get mine frozen)

1

tablespoon

chopped dried parsley
Instructions
In a large pot, brown sausage with onion and garlic. Drain.

In the pot, stir in beef broth, water, tomatoes, carrots, basil, oregano, tomato sauce, and sausage. Bring to a boil. Reduce heat; simmer uncovered for 30 minutes.

Skim fat from the soup. Stir in beans and parsley. Simmer covered for 30 minutes. Add tortellini during the last 10 minutes.

Slow Cooker Option: Brown sausage with onion and garlic. Combine all other ingredients in the crock pot and cook for a few hours. Just make sure tortellini gets done. You can also boil the tortellini separately and add just before serving.

Freezer Option: Make soup. Put in freezer-safe containers. When cool, put in the freezer. You can either freeze is individual portions or enough for the whole family for a meal.
Jayme is a wife to 1 and a mother to four little boys. She coupons, price matches and meal plans. While she likes to cook, she's in the stage of life where simple is usually better – she never knows how many hands she'll have free at dinner time! You can find her at No Regrets Living.
Check out more delicious recipes: