Today it seems like everything is digital. Kids have their own tablets at a young age and can often manipulate the computer better than their parents. While learning how to operate a computer is an important skill, it's just as important to teach children basic skills through board games. Sometimes I feel that board games have been forgotten in today's digital age of video games and tablets.
A regular family game night gives our family a chance to connect and have fun without relying on screen time and it's budget friendly. We love game night at our house and stirring up some good old-fashioned friendly competition. I've learned so much about my kids by just sitting down and spending that quality family time with them.
Family game nights also encourage cooperation and turn taking, both important skills for kids. It's wonderful when I see all three of my kids having fun and playing nicely with each other. If you have multiple children, you know seeing them play nicely together can be a big deal. Are ready to set up your own family game night?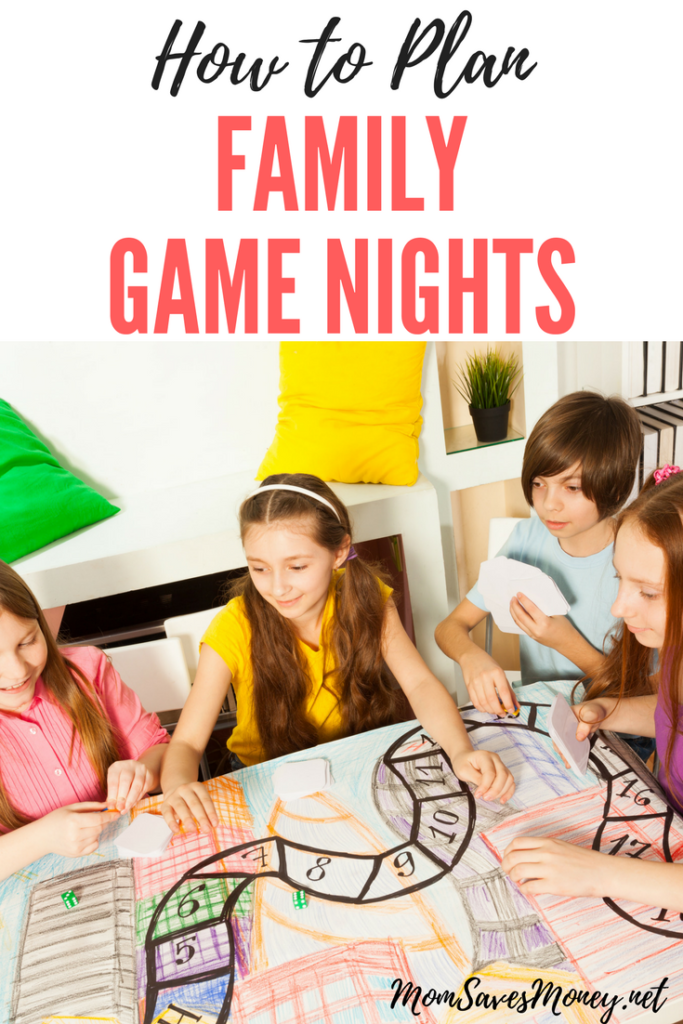 How to plan your family game night:
1. Set a Game Night – Just like you plan a date night with your spouse, set a regular family game night. We plan for one hour every other week on the weekend, but also have spontaneous game nights upon special request from the kids, which is often.
2. Pick Educational Games – Choose quality, developmentally appropriate games that provide fun learning opportunities for the kids. The classic Candy Land teaches colors, turn taking and counting. Word games, like Bananagram or Scrabble, teach vocabulary, spelling and English skills. We have multiple children at different skills levels, so my husband and I pair up with the kids as a team to help them with more involved games and even out the playing field a little. For our family, this helps decrease frustration with games that one child is better than the other because of their age. Some simple games, like Candy Land, are every player for themselves (I still lose this game almost every time.)
3. Also Pick Silly Games – You don't always have to choose educational games. Sometimes it's fun to play something that's just plain silly. A family that laughs together stays together. My kids love Hot Potato, Pie Face and Jenga.
4. Involve the Kids – I highly encourage you to regularly give the kids responsibility for game night. Let them pick the date, time and games. Have them set up refreshments and drinks. This teaches them responsibility and gives them ownership of family game night. It's wonderful to see how proud my kids are when they present the snacks and set up the games for us. They love taking charge!
Family game night teaches so much more than just how to play a game. Family game night shows my kids that they are important and setting a regular date demonstrates that spending time together as a family is a priority. I hope that in years to come they will remember family game nights and have fond memories of the time we spent together. I challenge your family to set a family game night and have fun together!
What is favorite family game to play?