Disclosure: Contains affiliate links. All opinions are mine. 
Have you ever heard that play is a child's work? Play is how kids learn social skills, problem solving and develop their imagination. Play that involves movement and activity is essential for kids to maintain healthy weights, build strength and develop their motor skills.
My kids would be happy to watch TV or play video games all day, but I make it a priority to be screen-free and active for at least 60 minutes a day. Some days my kids are happy to just play in the backyard, but other days they are simply bored. So here's a list of 50 fun activities you can do with your kids to keep them active!
Find activities that your child loves and enjoy those with him. My kids love geocaching and anything that involves water, so we do those often.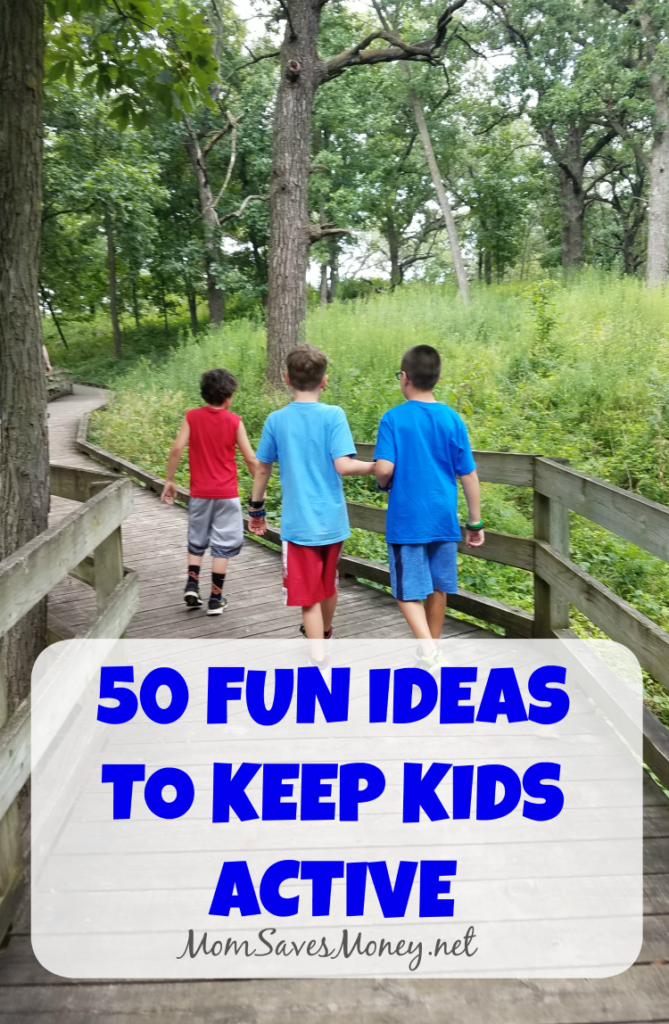 OUTDOOR FUN
1. Family Walks
2. Geocaching
3. Bike Rides
4. Fishing
5. Hiking
6. Nature Photography
7. Nature Scavenger Hunts
8. Park Picnics
9. Play at the Park
10. Find shapes in the clouds
11. Visit a local zoo
12. Fly a kite
13. Go Camping
WATER FUN
14. Run through sprinklers
15. Water balloon fight
16. Play catch with water balloons
17. Water Table Fun
18. Swimming
19. Slip n' Slide
20. Wash the vehicles
BACKYARD FUN
21. Ring Toss
22. Blow Bubbles
23. Nerf Gun Battle
24. Build a Fort
25. Outdoor Obstacle Course
26. Sidewalk chalk
27. Sidewalk paint
28. Hula Hoop
29. Hackie Sack
30. Throw Frisbees
31. Gardening
32. Sand Box Play
33. Make mud pies
34. Jump on a Trampoline
35. Play hide and seek
36. Practice baseball with Wiffle Balls
37. Cornhole
SPORTS FUN
38. Fun Runs
39. Badminton
40. Yoga for Kids
41. Kid's 'Boot Camp'
42. Dodgeball
43. Kickball
44. Play Catch
INDOOR ACTIVITIES
45. Visit a bounce house
46. Build Something
47. Volunteer Work
48. Dance Party
49. Kid's Workout DVD or YouTube videos
50. Visit a trampoline park
What is your favorite activity to do with your kids?