Do you want to encourage your kids to read more? Reading is a skill that needs developed and practice does make perfect. With any new skill, the more you do it, the better you become. It's easy to make your child a reader!
I am a huge bibliophile and read at least 1-2 books every week. Reading is something I wanted to share with my children because it has brought me so much joy and knowledge over the years. For the past decade, I've done simple things to encourage reading and now my older two children are even bigger bibliophiles than me and read at a high level for their age. I find my 8 and 11-year old kids sneaking time to read whenever they can. Here are some tips that have encouraged my kids to read from a very young age.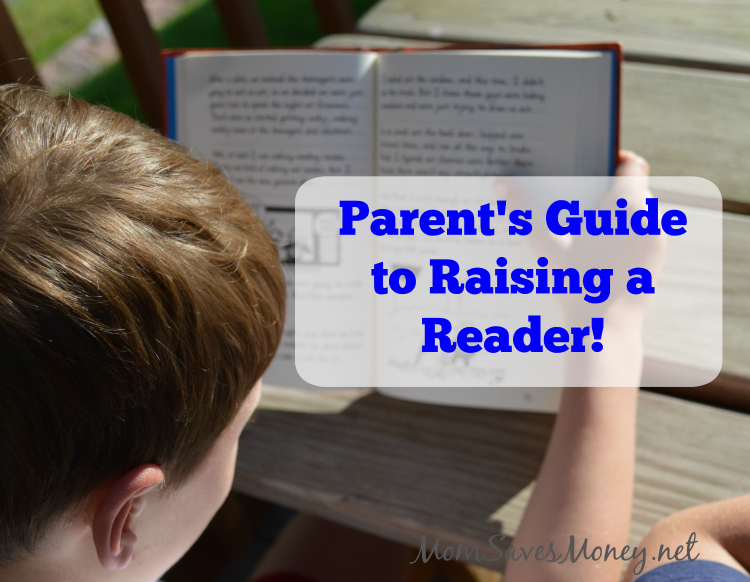 Tips to Raise a Reader:
Start early – It's never too early to start reading to your baby. Choose simple board books with bright pictures and start at birth!
Leave books in play area for self-exploration – Have a small collection of books for your children in their bedroom and play area. Remember, board books are meant to be chewed, so don't worry if that happens.
Make it a habit – Get in the habit of reading to your kids every single day. We take 10 minutes every night before bed to wind down and read a book together.
Don't worry if not interested at first – Kids may squirm and fidget during reading time and that's okay. Even though they seem not interested at first, they are learning to make reading a habit.
Select quality books – Pick engaging, quality and age-appropriate books for your children.

Visit the library regularly – We visit the public library at least once a week and my kids love discovering new books. It's a great way to find new authors, explore topics together and let kids choose their own reading material. Most libraries also have story times and programs for young children.
Participate in reading rewards programs – In the summer there are many free reading rewards programs. During the school year, create your own reading rewards to encourage children to read.
Make it Fun – Kids love funny voices, animated story telling and seeing mom or dad have fun reading. Get into the book and bring it alive to your child.
Be a Good example – The most important thing you can do is read books too! I know many days it's hard to slow down and take the time to read something for yourself, but you are being a great role model for your children. There's nothing like sitting down to read a novel and having a child curl up next to you with her own book to read.
I cherish the time I spent when my kids were young reading to them. Now that two of my kids have learned to read, I miss our cuddle time reading, but love to see them engrossed in novels and books. My oldest daughter has definitely taken after me with her love of books. This is how I find most nights before bed.
How do you encourage your kids to read?