I love my jelly roll pan.  Or half sheet pan.  Whatever you want to call it!  Before I started staying at home instead of going to an office every day, I used to bake treats for my co-workers every so often.  And, then eventually my husband's co-workers.  So when I baked, I found myself baking bigger batches of cookies.  Or doubling recipes to make 2 9×13 pans of bars.  Eventually, I succumbed and bought a jelly roll pan and started finding recipes that were made just for that size.  All of a sudden, making treats for a few dozen people was easy.
This is one of those recipes.  They're Monster Cookie Bars as they have hearty oatmeal, creamy peanut butter, melty M&Ms, and yummy chocolate chips.  AND they don't have flour in them!  So those that are looking to be Gluten-free, these could easily qualify as long as you made sure to get gluten-free oatmeal.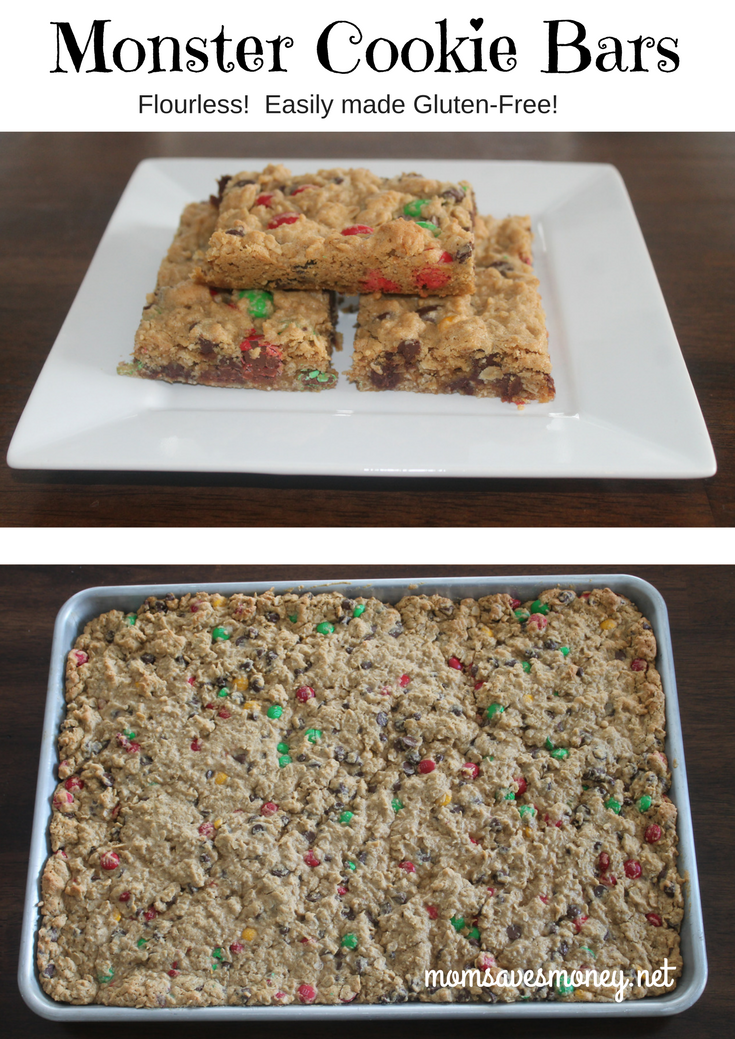 Don't have a half sheet baking sheet?  Here's the one that I have and LOVE!  I love that it has a lid and not many out there do.  A lid doesn't seem important unless you want to transport what you've made.  It's really easy for my husband to just take the whole pan into work with him.  The alternative is that I pre-cut them into bars, put them on a plate or in another storage container and he transports this.  This makes it so easy to do and to stack if you had multiple desserts to bring.  I love that feature!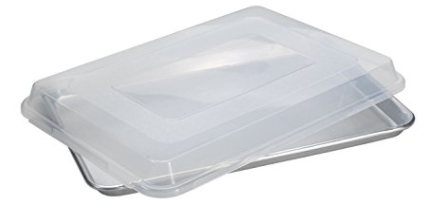 Do what you gotta do to make these bars – you'll love them!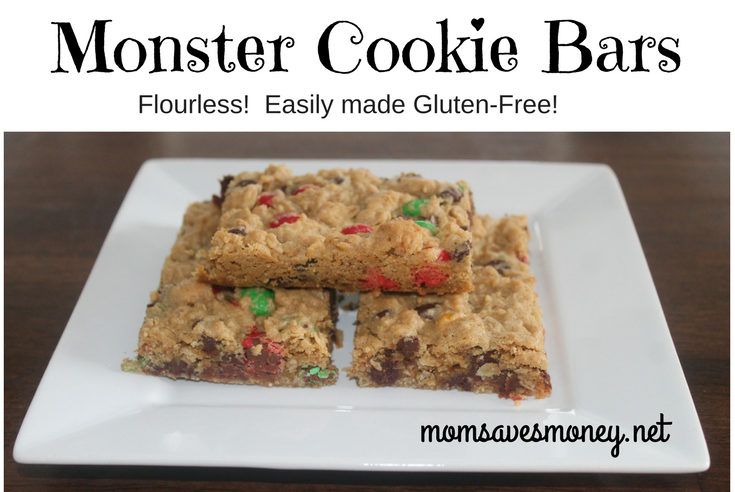 Monster Cookie Bars
Designed for a jelly roll pan. Easily made gluten-free. Serves a crowd!
Ingredients
1/2

c

butter

1

c

white sugar

1

c

brown sugar

3

eggs

1 1/2

c

peanut butter

1

tsp

vanilla

2

tsp

baking soda

4 1/2

c

oatmeal

2

c

chocolate chips

2

c

M & M's
Instructions
Cream the butter and sugars together.

Add eggs and peanut butter and mix.

Stir in vanilla, baking soda and oatmeal.

Stir in chocolate chips and M & M's.

Put in an ungreased jellyroll pan. Bake for 15-20 minutes. Be careful to not overbake. Let cool before cutting as they are really gooey before they've set.
Jayme is a wife to 1 and a mother to four little boys. She tries to coupon, builds a smart stockpile, and always meal plans. While she likes to cook, she's in the stage of life where simple is usually better – she never knows how many hands she'll have free at dinner time! You can find her at No Regrets Living.