I'm not gonna lie.  This is a tough post to write.  For two reasons:
This recipe isn't my favorite.  This is one of those recipes that I make because I love my husband.  He ADORES it.
Pork tenderloins are kind of hard to photograph.  I mean – showing raw meat covered in a marinade isn't the most sexy of pictures.  Know what I mean?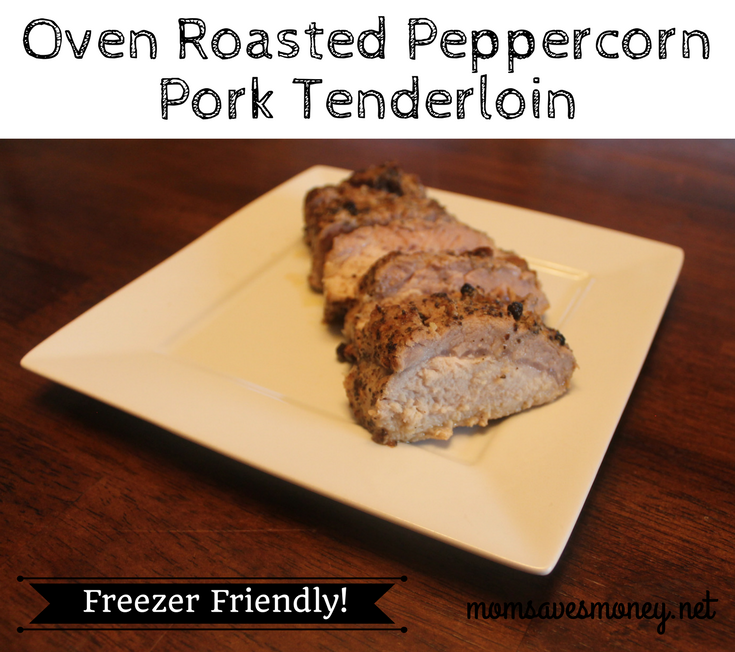 Nevertheless, here's the post.  Because there possibly is someone in your life that loves peppercorn stuff.  And this is a good recipe.  (As far as peppercorn marinades go.  It just isn't my thing.)  The peppercorn flavor isn't too strong or overpowering.  You can still taste the rest of your food – it won't totally blow up your mouth with pepper.  And I do enjoy pork tenderloins.  It took me a while to get them right though.  I've tried a couple in the slow cooker.  Weren't my favorite.  I've tried searing them in a skillet before baking.  I always, always, ALWAYS set off the smoke alarms.  Never quite mastered that.
So now I skip the searing step. It does make for a moister dinner, but it doesn't make or break the meal.  And I'm all about doing things that DON'T set off my smoke alarms.  Instead, this is about as easy as it gets: throw the marinade ingredients in the bag and add the pork tenderloin.  When ready to bake, put it in the dish and put the dish in the oven.  Over and done.  That's it.  And it makes for a pretty meal.
And pork tenderloins often go on sale for under $2/lb.  Typically, they come in 3-5 pound pieces of meat.  I just cut them into 1-2 pound sections as that bakes quickly without burning the end and without leaving the middle raw.  I prefer to split them down the middle so that it isn't too thick.  When it's too thick, it takes too long to cook.
So…keep it simple, but try this recipe!  It feels a little fancy even though it isn't.
Oven Roasted Peppercorn Pork Tenderloin
Ingredients
Marinade Ingredients:
1/2

tsp

salt

1/2

Tbsp

peppercorns

2

Tbsp

coarse freshly ground pepper

1

Tbsp

Dijon mustard

1/2

cup

olive oil

1/4

cup

red wine vinegar

2-3

garlic cloves, finely minced (1-1.5 tsp)
Instructions
Combine all the marinade ingredients and place in a large ziploc bag.

Trim any visible fat from the pork tenderloin. Place in bag with marinade. Seal. Shake. Refrigerate for 1-8 hours.

When ready to bake, prepare a 9x13 baking dish with cooking spray. Place tenderloin in the middle of the pan.

Bake at 375 degrees for 40-50 minutes, depending on thickness of the tenderloin. It's done when it reaches 150 degrees internally.

Let reset for 5-10 minutes before slicing.
Notes
To freeze: Prepare the marinade and pork tenderloin and place in a freezer-safe container.  Freeze.  When ready to prepare, defrost in the fridge, then bake as normal.
Jayme is a wife to 1 and a mother to four little boys. She tries to coupon, builds a smart stockpile, and always meal plans. While she likes to cook, she's in the stage of life where simple is usually better – she never knows how many hands she'll have free at dinner time! You can find her at No Regrets Living.