The basic concept behind gardening is easy. Plant a seed, add water, give it some sunlight, and wait for something to grow – sounds pretty simple, right?
Not quite! Not all plants are the same. Some crave colder climates, while others favor warm, humid locations. Some love water; others only need a little moisture to survive. And while the veggies, herbs, and flowers you choose to plant are certainly important, selecting the right type of plants for your garden is only one part of the puzzle!
You'll also need to consider your space, your time, and your level of commitment. Stop and ask yourself these questions before starting your next garden to set yourself up for success: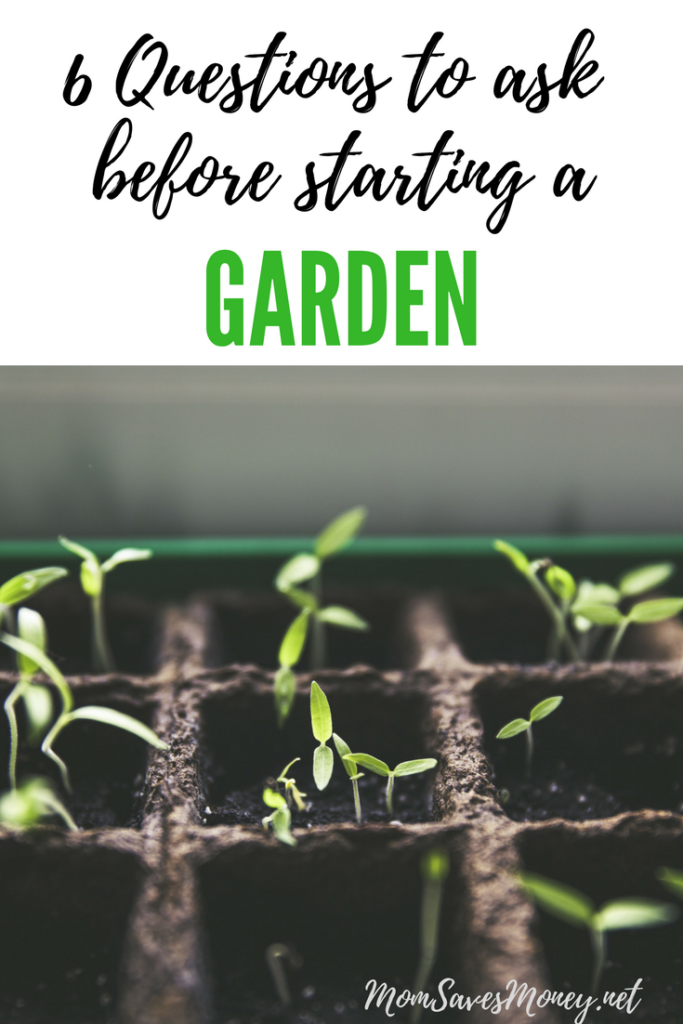 1. How much time can you spend on your garden?
If you only have a little bit of time to dedicate each day toward pruning, weeding, and watering, you might want to limit yourself to a small plot and a few plants that thrive easily. You may be tempted to grow more herbs and veggies than you have time to care for, but be warned – you'll soon find yourself frustrated as your garden suffers from neglect.
2. How much help will you get?
Gardening is a great way to spend meaningful time with your family away from tablets and phones. If they're excited to help, that's great – get them involved however you can. However, be realistic. If you think there's a high chance they're going to lose interest after a week or two, don't get too ambitious.
3. What does your family want to eat?
It may be tempting to fill your garden with exotic herbs and interesting veggies, but it's often best to stick with the things you and your family already love to eat. After all, you want to make sure your family will actually eat the veggies you grow! Opt for vegetables and herbs your family already enjoys on a regular basis to reap the most benefits from your garden.
4. What plants grow well in your area?
Different plants need different conditions to thrive. You'll want to consider average temperatures, moisture levels, and other factors before deciding what to plant. Choose plants that don't flourish in your region and you'll find yourself frustrated. Spend some time researching the flowers or vegetables that grow best in your area, or head to your local gardening center and ask the staff a few questions. You can also check with your local university or master gardeners. In Nebraska, we have a fantastic lawn and garden resource online from UNL.
5. When should you start your garden?
This is another question whose answer will largely vary by region. Start your garden too early and conditions will be too cold for your seeds to grow. Begin too late and you won't optimize your yield. In most areas, there will be spring, summer and fall plants that you can plant. Knowing when to plant your garden will yield the best results. Consult a local plant nursery for advice from those in your area who know best!
6. Where should you plant your garden?
If you don't already have a garden plot established in your backyard, you'll want to carefully consider your options before sowing your seeds. Research the plants
you'd like to include, determine the level of sunlight they prefer, and select a location that optimizes your garden's chance of success. We dug up a large patch of our side yard for our garden, but you can also create a raised bed garden that sits above ground. If you are limited on space or live in an apartment, consider container gardening.
After you ask these six questions, you will be able to move forward and plant a reasonably sized garden with climate appropriate plants. Your family will love the fresh produce and you will enjoy the beautiful sunshine while working on your garden!
Here is a peek at our annual garden. My husband plants it every year on Mother's Day weekend as a gift to me and the family.
What is your favorite garden fresh food? Do you plan to plant a garden this year?