Minestrone is a classic Italian soup – at least what we consider an Italian soup here in America.  I don't often have it and that's a shame!  I often think about ordering it when I go to Olive Garden, but I love their salad so much that I just always go that route.  Occasionally, my love for minestrone will win out over my love for salad and I'll go with the minestrone.  I just love it!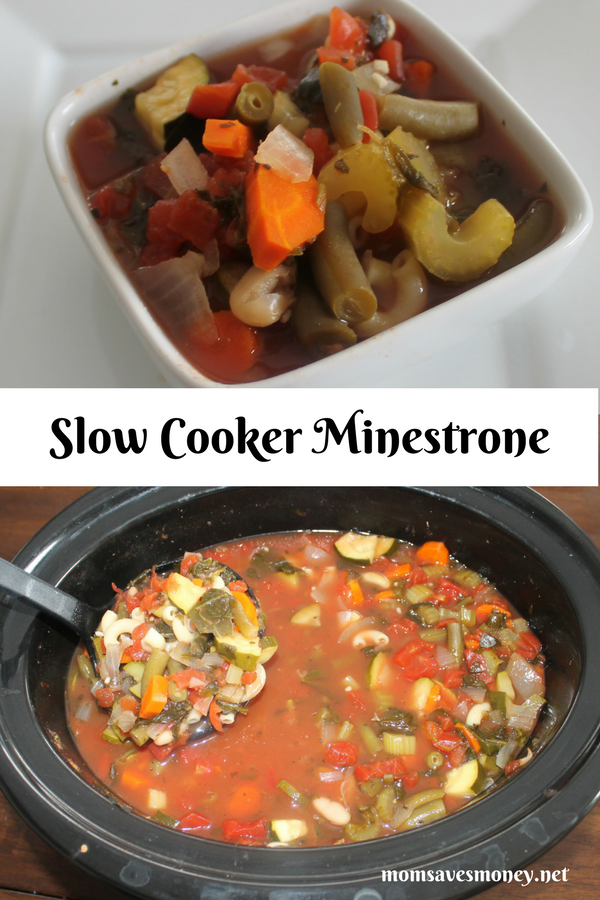 It's simple to make in the slow cooker, but it does call for ingredients that I don't always have on hand, so I need to make sure to plan for it when I'm hitting the grocery store.It's a great winter soup as it's warm and filling.  Just be a careful — this makes a BIG batch of soup.  You can definitely cut it in half and you'd still have lots of bowls.
It calls for small pasta. I use the elbow shape just because it is so readily available.  But use something fun!  As long as it's small.  If I'm planning on serving this soup as leftovers, I'd probably make the pasta separately and just add it to bowls when serving.  It has a tendency to get too mushy if it sits in the soup overnight.
Simple Slow Cooker Minestrone
Ingredients
6

cups

broth (chicken, beef or vegetable)

4

cloves

garlic, minced

1

15 oz can tomato sauce

2

(14.5 oz)

cans diced tomatoes

1

cup

diced celery (3 stalks)

1

cup

diced carrots (2 carrots)

2

cups

green beans (fresh, frozen or canned)

1

small

onion, diced

1

tsp

dried parsley

2

tsp

dried basil

1

tsp

dried oregano

1/2

tsp

dried thyme

2

bay leaves

1

small

zucchini, diced

1 1/3

cups

small pasta (like elbows)

1

(15 oz) can dark red kidney beans, drained and rinsed

1

(15 oz) can white navy beans or cannellini beans, drained and rinsed

1

cups

small handful spinach (frozen or fresh)
Instructions
Add all ingredients except zucchini, pasta, beans, and spinach to a large slow cooker. Cook on low heat 6 - 8 hours or high 4 - 5 hours.

Add in zucchini, pasta, and beans. If spinach is frozen, add now. If spinach is fresh, add spinach in 20-30 minutes.

After adding pasta, continue cooking for 30-40 minutes until pasta is cooked.
Notes
This makes a lot of bowls!  Feel free to cut in half if you're not serving that many people.
Jayme is a wife to 1 and a mother to four little boys. She tries to coupon, builds a smart stockpile, and always meal plans. While she likes to cook, she's in the stage of life where simple is usually better – she never knows how many hands she'll have free at dinner time! You can find her at No Regrets Living.