I've already talked about how I like to make a whole roasted chicken.  It's just delicious!  But I like to do it for more than just the meat.  I also like it because I use the chicken bones to make homemade chicken broth!  You can even do this with a rotisserie chicken that you buy at the store.  Serve that for dinner, then make broth with it!  It's a great way to stretch your food into making more meals.
You can also make chicken broth by boiling a whole chicken in a pot full of water — that's also a great method that I've done before, especially if I'm turning most of the broth into Chicken Noodle Soup right then and there.  It's a fabulous method – just not the one I'm covering today!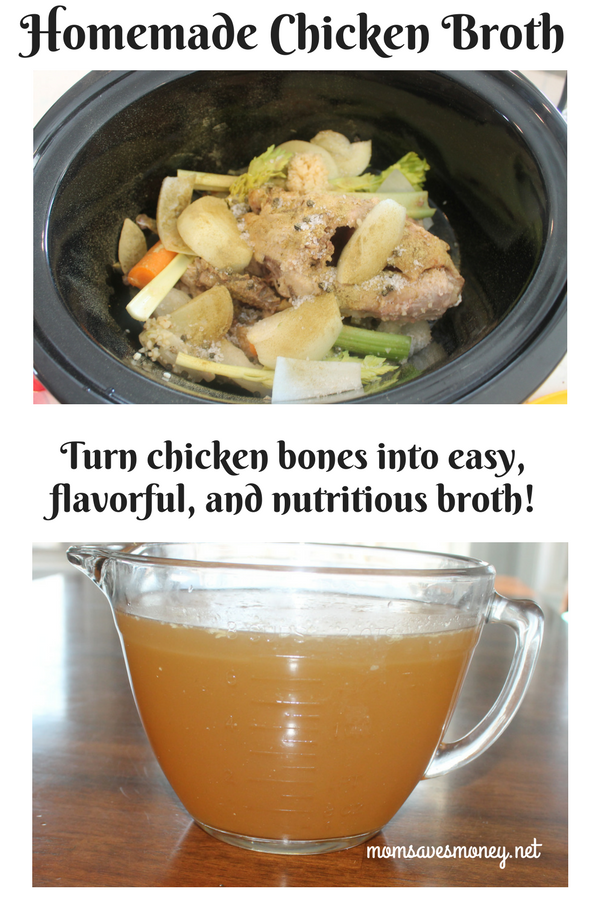 There are lots of opinions out there on how to make broth from a leftover chicken.  All the methods I've used are all essentially the same: take chicken bones, some veggies, spices, a bunch of water and let simmer for a really long time.  You can let it simmer away in a stockpot on the stove or in the slow cooker or in the InstantPot.  They've all been great for me.  Just depends on how much time I have and if my InstantPot is busy!  My pictures here are from using the slow cooker, but really, the process is all the same.

When I started making broth, I did invest in a fine-mesh strainer, but at less than $10, it was a great investment – it's paid for itself over and over again as I haven't had to buy as much store-bought broth!  Here's the one that I have: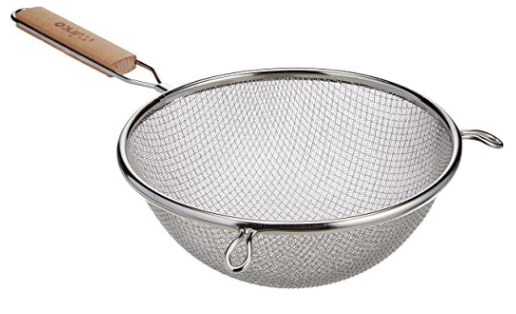 It's just brought wonderful homemade flavor to my food!  I think it'll do the same for you.
Homemade Chicken Broth
You can make homemade chicken broth on the stove, in a slow cooker or in the InstantPot! Keep some in the freezer and you'll make all kinds of wonderful dishes with it.
Ingredients
1

set of

chicken bones (from a whole chicken)

1

onion, cut into 4 big pieces

2-3

carrots, cut into big pieces

2

stalks of celery (leaves are great!)

2

tsp

garlic, minced

1

bay leaf

2

teaspoons

sea salt

1/2

teaspoon

peppercorns

1

tablespoon

apple cider vinegar

lots

of

water (amount varies with method)
Instructions
On the Stove:
Add all the ingredients above to a big stockpot. Fill with water, close to 2 inches from the top.

Bring to a boil. Cover with a lid and reduce heat until it's simmering. Let simmer as long as you can -- at least 4-6 hours, even up to 24 hours.
In a Slow Cooker:
Add all the ingredients above to a slow cooker. Fill with water, not quite to the top.

Cook on low as long as you can - at least 12 hours, but up to 24 hours.
In an InstantPot:
Add all ingredients to the InstantPot. Use 8 cups of water.

Seal the InstantPot. Press "manual" and set timer to 30 minutes.

When done, let the InstantPot do a natural release. It'll take 10-15 minutes. When done, open the InstantPot.
For all methods:
When done, strain in a fine-mesh strainer.

(Optional): Put in a big container and let cool for 12-24 hours. You'll then be able to skim any excess fat off the top. The amount varies - I rarely have a bunch, so I skip this step.

If freezing: Let cool then store into freezer-friendly bags or containers.
Notes
Please note that your broth might end up really dark!  The longer that you let it cook, the more nutrients will be in the broth and that makes for a darker color.  It's more flavorful!
Jayme is a wife to 1 and a mother to four little boys. She tries to coupon, builds a smart stockpile, and always meal plans. While she likes to cook, she's in the stage of life where simple is usually better – she never knows how many hands she'll have free at dinner time! You can find her at No Regrets Living.