Have you read the story about the gal who lost 125 pounds by using the Instant Pot?  Now, she did a lot of other stuff too – it wasn't ONLY about the Instant Pot, but the main takeaway is that the Instant Pot made it significantly easier for her to cook at home instead of eating out or eating convenience foods.  She chose healthy recipes and made it work for her.  That's awesome!
The Instant Pot is the latest kitchen appliance to become very popular!  I've had mine for a few months now and I'm just starting to figure out when I like using it and when I don't.  I love making "hard boiled" eggs, rice and chicken broth in mine.  But there are other things that I've made that have been just so-so for me.  But that's going to be true of any cooking method – you're going to love it for some things and some recipes, but not others.
If you have a pressure cooker, you might be looking for ways to use it more.  I know that I am!  So I put together this 4-week menu plan consisting of ONLY pressure cooker recipes.  I think there is one or two recipes in there that you finish off in the oven, but other than that, all of them are made pretty much in the Instant Pot.  Using this menu plan will save you from having to find new recipes (links are below!), putting them together and it will save you time in the kitchen.  WINNER all around!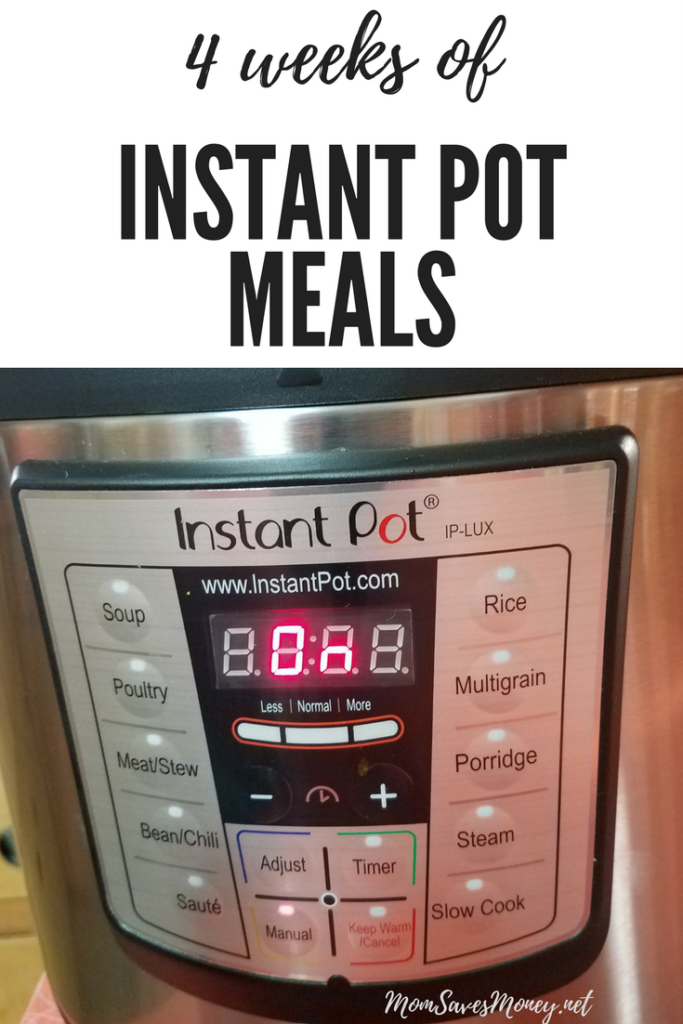 Notes:
Click on the calendars in this post to open the menu plan to print.
It's okay if you don't like one of these recipes.  Feel free to replace it with one you do like.  Or eat leftovers.  Or eat a non-instant pot meal!
The recipes that I suggest are linked below.
Recipes in this menu plan:
Week 1:
Vegetable Soup
Mongolian Beef
"Rotisserie" Chicken 
Creamy Shells & Beef 
Sloppy Joes
Chicken Breasts  
Macaroni & Cheese
Week 2:
Meatloaf
Teriyaki Chicken & Rice
Chicken Noodle Soup
Beef Stroganoff
Red Beans & Rice
Chicken Broccoli & Rice
Cheesesteak Sandwiches
Week 3:
Chicken Fajitas
Baked Potato Soup
Goulash
French Dip Sandwiches
Chicken Taco Bowls
Chili
Chicken Cacciatore
Week 4:
Creamy Tortellini, Spinach & Chicken Soup
Pot Roast
Pulled Pork Sandwiches
Chicken Alfredo Fettuccini
Chicken Enchiladas
Spaghetti
Beef Stew
Want more information on how to meal plan? Check out 'The Extraordinary Art of Meal Planning' for simple tips for busy families!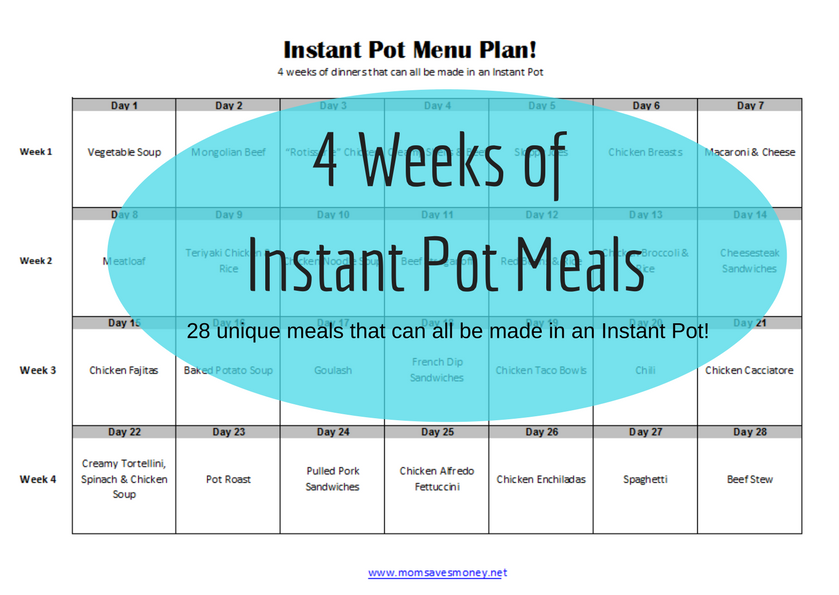 Jayme is a wife to 1 and a mother to four little boys. She tries to coupon, builds a smart stockpile, and always meal plans. While she likes to cook, she's in the stage of life where simple is usually better – she never knows how many hands she'll have free at dinner time! You can find her at No Regrets Living.