Disclosure: Contains affiliate link. All opinions are mine.
I am a #boymom.  When I'm writing this, I have a 1-year-old.  And a 3-year-old.  And a 4-year-old.  And a 5-year-old.  All boys.  It's just how these things happen.  With them all being close in age and having similar interests (so far), when it's a birthday around here for one of the boys, it's almost like a birthday for all of the boys.  We tend to keep that in mind when buying gifts.  Sure, we buy gifts that the Birthday Boy would like.  But we also keep in mind that he's likely got 3 other people that he can play with.  So we like gifts that lend themselves well to sharing or that can have multiple people playing at one time.  Not all gifts are like that, but it works out well.
My 2-year-old just turned 3 and I wanted to share some of the gifts that he got.  Something to keep in mind is that because he's Son #3, we already have a lot of the basic things that little boys play with.  We have tons of trains.  We have tons of Duplo blocks.  We have tons of little cars.  We have tons of Waffle Blocks.  We have tons of Little People.  We have TinkerToys. We have tons and tons and tons of Play Doh.  Those are all fantastic staples in our house and we love all of them.
So, here are some of the gifts that my 3-year-old got for his birthday – some came from us and some from relatives.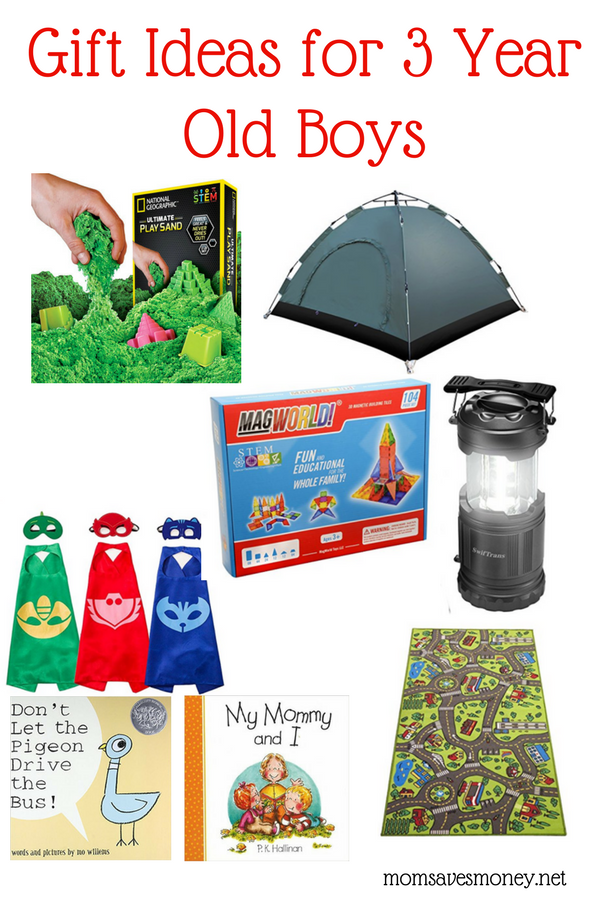 A real tent – My in-laws gave him this and OH MY GOSH! was it a hit!  All the boys can fit in it and they adore it.  Maybe someday we'll let them sleep in it outside, but really, it's been fun indoors.  We have a finished basement, so we set it up down there and the boys are in heaven.  We've had kids tent before and those are fun, but they just don't last.  This one is well built and I think it'll go the distance.  Just fun!
LED Lantern – This isn't the exact one that he got, but it's similar.  It was from my brother-in-law's family and coordinated with the tent gift.  Another hit!  It's a real LED flashlight, so it's well built and I think it'll last for a long time.  It tooks into the center of the tent top, so the boys have a little light in there.  They like to turn it on and off and pretend its night time.
Car Mat – We have a lot of cars and fire trucks and monster trucks, but we didn't have a permanent road path for them.  If I get a big box, I'll often take it apart and draw a mini-city on it.  Then it gets thrown away on the next trash day.  This is a great thing for them to play their cars on.  Truth be told, my 1 (almost 2) year old loves it more than the 3 year old.
PJ Masks Costumes – My boys dress up often, but it's usually animals (simply because that's the costumes we have).  This particular son has liked PJ Masks, so when I saw this set of 3 capes, it was perfect!  3 of our sons can dress up together and be in the same story.  It's been a good bonding tool for them.
Softballs – This isn't the exact one that my sister bought him, but they're close.  My husband and I aren't athletically inclined, so we haven't really encouraged sports in our kids.  While our boys love being outside, it's more about riding bikes and climbing in our fort and playing in the mud.  So this is a good introduction to sports.  I think we'll be buying a T for t-ball in order to expose the boys to more organized sports.
Play Sand – We have tons of Play Doh and this is kind of similar, but also different enough that it seems unique.  It's a sand that holds its shape better than regular sand.  One 2 pound box is good for 2 of our boys – we just split it in half and they play with it in a 9×13 dish to contain the mess.
Magnetic Shapes – These can be PRICY, but I bought this kit during Black Friday sales for at least 50% off.  We had a smaller set of these, but we didn't have enough to build anything impressive.  So I wanted us to have more.  So I bought some and waited for a good opportunity to give them to someone.  These are great as all of the kids can play with them – even the not-yet-2-year old.  Sure, he plays with them differently than the almost-6-year-old, but he plays with them, nonetheless.  We really like this brand.
Books – We have plenty of books.  Oh my stars do we have a lot of books!  But kids can always use more.  This year he got Don't Let The Pigeon Drive The Bus, My Mommy and I, and Corduroy.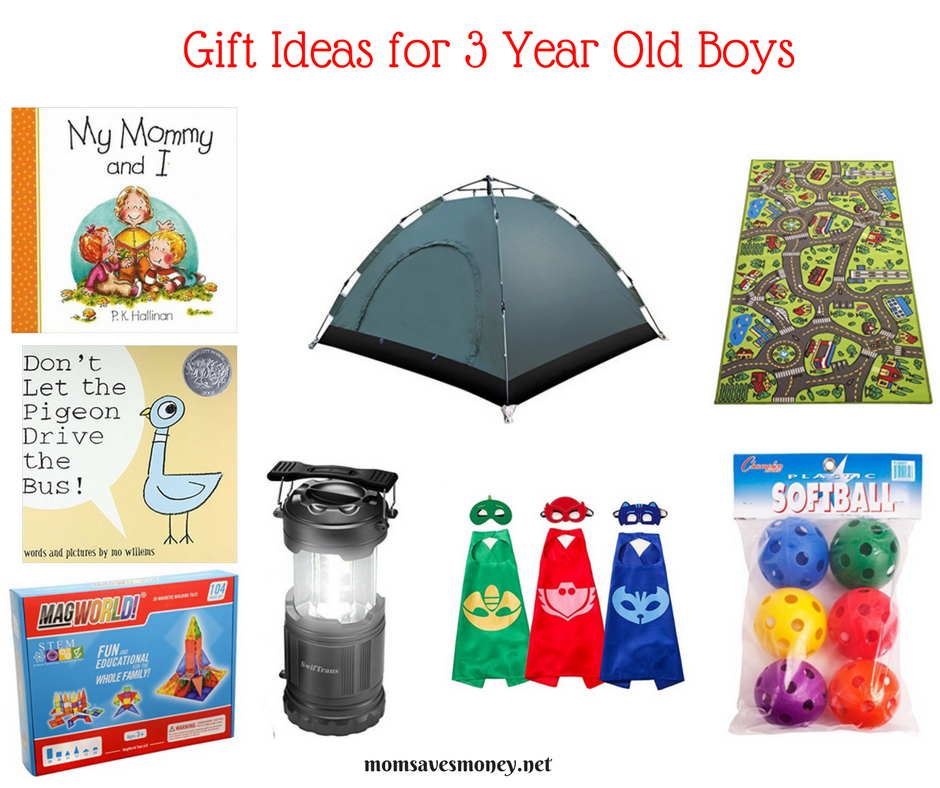 Jayme is a wife to 1 and a mother to four little boys. She tries to coupon, builds a smart stockpile, and always meal plans. While she likes to cook, she's in the stage of life where simple is usually better – she never knows how many hands she'll have free at dinner time! You can find her at No Regrets Living.