Hamburger Helper.  Do you love the stuff?  I confess that I've never had it…at least I don't think so.  Maybe my mom made it for us when we were kids, but I don't remember it.  When I grew up, moved out and started cooking for myself, I never made it because well, I didn't actually cook much and when I did, it was smaller meals as I was cooking for 1.  Then I got married and still never made it as I was out to impress my husband with my wonderful-to-be cooking and it never occurred to me to use it.  Then we had kids and I barely kept my head above water, much less branched out to new things.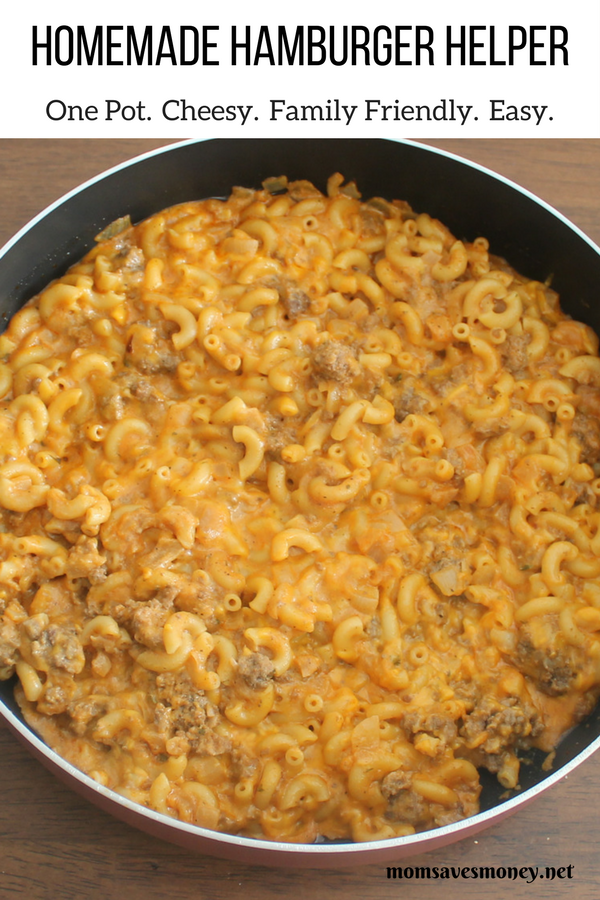 But…I found this recipe via Pinterest and it piqued my interest.  There has to be a reason that Hamburger Helper has been around longer than I have.  (I've been around since 1979, but Hamburger Helper has making its mark on the world since 1971!)  It has staying power – it's simple and easy.
This homemade version is just that – simple and easy.  And family friendly!  Sure, it probably takes more time than buying it in a box.  BUT…it has the huge bonus of being homemade.  Being homemade has its perks, most notably: 1) You can control the flavor and 2) You can make it even when you didn't think ahead and buy a box of the mix!  It has super common ingredients that are likely in your pantry.  You can add some spice to it if you want.  You can use a different pasta shape if you want.  You can do whatever you want to gosh.
I asked my husband if it tasted like Hamburger Helper.  His response: "I dunno.  But it's good!"  So…maybe it doesn't taste like Hamburger Helper.  Maybe it does.  But it's good!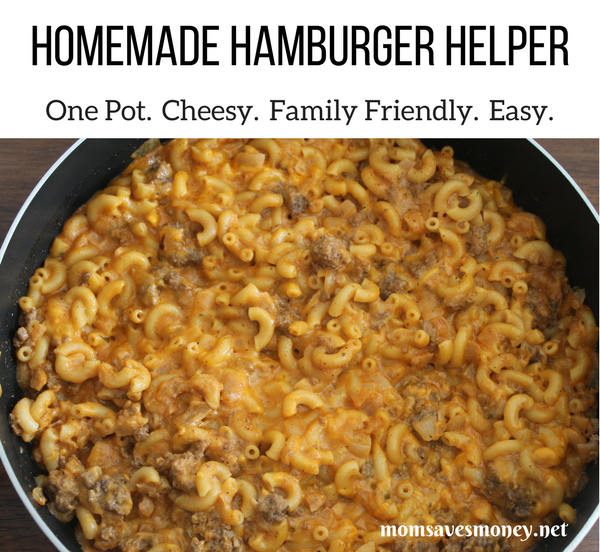 One Pot Homemade Hamburger Helper
This one pot homemade hamburger helper is cheesy and easy to prepare!
Ingredients
1

pound

lean ground beef (or ground turkey)

1

small onion, finely chopped

1

teaspoon

paprika

1

teaspoon

dried parsley

1

teaspoon

garlic powder

1/4

teaspoon

cayenne powder

salt and pepper to taste

1 1/2

cups

milk

1 1/2

cups

beef broth (or 1 1/2 cups of water with 2 bouillon cubes)

2

cups

uncooked macaroni (or other small pasta shapes)

8

oz

can tomato sauce

2

cups

shredded cheddar cheese
Instructions
In a large skillet, brown the ground beef/turkey, onion and spices. Drain grease.

Add milk, broth, tomato sauce and macaroni. Bring to a boil, then cover and reduce heat.

Cook for 10-12 minutes or until pasta is tender and most of the liquid is absorbed. Stir occasionally to prevent sticking.

Stir in cheddar cheese until melted.
Jayme is a wife to 1 and a mother to four little boys. She tries to coupon, builds a smart stockpile, and always meal plans. While she likes to cook, she's in the stage of life where simple is usually better – she never knows how many hands she'll have free at dinner time! You can find her at No Regrets Living.