Over the last holiday season, we had a few days where we had family and friends coming over.  Somewhere in all that, we were gonna need some snacks and desserts.  To help keep my stress levels low, I like making whatever I can well ahead of time.  (Course, I also know when to order pizza instead of trying to make dinner for a group of 18 people, 9 of whom are under the age of 6).  That's why I like these Ice Cream Sandwiches.
They aren't anything fancy.  It's even a stretch to call this a "recipe".  I mean, hello!?  It's taking 2 cookies and smashing ice cream in between them.  How is that a recipe?  Well, it's a recipe because if I put them in my recipe binder, then I remember them as something that I can make.  It's a recipe because it involves taking food items, combining them to make something different.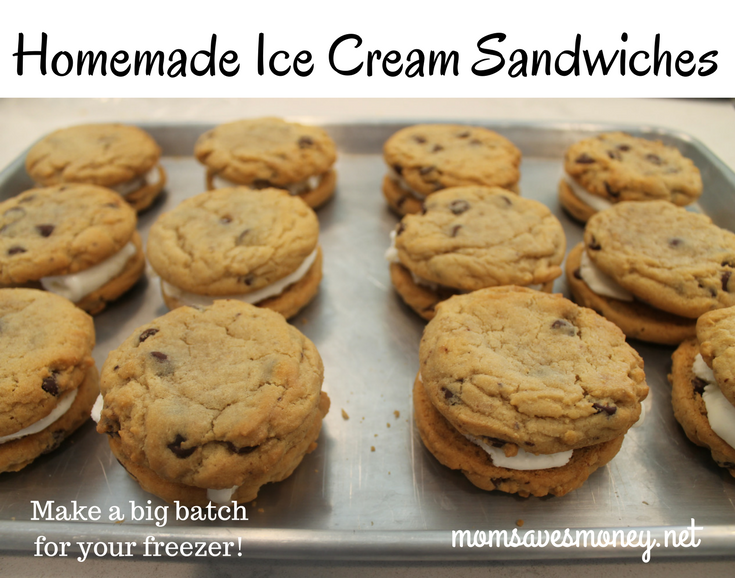 These are great for all kinds of occasions.  As a way to say "I love you".  As a way to celebrate a special moment – say a starring role in a class play.  As a way to be the Hero Mom when hosting a playdate.  As a way to occupy little  hands when you're trying to get a project done.  As a way to say "Welcome" to new neighbors.  There are all kinds of reasons to want a stash of these in your freezer.
Now, I admit that I didn't go too crazy with these, but you can – once made, you can roll them in sprinkles.  Or mini chocolate chips.  I used plain vanilla bean ice cream, but you can do whatever flavor your mouth wants. Chocolate.  Coffee.  Strawberry. Chocolate chip.  Mint chip.
My one tip for making these ridiculously quick and easy is to use store bought cookies.  Don't get me wrong – I love a good homemade cookie, but for this, I usually use store bought cookies. Why?  They're a uniform size and shape.  The cookies will line up well together.  I used normal sized cookies, but you can also use smaller cookies to make a smaller snack.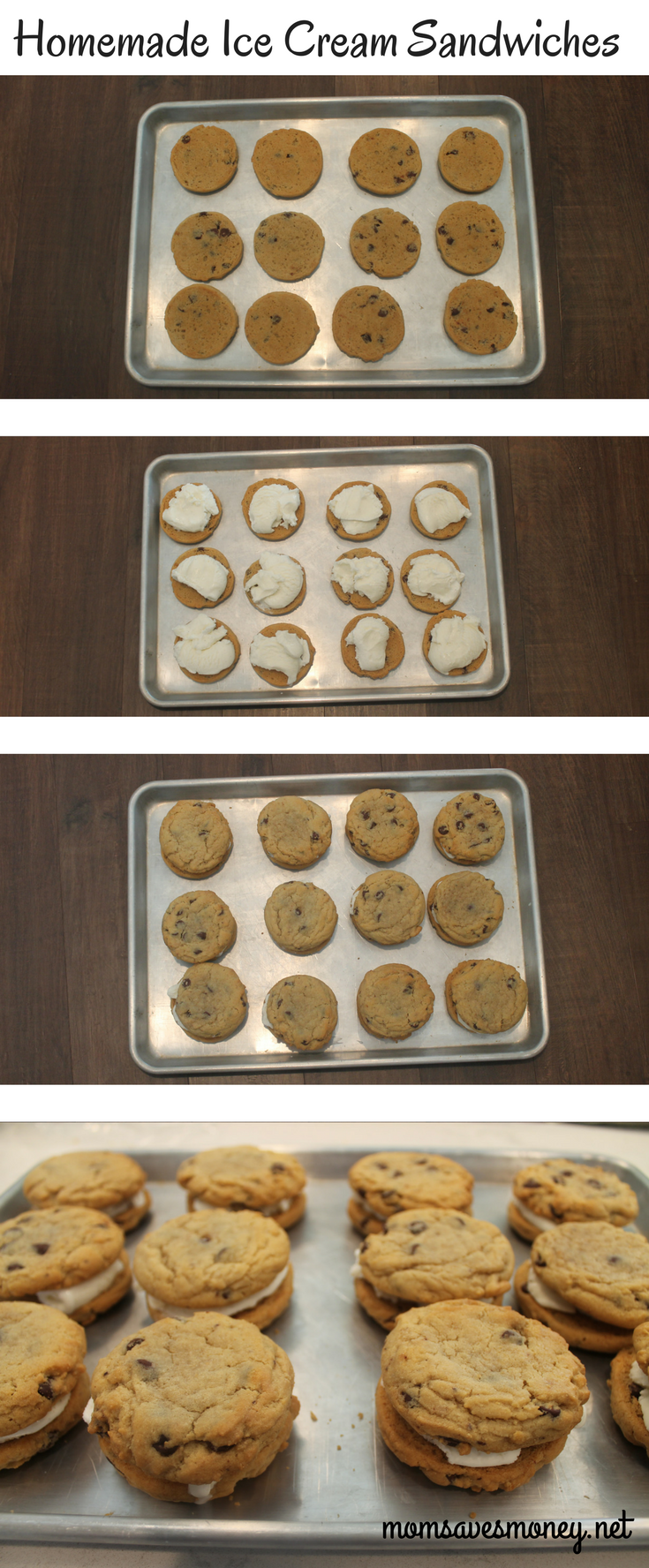 Ice Cream Sandwiches
Ingredients
For each sandwich:
2

cookies

1-2

scoops of ice cream
Instructions
Place cookie upside down.

Scoop 1-2 ice cream on top of cookie. Might need to let the ice cream soften a bit.

Add other cookie on top, right side up.

To freeze: You can place a bunch on a cookie sheet and then freeze the whole sheet. Then wrap in plastic wrap. Store in freezer. OR just wrap each cookie in plastic wrap and freeze.
Jayme is a wife to 1 and a mother to four little boys. She tries to coupon, builds a smart stockpile, and always meal plans. While she likes to cook, she's in the stage of life where simple is usually better – she never knows how many hands she'll have free at dinner time! You can find her at No Regrets Living.