Most of us pay our kids for chores or allowances, but I decided to do something more. I pay them to read books. Crazy, I know, but I have a good reason for dropping cash on their literacy.
I want to encourage my kids to learn and many jobs will pay more if employees have more knowledge or certifications. We all know college graduates earn more than high school graduates and the thirst for knowledge starts at an early age. While chores are great and definitely necessary for kids, life lessons are learned with more than just manual labor.
My kids are always asking for money and instead of piling on the chores (though, they have plenty of those), I wanted them to have the ability earn in a different way. My older kids, ages 12 and 9, are both avid readers and devour popular fiction titles. I tapped into their love of reading and challenged them to pick up more non-fiction titles.
My deal with the kids is they can pick any non-fiction business, money, or self-help book and read it. If they write a few paragraphs of what they learned, I will pay them $5 per completed book and report. Keep reading to see how we implement this into a successful reading program.
When my daughter has an item she wishes to purchase, like a new phone case or pop socket, she will pick up a non-fiction business book and read it to earn the money. In the first month of this program, she earned $30 from our deal and has learned valuable lessons from each book. Giving kids the opportunity to earn and budget their own money is one of the keys to teaching kids to manage money from an early age. You can learn more about how I teach money management to my kids in this article.
Want to try this paid learning opportunity in your home? It's easy to do, but it's good to have a few guidelines before you get started. If you have an overzealous bibliophile, you go broke quickly. Here's how we have structured our program.
How to Implement a Paid Reading Program:
Set Reading Guidelines – Decide what genre of books you will pay your child to read. I prefer non-fiction books that will teach them business skills or life lessons. I allow them to pick from the children's or adult sections at the library. I give them the Dewey decimal numbers of books that would be included in the deal and let them pick what interests them.
Decide How to Access Their Learning – I chose to have my kids write two paragraphs of their main takeaways from the books. My daughter typically fills two to three pages of notebook paper with her notes. Once complete, I review the book report and often ask them to elaborate on the main points.
Set Limits – If you have a highly motivated wage earner, you may find yourself forking over a stack of cash in no time. I currently limit my kids to two books per week. Only my daughter takes advantage of the limits. My son usually completes a book every few weeks.
Read the Books Yourself – I decided to read the books my children are reading for this deal. Most of them are fairly easy to read and I gain valuable knowledge as well. It's a win-win. You don't have to do this, but I found I can better review their book reports and discuss the book with them.
Continue the Discussion – Use this as an opportunity to discuss the book's topic and answer any questions they have on the subject. Sometimes I have to Google the answers, but that's okay. It's amazing to watch my kids learn new things and have the opportunity to earn money.
Here is one of my favorite reviews. The Cheap Book is a sarcastic, over-the-top read about embracing your inner cheapskate. My daughter filled it with sticky notes of her reactions to the advice included. The results were hilarious. This note reads "This book is filled with 'snotty' and 'gross' remarks for ideas. Although it was weird I did enjoy knowing some of the cheap things I do aren't just me." (The snotty comment refers to the advice to reuse tissues and I agree with her assessment.)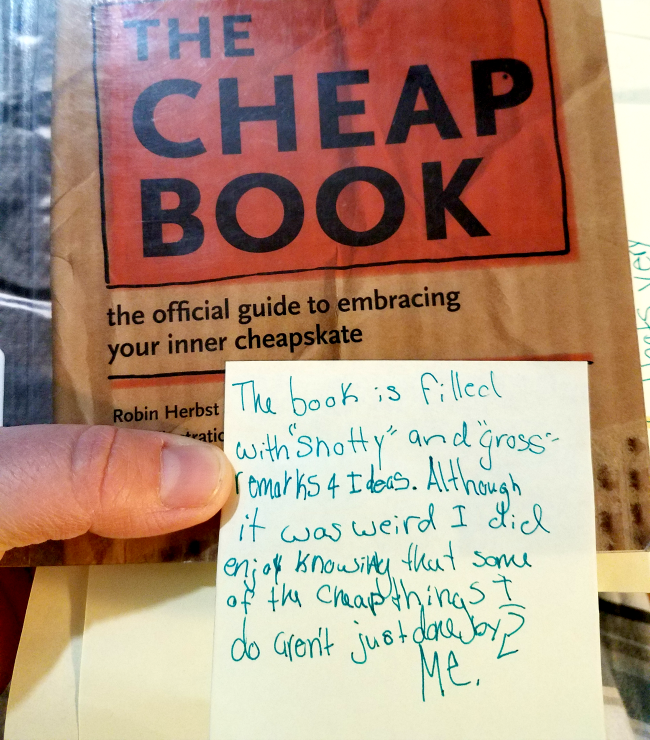 Here are a few more books my kids have picked for this reading program. I was impressed my daughter even read all three of the books I published (proud mom moment.)
My hope is the lessons learned from these non-fiction books will follow my kids through life. Our library bag is always full and they are now reading books they never even considered before this program. I believe learning about business and basic money management is the foundation for success as an adult. (The kids love the extra money too.)
What do you think of this idea? Would you pay your kids to read?