Disclosure: Contains Amazon affiliate links. All opinions are mine.
Whether your teen is entering college or the work world, they need to be armed with knowledge in life after high school. Throughout their secondary school days, students read a variety of compelling books. Some of the top books every high schooler should read before graduation are part of that curriculum, but there are others that just have good life lessons, no book report needed.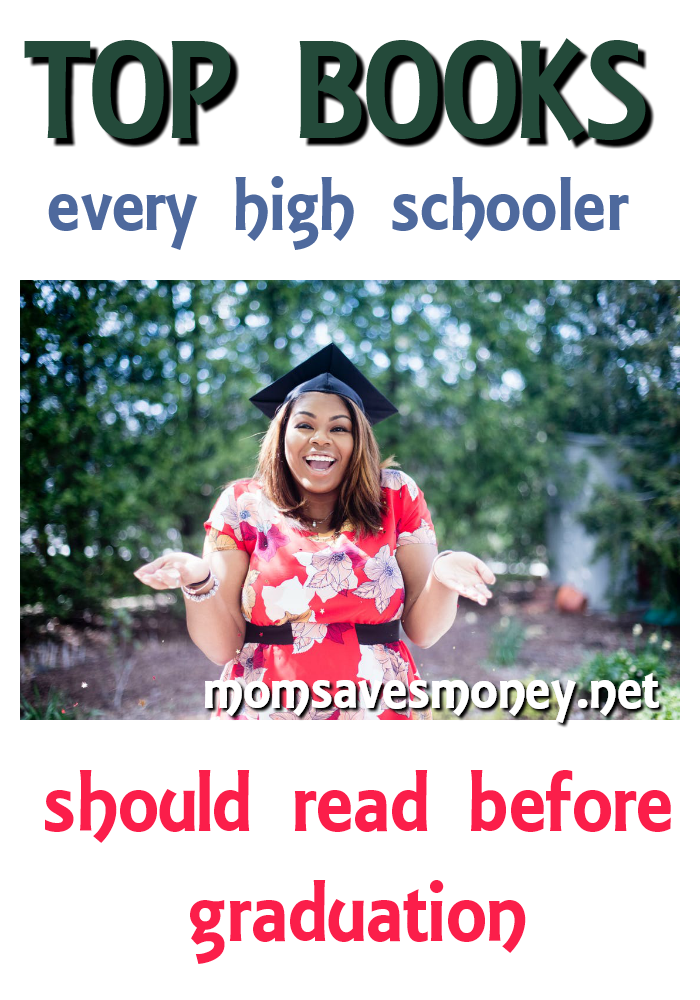 1. To Kill a Mockingbird
"You never really know a person until you see things from his point of view, until you climb into his skin and walk around in it." This lesson about empathy from Atticus Finch in one of America's greatest novels is one that will probably be introduced to your child in eighth or ninth grade. Not only does the book teach important lessons about kindness, tolerance, and racism, it also has symbolism and allusion that will be mentioned in pop culture and other novels for years to come.
2. Love Your Life, Not Theirs: 7 Money Habits for Living the Life You Want
Rachel Cruze is literally Dave Ramsey for the younger generation (she's his daughter). One of the biggest pitfalls to poor money management is trying to keep up with the Joneses or comparing yourself to others. Graduates can fall in this trap easily, and Cruze gives a clear picture of how to develop healthy money habits.
3. 100 Words Every High School Graduate Should Know
Pick up this quick read to give to your child to study before college entrance exams. Vocabulary acquisition and word part knowledge is proven to increase SAT and ACT scores. Study a few words a day, and you'll be a parent of a walking dictionary in no time.
4. Oh, the Places You'll Go
It may seem silly to put a Dr. Seuss book on the list, but your child will thank you for imparting this light-hearted, poetic advice. This is a book I pick up again and again when times get tough. Hard work and dedication will have them moving mountains!
5. The Last Lecture
Seize every moment. Live out your dreams. That's the message Professor Randy Pausch gave in his last lecture before he died of cancer. Give this to your student to remind them to reach their full potential and not fall short of their dreams even when obstacles stand in their way.
6. 1984
Another book popular on high school reading lists, George Orwell's classic provides a metaphor for political parties and propaganda that has inspired readers and writers for almost 70 years.
As your child gets closer to graduation day, check out these top books every high schooler should read before graduation. If they don't get a chance to pick them all up by next summer, they make great graduation gifts! Which of these books have you or your child read?