Disclosure: Contains Amazon affiliate link. Read full disclosure policy.
This is a guest post from my friend Steve with his honest review of the new Amazon Fire TV Cube.
I subscribe to a lot of streaming services – names many of you will already know such as Amazon Prime, Netflix, and Hulu. Sometimes this can be a headache given that not all of them are compatible with Google Chromecast, such as the aforementioned Prime, due to the fact that Amazon and Google are essentially competing for the same market. Last year I tried to solve this problem by buying an Amazon product called the Fire Stick, but unfortunately for me this product didn't work out the way I wanted it to. That's not necessarily Amazon's fault because in all likelihood I just happened to be the unlucky sap who got the one defective model in the bunch. It would work for about five minutes at a time and then reboot itself, and it was so hot to the touch it wasn't hard to see why. Happily Amazon took my return and gave me 100% credit back so I hold no grudges over it.
What I really wanted and needed was not another stick or dongle of any sort. I wanted a set top box that would give my television "Smart TV" functionality while properly dissipating the heat generated during operation so it wouldn't constantly reset itself. For a time Amazon offered just such a device called Amazon Fire TV, but the reason I wound up with a Fire Stick was because Amazon had discontinued Fire TV while they worked on the next generation model of the product. I decided to wait it out until they were ready to release the product I wanted and needed rather than taking a chance on a refurbished Fire TV from a third party seller. After all why use last generation's product when you can get all the new features of the next generation?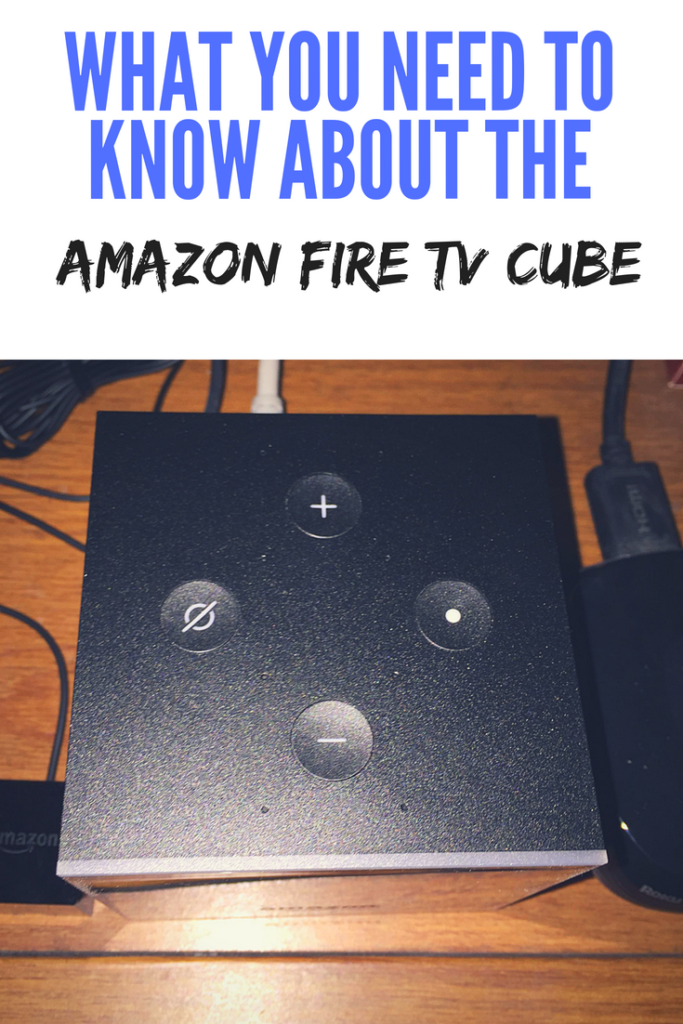 What you get with the Amazon Fire TV Cube
In June 2018 Amazon finally answered my prayers by announcing the Fire TV Cube and opening pre-orders with an estimated ship-to-arrive date of June 21st, 2018. The price seemed reasonable enough to me given it promised to stream everything I was looking for and now offered the additional bonus of an Alexa home assistant. Basically the new model Fire TV Cube was combining the Fire Stick with the Amazon Echo and putting it all in a nice neat little square box. I figured for $99 pre-order price (with free shipping to Prime members) I had nothing to lose. The worst case scenario would be that if it didn't work out I'd simply do another return.
The package arrived on time as promised via UPS delivery. Unboxing the system revealed the Cube itself, a remote control with two batteries, a power supply with sufficiently long cord (handy if you are putting this into a TV cabinet) and an infrared range extender (more on that later), and an optional ethernet adapter. All of these things were neatly bundled and packaged into a small box and quickly became a big unbundled mess on my coffee table. I take a "dive right in" approach to new technology so I didn't bother looking at anything other than the warning labels on the shrinkwrap. They advise having a foot or two of clearance on all sides for the infrared, the microphone, and the wi-fi signal.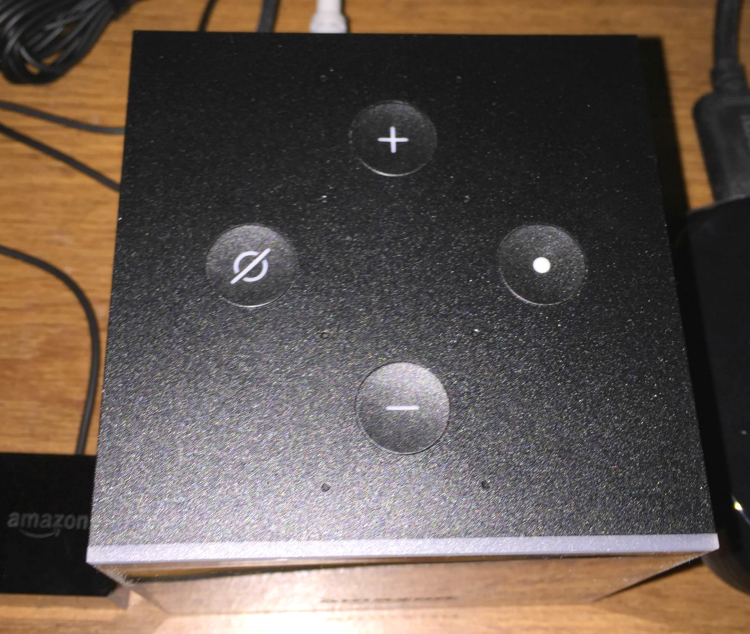 Tips for Installation
Frankly the hardest part of setting up was having to figure out what to unplug on our already overcrowded HD TV, but we decided that for the time being the Chromecast in our living room could take a powder, since after all this might conceivably replace the functionality of said same. You'll notice I did not say a HDMI cable was provided with the Fire TV Cube. Presumably if you're like me you have a spare or two around but if not you'll want to order one along with your Cube and make sure it's long enough to reach your HDMI port from wherever your Cube is installed. For me a three foot cord was long enough.
Once we had the Cube hooked up to the TV and plugged into the power strip, a blue/purple glow came on at the front of the Cube to let us know it was active. Turning on the TV to the correct input told us that the Cube was searching for its mate — you know, the remote. We put in the batteries and clicked the right button on said remote as instructed and the two were paired for life. Now I would say this was super easy but it turned out that we DIDN'T quite have enough clearance on all sides of the Cube as recommended; that and/or something else in the cabinet was interfering with the IR. Until we plugged the included infrared extender/receiver into the back of the Cube and ran the cord around to the front, I had to stand to the left of the TV at an angle for it to pick up the remote when I pressed buttons. Once we did plug it in the remote worked flawlessly.
Here's a quick video from Amazon on how to install the Amazon Fire TV Cube:
You can watch Steve setting up the Amazon Fire TV Cube his YouTube channel.
How it Works
The truth is though that once you're done with the initial setup there's not too much you'll need the remote for. The Cube is "smart" alright. You can say "Alexa, turn on the TV" and she'll do it. "Alexa, turn up the volume" – she can do that too. (If you don't like the increments of 5 she adjusts the volume by, you can change that in the settings.) Give her your zip code and she can answer "Alexa, what is today's weather forecast?" If you already have an Echo or use Siri on an iPhone this is all familiar to you. The fun part is that because the Cube is a hub for streaming services, you can say "Alexa launch Netflix" and she'll do it. Save your password once and you'll never need to do it again. What's even more impressive is that she knows what shows are on what service. Say "Alexa play Bojack Horseman" and she'll open Netflix and start streaming. Say "Alexa play The Man in the High Castle" and she'll open Prime and start streaming. "Smart" indeed!
My Final Thoughts
I have one positive and one negative to end this review on. The positive is that most streaming services that let you control them via your phone with Chromecast do on the Cube as well – Netflix and Hulu both synced up just fine. The negative is that YouTube doesn't. There's that old Amazon vs. Google rivalry rearing its ugly head again. The Cube can USE YouTube, but it does so by interfacing with a web browser (either Firebox or Silk) and then activating it via your preferred Google login/Gmail account. It sounds wonky and it is but what it comes down to is that it works BUT your phone can't control it, which is a minor annoyance I can live with. Also your Cube will be tied to whatever Prime account you purchased it with, so if you have little ones you may want to disable her home shopping features, otherwise they can run up and say "Alexa order more Frosted Flakes" and you might wonder why ten boxes of cereal wound up on your credit card bill. Some of my friends think the Cube is "listening" too much, but if that spooks you just unplug it when you're not using it. For me I like it listening, because for $99, it does what I want when I tell it to. If only every electronic device were so compliant!!
Order the Amazon Fire Cube TV from Amazon now.