Disclosure: Contains affiliate link. Read full disclosure policy.
Thanks to Pinterest, I've discovered that I love, love, love the look of photo collages made with canvases.  A quick search on Pinterest will show you tons of rooms that have been decorated with them and they just look so sharp!  And wouldn't you know, when our first kiddo was born, we were presented with lots of photos that we wanted to showcase!
BUT…I didn't really want to shell out a bunch of money for photos.  Because I love pictures and I wanted to be able to change them semi-often.  Not every day or anything, but more often than once every 5 or 10 years.  Our family was changing fast and I just knew that I didn't want to be tied to the same 5-6 prints.  So I wanted to have some photo canvases on display in our house, but didn't want to spend $10, $20, or more on each picture.  I couldn't justify that kind of expense.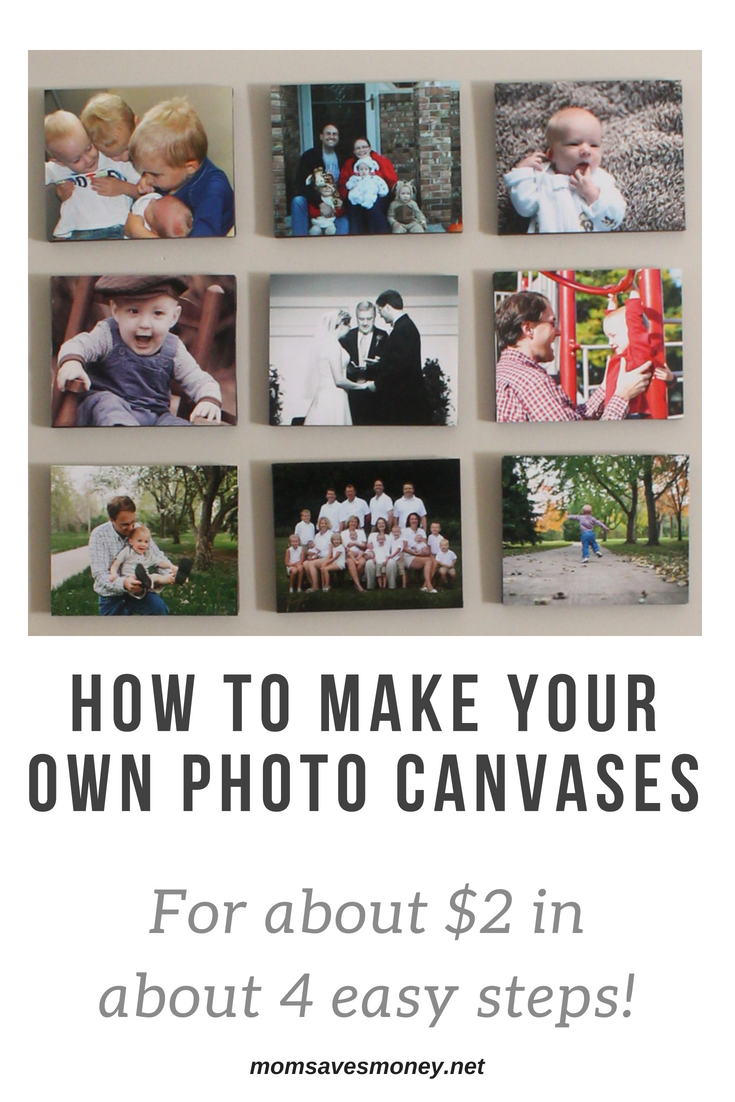 How to Make the Photo Canvas
So I set out to DIY it.  It turns out to be pretty easy.  In fact, it can be done in just 4 steps:
Paint canvas.  Paint the edge of the canvas with black acrylic paint.  (If you want – this one is even optional!  I just like the way it looks.)
Mod Podge the canvas.  "Paint" Mod Podge on the canvas, treating it as glue.
Lay the print.  Lay your print on top of the mod podged canvas.
Mod Podge the print. "Paint" Mod Podge on the top of the print.
That's it!  4 steps, one of which is even optional.  And the list of supplies is really small too:
Photo
Canvas – one per print
Black Acrylic paint – optional
Mod Podge – I like matte finish
Paint brush – I like the foam ones
How to Re-use the Canvases
What I especially love this is that I can re-use the canvases over and over and over and over.  That's where the true cost savings occur.  When I'm ready to replace a picture, I just mod podge over the first print and "glue" down the next print.  HOW AWESOME IS THAT!?  Here are some recent pictures where I covered Picture A (the picture of Son #2 showing a book to newborn Son #3) with Picture B (my husband holding Son #4).
Mod Podge over the original print
Lay the new print over the top of the original print
Mod Podge over that print
Hang!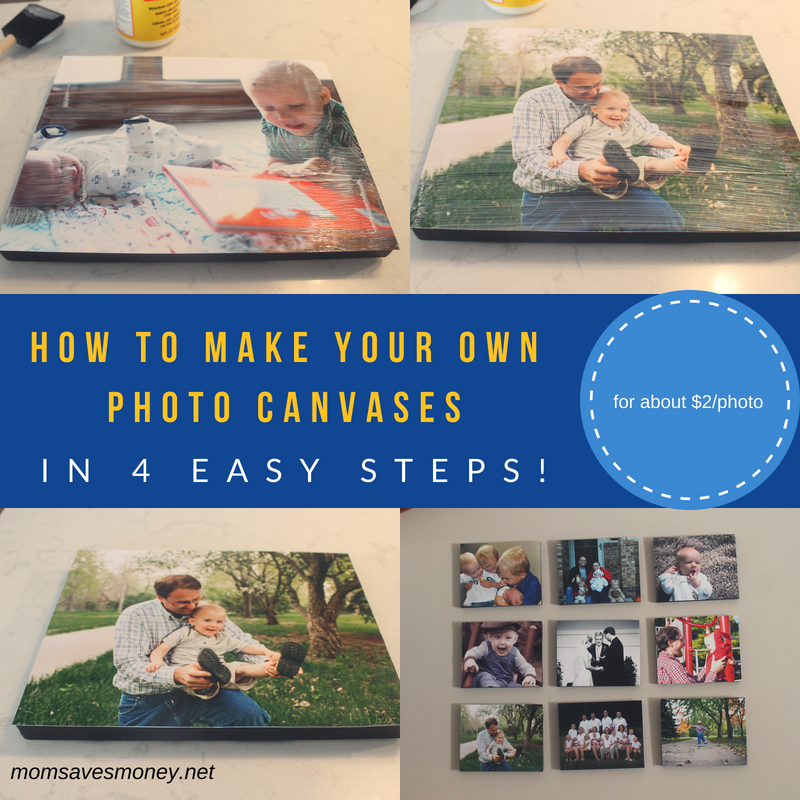 What's this all cost?
I've done 8x10s for all of mine, so your costs will vary on the size that you're doing.  But here's a ballpark break down:
Mod Podge & Black Acrylic Paint – You only need to buy these once – I think those together are less than $10.  I got mine at Hobby Lobby, but you can get them at Michaels or even Amazon.
Canvas – I got mine for about $1.50/piece at Hobby Lobby, but I think they're even cheaper now.  Get the cheapest ones that you can in the size that you want.  You aren't painting on them, so the quality of the canvas doesn't matter.  You just need it to hold the picture.  I will tell you: make sure you get the same brand each time – the height and length should be standard between brands, but some brands are deeper than others.
Photos – I do Walgreens for mine.  I think they have good quality for a great price.  I know there are top notch printing places out there; I just do Walgreens, especially when they're 40% or more off!  So…maybe $2/print for the 8×10 size. They offer free 8×10 prints several times a year, so that's even better.
Paint Brush – I haven't had great luck re-using paint brushes, so I just buy a multi-pack of foam brushes.  Any size is fine.  If I'm doing multiple pictures at the same time, then 1 brush will do it. But I haven't had great luck using a brush one time and then re-using it a month later, so I just get a new one.  You can get 50 of them for $9, which is tons of brushes.
All in all, I think I've invested $50 total and I have 18 canvases, several of which I've used more than once.  If we say that I've made 25 canvases this way, it's $2/canvas.  That's very affordable!


Jayme is a wife to 1 and a mother to four little boys. She tries to coupon, builds a smart stockpile, and always meal plans. While she likes to cook, she's in the stage of life where simple is usually better – she never knows how many hands she'll have free at dinner time! You can find her at No Regrets Living.