Know what's really delicious?  Chocolate.  Know what's even better?  Adding peanut butter to the party.  Combine both of them together in a brownie and it's close to heaven.  If you're my husband, you take that brownie and add a scoop (or 3!) of vanilla bean ice cream and you'll be calling me all kinds of wonderful names!
It feels weird to call this a recipe, but it is.  It's a way of jazzing up regular ol' brownie mix brownies just by adding some peanut butter to the party!  Peanut butter and chocolate are a classic combination, sure to please the family.  Or co-workers.  Or neighbors.  Or strangers.  Anyone that you want to impress!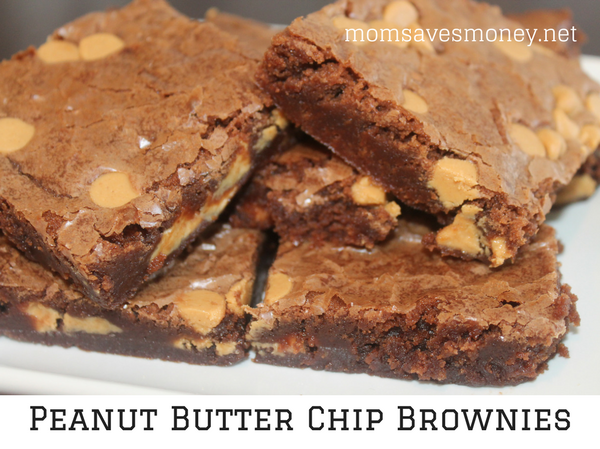 I, of course, make a double batch in my jelly-roll pan and it's easy to do.  Don't have a half sheet baking sheet?  Here's the one that I have and LOVE!  I love that it has a lid, which makes it very easy for transporting your baked goods.
Don't want to make THAT many brownies?  That's okay – I've included directions for a normal 9×13 pan.  But consider the half baking sheet!  These brownies freeze very well.  Once their cooled, I'll cut and wrap individual servings (which, for my husband is 2 brownies) in plastic wrap and then stick all of them into a freezer-safe gallon bag.  He'll pull out a serving, heat it up in the microwave and add vanilla ice cream.  He loves it.  And that helps him love me!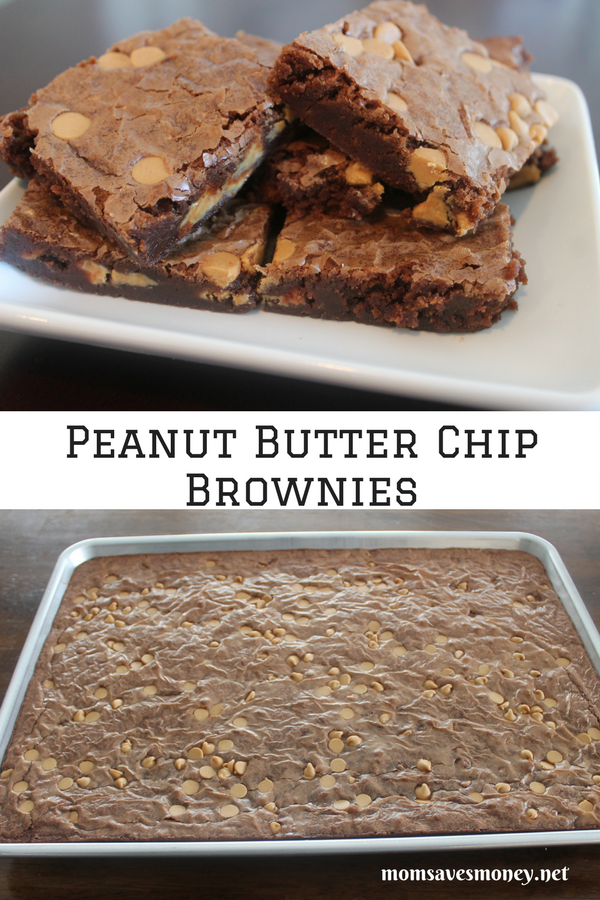 Peanut Butter Chip Brownies
Peanut butter chips take everyday brownies into an extra special treat!
Ingredients
For a 9x13 pan:
1

brownie mix

other ingredients on the box (usually water, oil, and eggs)

1/2

cup

peanut butter chips
For a jelly sheet pan:
2

brownie mixes

other ingredients on the box x2 (usually water, oil and eggs)

1

cup

peanut butter chips
Instructions
Make brownie mix according to directions.

Add in peanut butter chips. Mix well.

Bake for 25-30 minutes until tester comes out clean.
Notes
To freeze: Let cool, then cut into bars.  Wrap individual portions in plastic wrap and place in a freezer-safe bag.  When ready to eat, just defrost to room temperature or re-heat in the microwave.
Jayme is a wife to 1 and a mother to four little boys. She tries to coupon, builds a smart stockpile, and always meal plans. While she likes to cook, she's in the stage of life where simple is usually better – she never knows how many hands she'll have free at dinner time! You can find her at No Regrets Living.