I love iced coffee and drink it year round. It's easy to make the pricey coffee store versions at home and so delicious. Just think of all the money you can save making iced coffee at home. I've compiled 24 amazing iced coffee recipes for you to enjoy this summer (or all year, like me.)
Learn how to make simple iced coffee, mochaccinos and lattes or get fancy with nutella iced coffee, iced caramel mocha latte or s'mores iced coffee. There are even some delicious Starbucks copycat recipes. If you love iced coffee and frozen coffee drinks, these recipes are for you.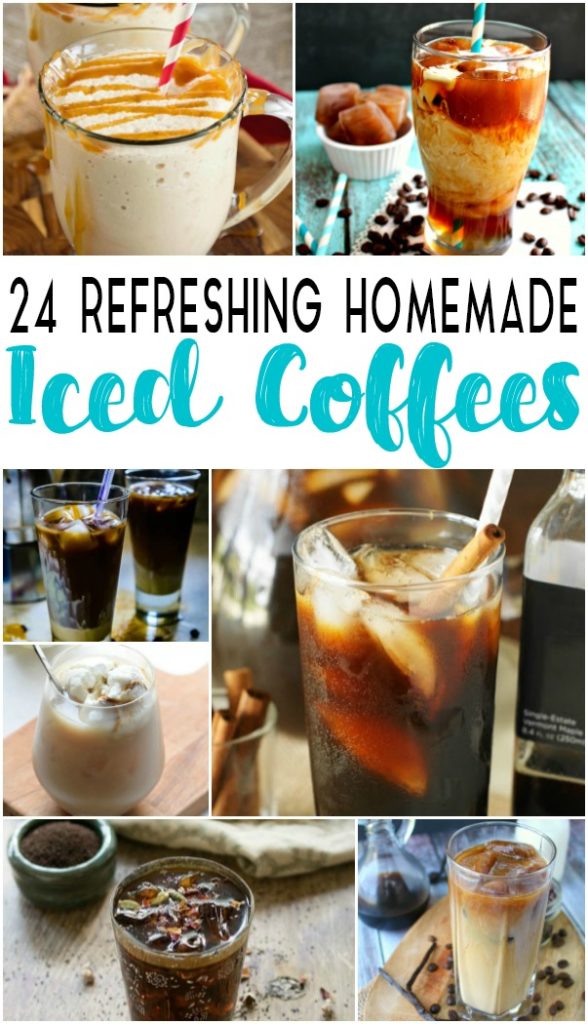 1. Spiked Chocolate Iced Coffee
2.Vanilla Bean Iced Coffee (pictured above)
3. Middle Eastern Iced Coffee with Homemade Cardamom Vanilla Syrup and Rosewater (pictured above)
4. Chocolate Mocha Iced Coffee (pictured above)
7. Dulce de Leche Spicy Iced Coffee Latte 
8. Dunkin Donuts Oreo Iced Coffee Recipe
9. Maple Iced Coffee (pictured above)
10. Rumchata Iced Coffee Slush (pictured above)
11. Easy Iced Coffee  (pictured above)
12. Vietnamese Iced Coffee (pictured above)
14. Starbucks Iced Cinnamon Dolce Latte
15. Iced Mochaccino
16. Starbucks Iced Green Tea Latte
17. Iced Chai Latte
18. Iced Chai Latte :: Sugar-Free & Dairy-Free
22. Frozen Caramel Iced Coffee
23. Starbucks Iced Coconut Mocha
Which of these iced coffee recipes are you most excited to try?