Frank Sinatra says:
Love and marriage, love and marriage
They go together like a horse and carriage
This I tell you, brother
You can't have one without the other
But, maybe the following is also true:
Chocolate and peanut butter, chocolate and peanut butter
They go together like a love and marriage
This I tell you, sister
You shouldn't have one without the other
They're just a delicious pairing.  I know this and so does the Reese's company. A week or so after this last Easter, I was browsing the clearance aisle at Target (cause I love it there) and saw those candy packages that are shaped like carrots.  Know the ones that I'm talking about?  In this case, they were filled with orange Reese's Pieces and were marked down to something crazy like 10 cents a package.  So I bought several, intending to make cookies with them.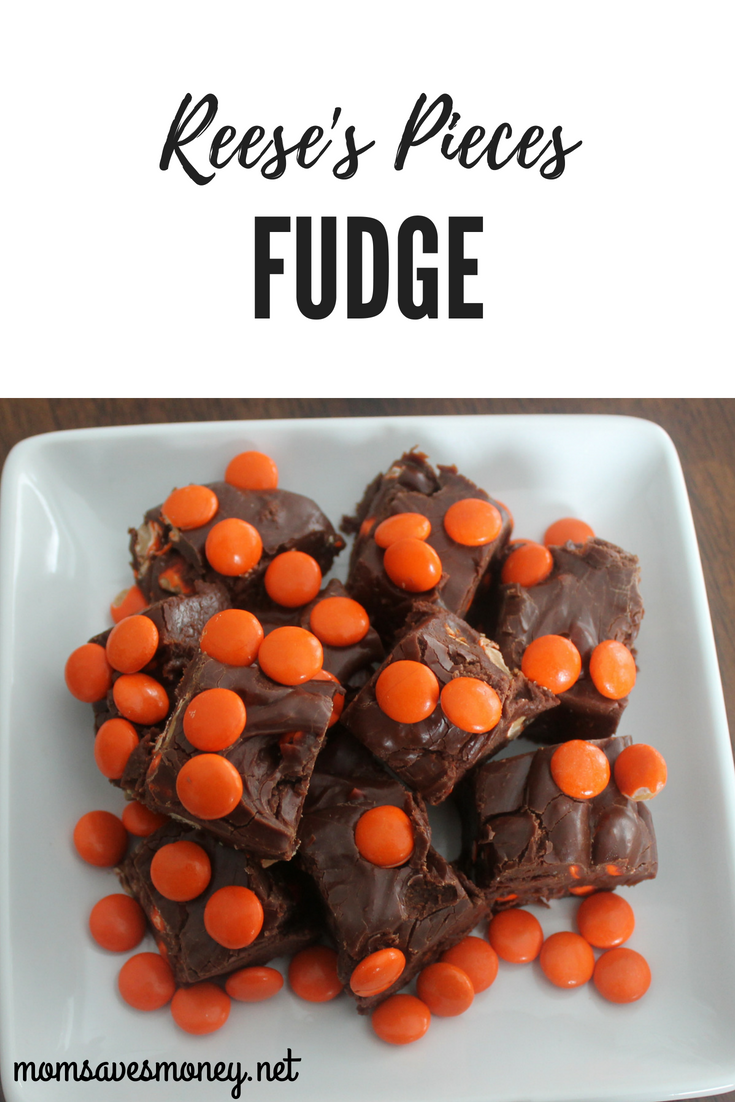 Well, long story short: I didn't.  Instead, I ate like 1/2 of them and used the other 1/2 in this fudge. I had been toying with the idea of introducing peanut butter into a chocolate fudge anyway.  Then I had the revelation that maybe I could get the peanut butter in there simply by using the peanut butter candy. It worked!  And it worked well!  I ate a few pieces, then made my husband take them to work, so that I didn't eat the rest of the pan.  (Cause that easily could've happened!)
The peanut butter was a nice addition to the chocolate (as I knew it would be).  The "crunch" of the candy shell was also kind of nice and definitely not distracting.  I'd totally do it again.  So the next time you see one those Theater boxes of Reese's Pieces at the store, buy a couple: one to eat and one to make this fudge with!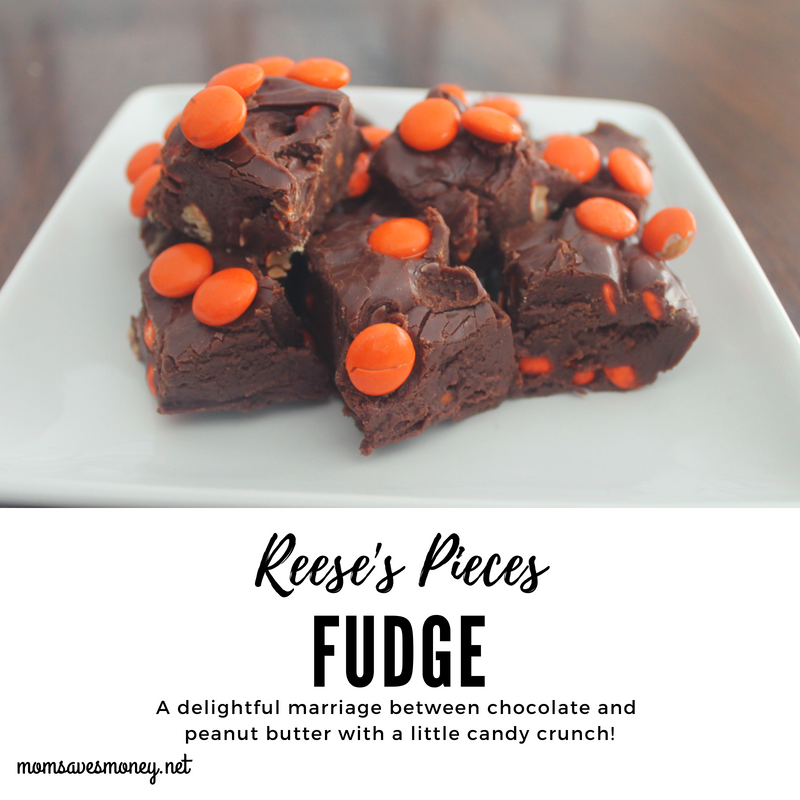 Reese's Pieces Fudge
Ingredients
3

cups

chocolate chips (about a bag and a half)

1

can (14 oz.) sweetened condensed milk

1/4

tsp

salt

1

cup

Reese's Pieces (give or take)
Instructions
Prepare an 8x8 or 9x9 baking dish by lining with foil. An 8x8 dish is what I use, but a 9x9 would work too - you'll just get "shorter" bars.

In a large pot, combine the chocolate chips, sweetened condensed milk and salt on low heat. Melt the ingredients while stirring often. Heat and stir until melted and smooth.

Stir in the Reese's Pieces. (You can save some for the top if you want).

Spread it out in the pan. Refrigerate until cool.

Remove and cut into squares. You can cut them as big as you want, but it's pretty rich, so a little goes a long way!
Jayme is a wife to 1 and a mother to four little boys. She tries to coupon, builds a smart stockpile, and always meal plans. While she likes to cook, she's in the stage of life where simple is usually better – she never knows how many hands she'll have free at dinner time! You can find her at No Regrets Living.