Hip! Hip! Hooray!  My baby turned 6 today!  (Well, he turned 6 on the day when I made this cake…that was a bit ago).  He's my son that has food restrictions, so I make most of our food from scratch.  For sure, I make most of his food from scratch.  It's a bummer, but things are better for him and for us when he's not eating the food he shouldn't be eating.
But, it's hard to top this cake.  A box mix might be incredibly easy, but this cake is incredibly delicious!  It is more complicated than a box mix, but it isn't hard.  I've actually be using it for years, even before I had to start baking from scratch.  It's a super popular recipe – you'll find it everywhere on the blog world.  It's by Hershey and I haven't made any changes – it's delicious as is.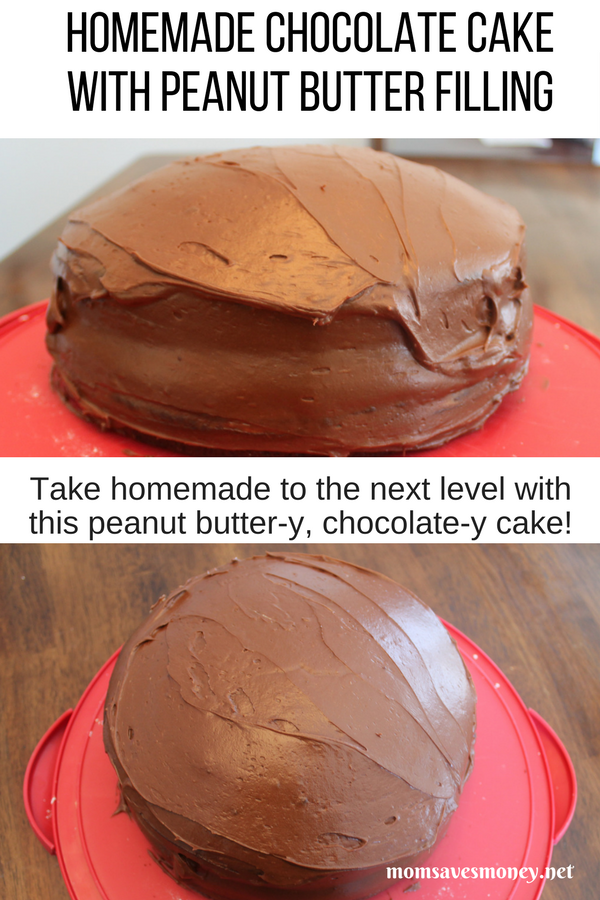 The only thing that I do is to add a Peanut Butter Filling layer in the middle.  Because chocolate and peanut butter are a great combination.  I don't do this all the time; just when I'm in the mood for something a little bit "extra", you know?  So when the Birthday Boy picked chocolate for his cake flavor, I made it a little "extra" by doing the Peanut Butter Filling.  You don't have to — the frosting recipe makes plenty of frosting for the outside of the cake and the inside too.
And here's a tip for you – when I'm making a cake, I'll cut out a circle of waxed paper the same shape as the cake pan and put it into the cake pan.
First: I'll use non-stick spray on the pan.
Then I'll trace around the wax paper with a pencil and cut out a circle the same size.
Third, place the wax paper circle on the bottom of the cake pan.
Then re-spray the pan.  Comes out cleanly every time!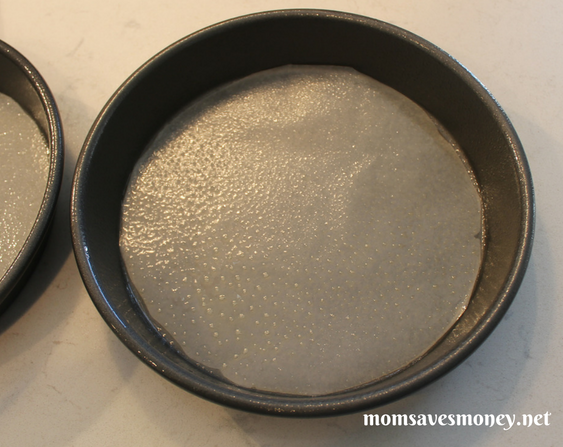 Make this cake – it's something special for someone special!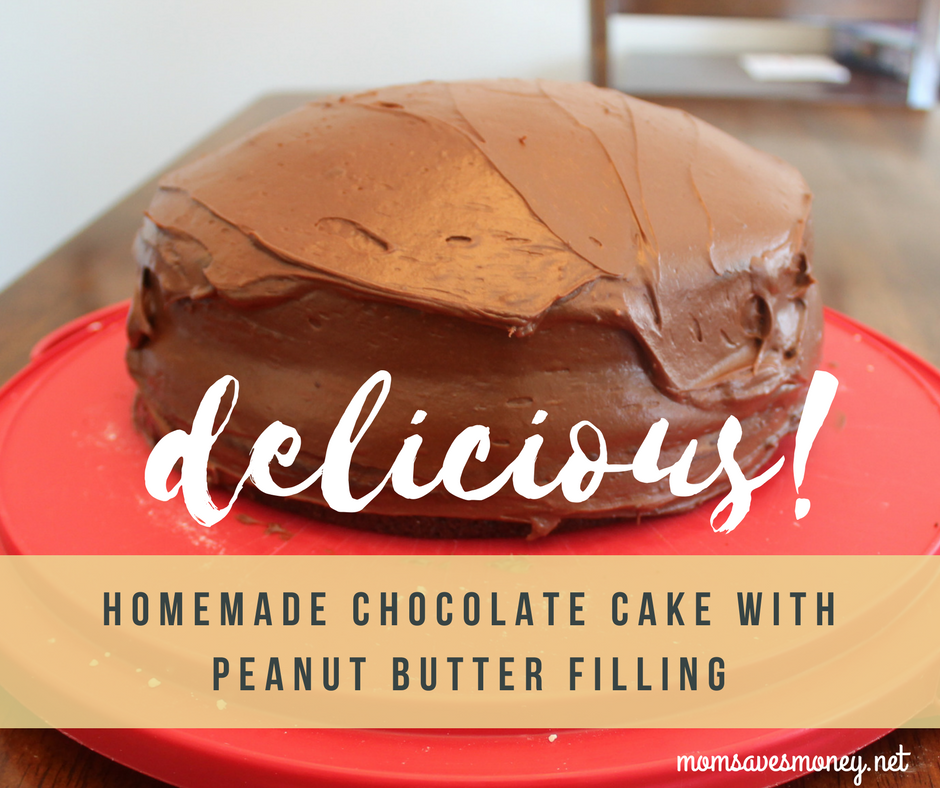 Hershey's Perfectly Chocolate Cake With Peanut Butter Filling
Ingredients
Cake Ingredients:
2

cups

sugar

1-3/4

cups

all-purpose flour

3/4

cup

HERSHEY'S Cocoa

1-1/2

teaspoons

baking powder

1-1/2

teaspoons

baking soda

1

teaspoon

salt

2

eggs

1

cup

milk

1/2

cup

vegetable oil

2

teaspoons

vanilla extract

1

cup

boiling water
Filling Ingredients:
1/2

cup

peanut butter

1/4

stick butter

1/2

cup

powdered sugar
Hershey's Chocolate Frosting:
1/2

cup

(1 stick) butter or margarine

2/3

cup

HERSHEY'S Cocoa

3

cups

powdered sugar

1/3

cup

milk

1

teaspoon

vanilla extract
Instructions
Cake Instructions:
Heat oven to 350°F. Grease and flour two 9-inch round baking pans. I like to cover the bottom of the pans with waxed paper (also coated with cooking spray). It hasn't failed me yet.

Stir together sugar, flour, cocoa, baking powder, baking soda and salt in large bowl.

Add eggs, milk, oil and vanilla; beat on medium speed of mixer 2 minutes. Stir in boiling water (batter will be thin).

Pour batter into prepared pans.

Bake 30 to 35 minutes or until wooden pick inserted in center comes out clean. Cool 10 minutes; remove from pans to wire racks. Cool completely.
Filling Instructions:
Combine ingredients with a mixer.
Frosting Instructions:
Melt butter. Stir in cocoa. Alternately add powdered sugar and milk, beating to spreading consistency.

Add small amount additional milk, if needed. Stir in vanilla. About 2 cups frosting.
Cake Assembly:
Put one layer of the cake onto the cake pan.

Spread the peanut butter filling over the top of the cake, making sure to go all the way to the edge.

Put the other cake layer on top of the peanut butter filling layer.

Frost the cake. You'll have plenty of frosting.
Jayme is a wife to 1 and a mother to four little boys. She tries to coupon, builds a smart stockpile, and always meal plans. While she likes to cook, she's in the stage of life where simple is usually better – she never knows how many hands she'll have free at dinner time! You can find her at No Regrets Living.