I believe in simple hospitality.  Opening up your home to others without making yourself crazy or your guests feel like they're imposing.  Things do not have to be elaborate to be enjoyable.  We've probably all been to someone's house where the host and/or hostess was running around like a chicken with their head cut off, all busy and frazzled.  Or maybe you haven't been to someone's house where they were like that, but you've at least seen it on TV.
And maybe you've been to someone's house and you just feel in the way.  Like you're bothering them with your very presence. Like they kind of resent either having to host the party.  Or that they'd rather be doing anything other than what they are doing.
Guests don't want any part of a party like that.  Hosts & hostesses don't want any part of a party like that either.
Since I survived my first holiday meal, I thought I'd share my tips for hosting a Holiday Dinner without losing your sanity by trying to rival Martha Stewart or even the Pioneer Woman.  (As great as they are, that's just not where my life is!)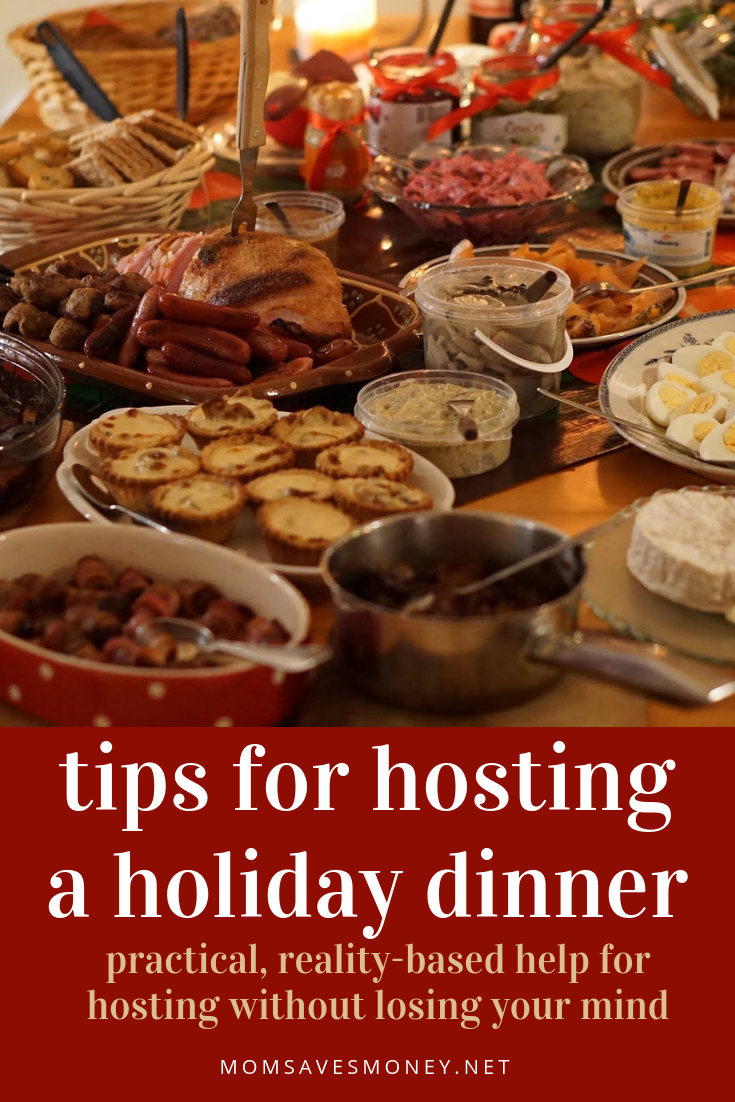 I have people over to my house every once in a while.  No big dinner parties where cocktail dresses are worn and champagne is toasted.  But most Monday nights, we host a friend of ours for dinner.  It's not a big deal.  I do cook a bigger meal than I normally do, but he isn't picky.  He survives the chaos that is our house.  Then he and my husband retreat the basement to play board games for an hour until our friend has to leave to make a Bible study in town.
BUT…I have started hosting my family over more often.  I'm one of 3 kids in my family and now both of my siblings live out of town.  My mom lives in town and still hosts the traditional Christmas and Gift Opening dinner, but I've become the "go to" house for more casual get togethers.  Christmas Eve.  Just-Because-We're-All-In-Town Party.  It makes sense as there are 11 grandkids between the 3 of us siblings, most of whom are under the age of 8.  My house is kid-friendly and probably already messy!
Tip #1: Make your menu in advance
Sometimes, it's easy to know what you'll serve.  Maybe you're a family that always, always, always has turkey for Thanksgiving.  Or you wouldn't dare not have a ham for Easter.  Or it's just not Christmas Eve if you don't have chili.  But maybe it isn't so easy – maybe you have flexibility as your family doesn't have any traditions around the particular meal that you're hosting.  If so, it's up to you!
The earlier you can plan your menu, the better.  It gives you time to shop for the ingredients that you need and get them on sale.  It gives you time to change your mind if you want.  It gives you time to mentally prepare for that day and what it might look like.
Tip #2: Think about what others can do
It's our family culture that for big meals, guests also bring part of the meal.  Growing up, one of our aunts would host the meal, providing the big item like the turkey, mashed potatoes, and gravy. But Aunt Alice would bring a veggie tray and Aunt Brenda would bring the rolls.  Aunt Carol would bring the drinks.  Aunt Dinah would bring 2 pies.  Aunt Eunice would bring her green bean casserole.  Boom!  You got a complete meal!
But it isn't that way in every family.  Or, at least, not for every event.  In my family with two of my siblings living out of town, it wouldn't be practical for them to bring a baked dish.  So they typically bring items that are served at other times of the day – like the desserts or appetizers for later.
Keep in mind your family culture and what others can do to help you.  If someone asks you what they can do to help, take them up on it!
Tip #3: Print out your recipes
Unless this is your 50th time making your famous Strawberry Pretzel Salad, print out your recipe.  Sure, you can always look something up online if you needed to.  But it's much easier to have printed out recipes for this day.
If someone wants to help you, you can hand them the recipe and let them have at it!
You don't have to have 5 browser tabs open to each recipe and switch back and forth.
When you forget how long & at what temperature something bakes for, it's right there.
You can easily write on it – any substitutions.  Or anything you'd do differently next year.  Or what time you put it in the oven.  Or you can cross off each step as you do them, so you know exactly where you're at.
It's just 100 times easier with printed recipes on a big dinner day.
Tip #4: Plan out that day – in detail
When I made my menu for Christmas dinner, I literally made a plan for that entire morning and what I needed to do when.  It went something like this:
Day Before
Make & refrigerate pasta salad.
Make extra ice and store in basement freezer.
Cut veggies for the vegetable tray.  Make ranch dip.
Shred cheese for potatoes for tomorrow.
Day Of
7:00 a.m. – Get rolls out of the freezer and start them rising.
9:00 a.m. – Get ham and put in slow cooker on low.
9:30 a.m. – Put carrots into slow cooker.  Cook on low for 2 hours.
10:30 a.m. – Preheat upper oven to 350 degrees.  Prep Cheesy Potatoes.
10:45 a.m. – Bake Cheesy Potatoes for 60 minutes in upper oven.
10:45 a.m. – Preheat lower oven to 350 degrees. Prep green bean casserole.
11:00 a.m. – Bake green bean casserole for 45 minutes in lower oven.
11:30 a.m. – Butter buns and place on baking sheet.
11:45 a.m. – Remove Cheesy Potatoes and Green Bean Casserole.  Cover to keep warm.
11:45 a.m. – Check on ham.  Have husband slice & plate.
11:45 a.m. – Place rolls in oven to bake in lower oven.
11:55 a.m. – Remove rolls.
12:00 p.m. – Remove carrots from slow cooker.
12:00 p.m. – Set up the buffet line and everyone eat!
It looks like a lot doesn't it?  But writing the list out doesn't make it more work – it just shows you all that you need to do.  It gives you a plan! That's really comforting.
I have the advantage of having 2 slow cookers and a double oven.  But if you don't, see if you can borrow any appliances that you need – maybe from a neighbor who isn't using theirs that day?  Or consider what you make in an Instant Pot.  Or a roaster pan.  But if you plan for 5 things to go into the oven all at the same time and your oven will only fit 2 things, you'll be frustrated and stressed!
Tip #5 – Keep it simple
For your first time hosting (or even your 20th!), keep it simple.  Don't try to make too many things that you aren't familiar with.  If you wanna try to go fancy with something, maybe pick something that you can make the day before.  That way, if it doesn't work out, you have time to recover.
And spend your time on the things that matter the most to you.  If you don't really care about mashed potatoes & gravy, then pick a different potato dish that's either more simple OR that you do care about.
I always keep it simple with my table settings.  No elaborate name tags here.  No fancy china.  No beautiful crystal.  Goodness no!  With many young kids at our place, there's just no place for that.  Maybe someday.  But this is not the day.
I honestly use paper plates.  But I at least get the fancy platter ones that are sturdy!  And I even do red Solo cups to drink out of.  We've even been known to write our names on them so you can tell whose cup is whose.  I do use real silverware, but that's easy to toss in the dishwasher afterwards.
I'm a semi-minimalist when it comes to my glassware.  I use the same brand of 9×9 and 9×13 casserole dishes (Pryex!) and they all have lids.  This is key when it comes to clean up.  Sure, it might not be as fancy as other types of glassware out there, but it gets the job done beautifully AND it also helps with clean up.
Tip #6 – Keep in mind the clean up
After the 15-20 of us are done eating, there's always plenty of clean up.  I try to keep this as easy as I can.  I have an open floor plan Ranch, so even if everyone retreated to the Living Room after dinner, they're still staring at my dirty dishes.  And to be honest, that makes me feel stressed out.  And it probably makes my guests feel uncomfortable!  It certainly doesn't help that we'll want the table cleared out so that we can play cards later!
So we do clean up right away – at least as much as we can and as much as is practical.  Since we've used paper plates, those just get tossed.  We'll literally bring out the trashcan (empty and clean!) and set it so that everyone can toss their plates in there.
Then we'll put away the food.  Both sets of my family are great at helping.  When they offer to help clean up, it's easy to say "Hubby, can you put the leftover ham into this bowl?" and "Grandma, here are the lids for the serving dishes.  Can you put those on and possibly find room in the fridge?" and "Boys, you're in charge of clearing the table and bringing things to the counter."  No one flinches an eye at that or feels weird about it.  They don't feel used; they feel useful.
Then I load the dishwasher and run it.  Usually there isn't too much that has to go into the dishwasher – dishes that we used for serving that are now empty.  Serving utensils and silverware.  If there is anything big that needs to soak for a bit, well, I don't mind that sitting out, soaking.  But at least me and my guests aren't staring at 15 dinner plates and 6 casserole dishes that need washing when we're trying to work off our turkey coma!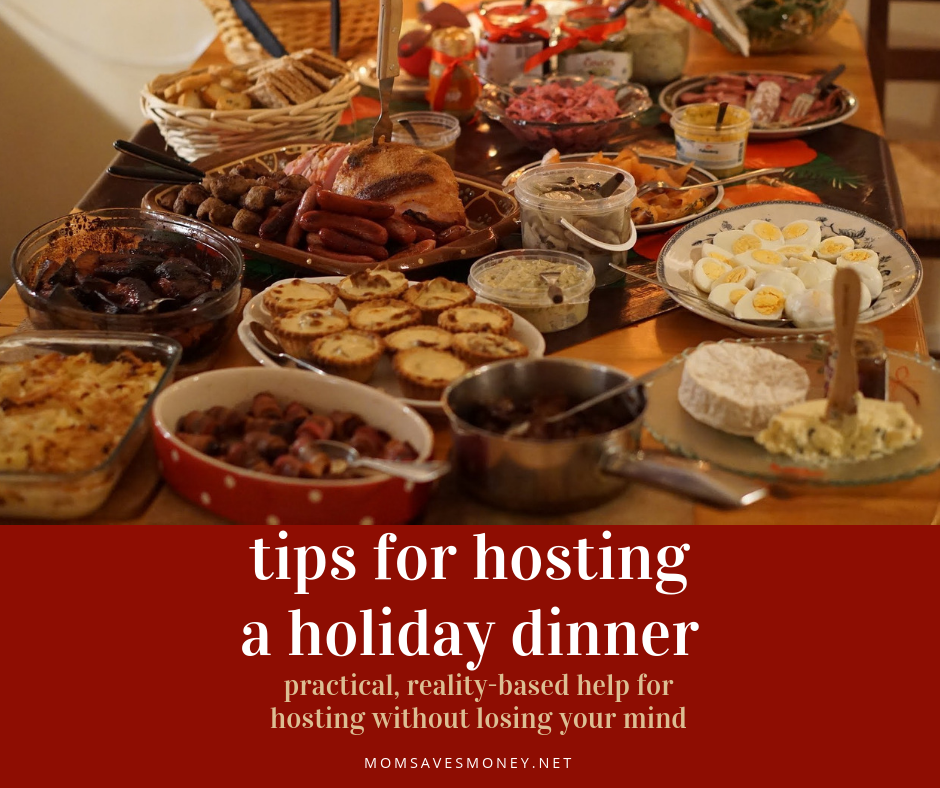 If this is your first holiday dinner, I wish you well!  Just remember: your guests probably already like you!  It's just one meal in a lifetime of meals!
Jayme is a wife to 1 and a mother to four little boys. She tries to coupon, builds a smart stockpile, and always meal plans. While she likes to cook, she's in the stage of life where simple is usually better – she never knows how many hands she'll have free at dinner time! You can find her on Instagram.