OH MY STARS!  I married a cocoa-loving man.  I'm not really sure that I knew that when we married, but I did shortly after that.  The first winter that we were married, we happened to go grocery shopping together.  (Probably only one of maybe three times we've done that.  That must be something that only newly married people do.)  We got to the cocoa mix aisle and he started studying all the choices.
Studying them.  Not kidding.  He started debating the pros and cons of the various choices and eventually landed on a few to buy.  I had no idea that I had married a cocoa-lover.  But, really, there could be worse habits, you know?
A few years after that, I stumbled onto this homemade cocoa mix in a Hy-Vee magazine.  It was delicious!  My husband quickly dubbed it the "Best Cocoa That I've Ever Had".  We ended up making a few tweaks to make it even better (to us) and that new concoction has become the "Best Cocoa In The World".  As soon as he suspects that the weather is getting colder or that snow is on it's way, he makes sure we have the supplies to make this mix.  We make a huge batch, keep it in a glass jar and just enjoy it all season long.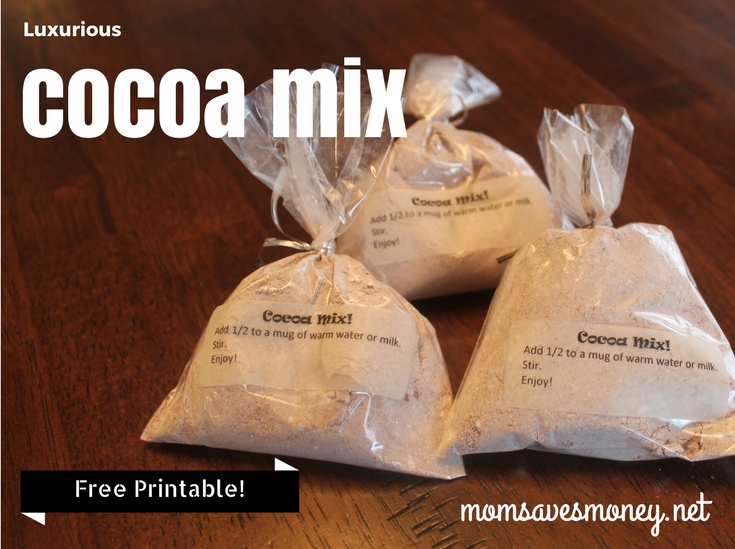 This past Christmas, we even made little gifts out of the mix.  We put 2 servings in a little treat bags, printed out a label and gave a bunch away.  We gave them to our kids' teachers.  We gave them to his co-workers and boss.  We gave them to our neighbors.  It was one of our favorite things given at a favorite time of year.  Practical.  Delicious.  Gotta love that!
If that's something you want to do, I've included a printable.  It's made to print on Avery labels.  I use the clear labels, but the most common (and inexpensive!) ones are white.  I made it so that if you put 4 Tablespoons into each treat bag, then you'll get 2 servings.  So that's what the label says.  But I've included the Word document, so you can modify it as you need.

Enjoy!
Luxurious Hot Cocoa Mix
This isn't your run of the mill hot cocoa mix! This creamy cocoa mix will warm your heart!
Ingredients
2 1/2

c

instant nonfat dry milk

2 1/2

c

powdered sugar

1/3

c

French vanilla coffee creamer powder

2

c

instant chocolate-flavored drink mix (like Nesquik)

1

tbsp

baking cocoa powder

1

(3.9 oz) box instant chocolate pudding mix
Instructions
In a large bowl, mix all ingredients together.

To serve: Add about 1.5-2 tablespoons to 8 ounces of warm milk or water.
Jayme is a wife to 1 and a mother to four little boys. She tries to coupon, builds a smart stockpile, and always meal plans. While she likes to cook, she's in the stage of life where simple is usually better – she never knows how many hands she'll have free at dinner time! You can find her at No Regrets Living.