Did you know there is a National Potato Chip Day – and it happens to be March 14? What better way to celebrate than creating a delicious meal or side dish with the star of the day – potato chips.
Potato chips add a little crunch, a little salt, and a whole bunch of delicious in these 15 recipes. This list features main dishes, casseroles, appetizers, and side dishes for fun new ways to enjoy everyone's favorite potato chips.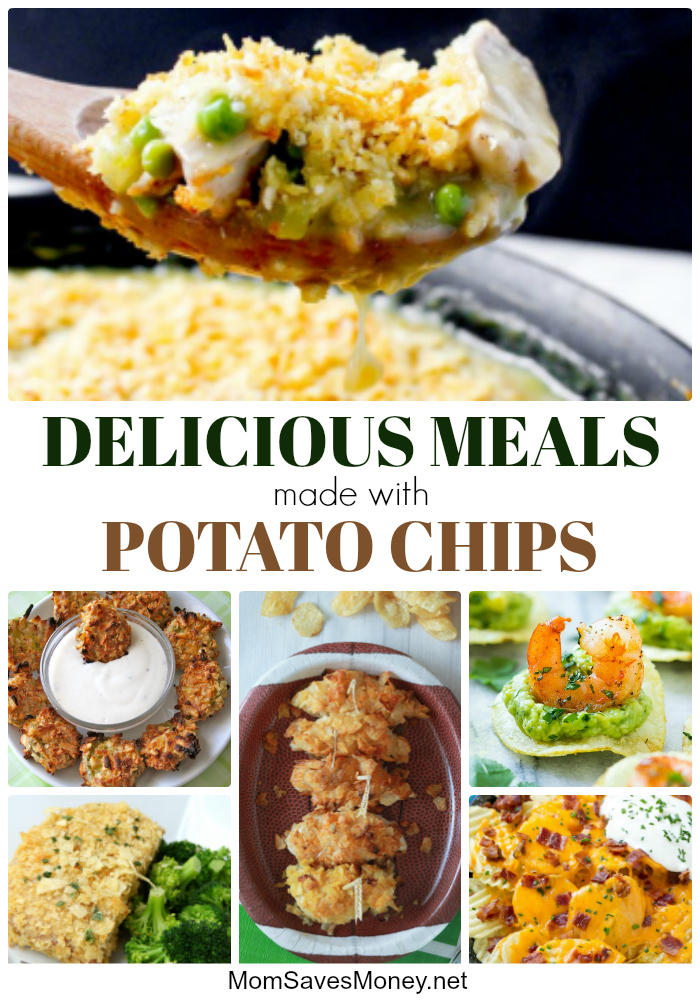 1. Twice Baked Potato Casserole With Potato Chip Crust – Delicious homemade potato casserole with a crispety, crunchety potato chip finish.
2. One-Skillet Chicken Pot Pie With Potato Chip Crust (pictured above) – This is a classic chicken pot pie recipe with a potato chip twist on the 'pie' portion.
3. Potato Chip Pork Chops (pictured above)- This seasoned pork chop is dredged in buttermilk and coated in crispy potato chips for a perfect baked crust.
4. Oven Fried Potato Chip Chicken Tenders (pictured above) – With only 4 simple ingredients, these chicken tenders are perfect for dinner or a game day appetizer.
5. Irish Nachos – Swap tortilla chips for potato chips in this loaded Irish nacho recipe.
6. Skillet Loaded Taco Potato Chip Nachos – Baked in a skillet, these potato chip nachos are the perfect easy meal.
7. Oven-Fried Pickles With Potato Chip Coating (pictured above) – Just when I think fried pickles can't get any better, I found this recipe. The potato chip coating is out of this world on these oven-fried pickles.
8. Potato Chip Crusted Chicken Meatball and Waffle Bites – This recipe is a unique and delicious spin on the classic Southern dish, waffles and chicken. It's a must-try!
9. Salt and Vinegar Potato Chip Crusted Cod – Salt and vinegar potato chips are the perfect coating for this oven-baked cod.
10. Cheesy Potatoes With Crunchy Kettle Chip Topping – This recipe reminds me of funeral potatoes with a crispy potato chip topping.
11. Almost Homemade Green Bean Casserole – Skip the fried onions for your green bean casserole and try this unique recipe with potato chips. This is sure to be a new holiday favorite!
12. Buffalo Chicken Potato Chip Nachos with Bleu Cheese Sauce – Buffalo chicken, potato chips and bleu cheese dressing – all my favorite game day foods in ONE dish.
13. Chicken & Potato Chip Casserole – Try this easy casserole recipe that kids will love.
14. Potato Chip Crusted Fish Filets for Sandwiches – An oven-baked fish filet recipe for the perfect crunchy fish sandwich.
15. Mexican Shrimp Bites (pictured above) – These shrimp and guacamole bites on a potato chip are a perfect finger food designed to impress.
I hope these 15 recipes will inspire you to celebrate National Potato Chip day and try a fun, new recipe with America's favorite snack food. Which recipe will you try first?