Do you love fried and crispy chicken, but want healthier options that still taste great? Try these flavorful and juicy air fryer chicken recipes. From chicken wings and tenders to egg rolls and fried rice, this list has all your favorite chicken recipes – only healthier.
An air fryer uses up to 75% less oil than frying, but still gives that crispy finish we all love with fried foods. You don't have to sacrifice taste or convenience with air fryer versions of your favorite chicken recipes.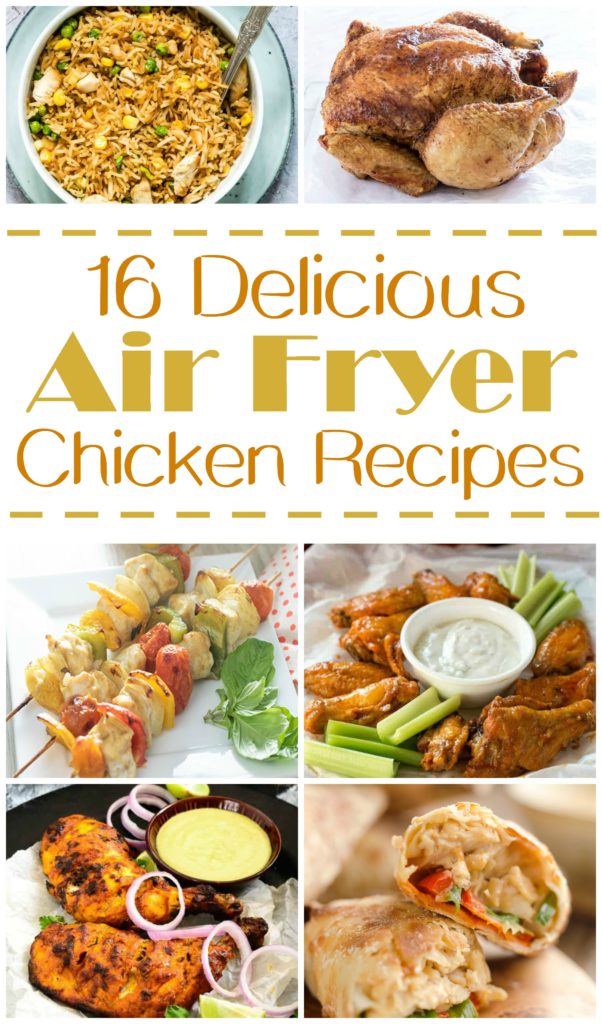 1. Air Fryer Chicken Egg Rolls – With only one Freestyle Weight Watchers point per egg roll, this recipe is a win! Make the egg rolls with chicken, ground turkey or shrimp for a healthy Chinese food favorite.
2. Air Fryer Chinese Salt & Pepper Chicken Wings – These are just like the chicken wings you would get at a Chinese restaurant. Skip takeout and try this recipe!
3. Easy Air Fryer Chicken Wings with Buffalo Sauce Recipe (pictured above) – Just a few simple ingredients and you can enjoy chicken wings any night of the week. This recipe includes a tasty homemade buffalo sauce recipe.
4. Air Fryer Whole Chicken (pictured above) – Enjoy a crispy and juicy whole chicken in less than an hour!
5. Crispy Chicken Quesadilla Air Fryer Recipe – No more soggy taco shells with this easy chicken quesadilla air fryer recipe. Delicious chicken quesadillas ready in less than 15 minutes.
6. Creamy Air Fryer Chicken Broccoli Rice – Try foil cooking in your air fryer for delicious single serve dishes, like this creamy chicken broccoli rice.
7. Air Fryer Bacon Wrapped Chicken Jalapeno Poppers – This is a twist on the classic jalapeno poppers. These poppers are wrapped in chicken and bacon for a truly crave-worthy appetizer.
8. Air Fryer Curry Chicken Kabobs (pictured above)– Instead of grilling your kabobs, try this flavorful air fryer kabob recipe with curry chicken and fresh vegetables.
9. Airfryer Baked Thai Peanut Chicken Egg Rolls (pictured above) – This recipe is a great way to use up leftover chicken and includes a recipe for homemade thai peanut sauce.
10. Lemony Middle Eastern Air Fryer Crispy Sumac Chicken (pictured above) – This is a traditional Middle Eastern dish with a tangy lemon flavor.
11. Air Fryer Apricot Chicken Wings Recipe – Try this unique sweet and zesty chicken wing recipe for your next party.
12. Air Fryer Chicken Fried Rice (pictured above) – Have leftover rice? Try this simple fried rice recipe with your choice of meat, rice, and veggies. Ready in less than 30 minutes.
13. Panko Crusted Air Fried Chicken Tenders – Try this healthier version of crispy and classic chicken tenders.
14. Low Carb Air Fryer Sesame Chicken Legs – Crispy chicken legs with an Asian flavor. This simple marinade takes your chicken legs from ordinary to extraordinary.
15. Air Fryer Chicken Tenders You and Your Kids Will Love – Are you kids addicted to chicken nuggets? Try this deliciously seasoned chicken tender recipe for a serious upgrade to a favorite.
16. Tandoori Chicken Recipe in Air Fryer (pictured above) – A traditional Indian dish, this tandoori chicken recipe is healthy and flavorful.
What's your favorite chicken dish to cook in the air fryer?
Love this. Check out more delicious recipes: