This post is sponsored by Hiland Dairy but the content and opinions expressed here are my own.
Summer fun is here – playing outdoors, family vacations, visits to amusement parks, and family time together. That means summer road trips! I love the fun and adventure of road trips, but when you travel with kids you need to be prepared. I'm sharing my tips to save money and sanity with these simple road trip snack hacks.
As a mom of 3, making regular 14-hour road trips to visit family in Utah, I've learned how to make a road trip with kids successful and stress-free. We make this long road trip in one day and I hear, "Mom, I'm hungry" on repeat the entire day. Thanks goodness I'm prepared!
Save yourself money (and sanity) by packing a simple DIY road trip snack kit packed with protein from Hiland Dariy products for healthy snacking on the road. These snack hacks aren't just for road trips. Use these tips for your next picnic, family outing or park adventure.
Family Road Trip Snack Hacks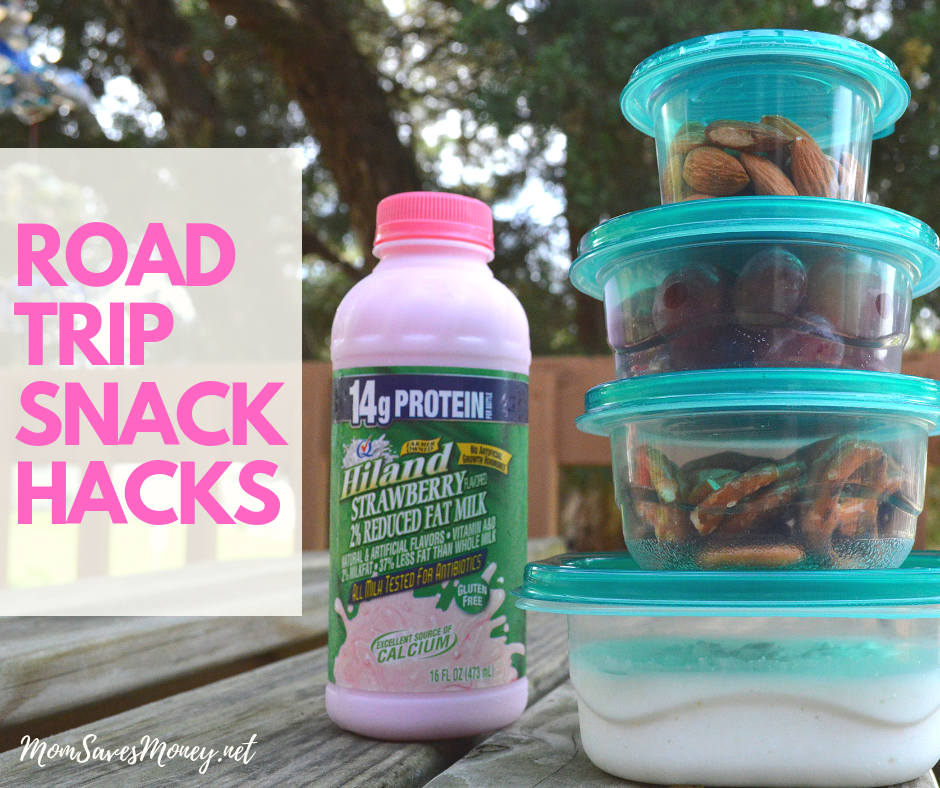 Keep Kids from Fighting Over Food
I have three kids and while there's no real way to keep them from fighting at all on a long road trip, I do keep them from fighting over food. I pack individual portions for each person and label them with their names. No more yelling that brother ate all the grapes or asking to share packages. Give each person their own portions and alleviate the food fights.
Save Money on Snacks
To save money, I recommend skipping the pre-packaged versions and invest in a few plastic containers or bags and portion everything yourself (FYI – the dollar sections of stores have great little containers perfect for road trips.) The less you have to stop for food at convenience stores or fast food joints, the more you will save. I can pack a cooler of healthy food for the entire road trip for less than the cost of one fast food stop.
Pack in the Protein
It's easy to load up on carbs and sugar on road trips, but to really satisfy hunger, you need protein. The easiest way to get delicious protein kids will enjoy is adding in dairy. I always pack Hiland Dairy chocolate or strawberry milk on our road trips. Each individual 16 oz Hiland Dairy milk packs an impressive 14-16 grams of protein and added nutrients. This will keep their bellies full and quench their thirst.
High Protein Snack Ideas:
Hiland Dairy individual milk (kids love the chocolate and strawberry flavors)
Cheese sticks or cut-up cheese chunks
Hard boiled eggs
Hiland Dairy cottage cheese
Hiland Dairy yogurt
Beef jerky
Peanut butter (pair with apples or celery)
Nuts (or trail mix with nuts
Deli meat
Add Fresh Fruits & Vegetables
One item that's hard to find on the road is fresh fruit and vegetables. I recommend washing and cutting up your fruits and vegetables into bite sizes and package them individually for each kid. Keeping a diet as normal as possible is important on road trips. We all know what can happen when we load kids (or ourselves) up with sugar and fried foods. Good nutrition is essential for road trips to keep kids calm and happy on the road.
Keep it Organized
If your kids have their own lunch coolers for school, use it for their road trip snacks.  If your family shares a cooler, put all the snacks for one kid in a large size bag and make sure to label every snack item.  Stash the cooler in a convenient location in the vehicle so you can grab snacks quickly on the road or at rest stops.  Check out this road trip checklist to ensure you have everything you need when traveling with kids.
Pack Enough Food
I plan a balanced snack of proteins and carbs for each person for every two hours on the road. Carbs like fruits, vegetables, baked oatmeal cups, chips, ranch crackers or granola bars are great snacks, but won't keep them full long. That's why it's important to plan to bring a high-protein snack, like Hiland Dairy, for each small meal.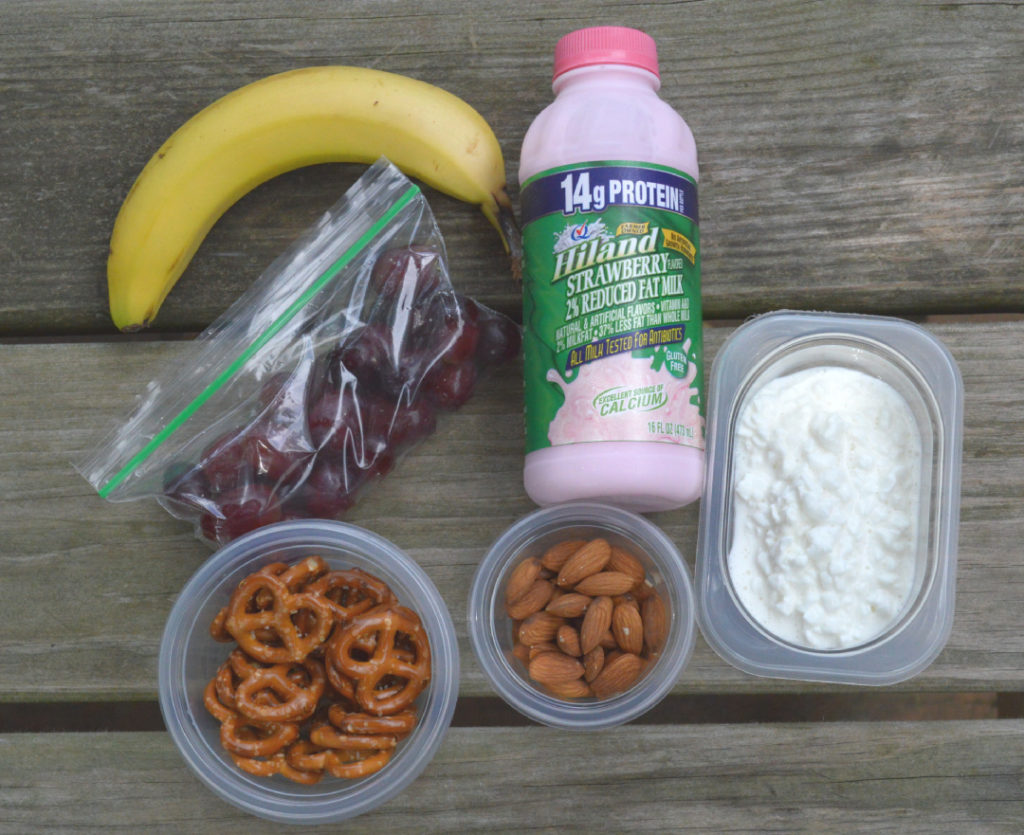 Now that I've shared my mom hacks for road trip snacking, are you ready for your summer adventures?
GIVEAWAY
Best way to kick off summer? Hiland Dairy wants to send one lucky family on an unforgettable road trip to Silver Dollar City in Branson, MO. Enter this amazing giveaway here.
One winner will receive:
(4) Multiple Admission Front-of-the-Line Trailbrazer Passes
(4) Show Lover's Passes
Hotel accommodations with shuttle service to the the park
$150 prepaid gas card
$50 coupon pack for Hiland Dairy products
Cooler to keep Hiland snacks cool on the drive
Enter this Silver Dollar City giveaway now for a chance to win an amazing family adventure. Giveaways ends July 31, 2019 and winner will be announced on August 5, 2019. Good luck!
While you wait for the winner announcement, make sure to print a $5 off admission coupon for Silver Dollar City and pick up a carton of Hiland Dairy Time Traveler ice cream. This chocolate lover's dream gets its name from the steepest, tallest, and fastest spinning coaster in the world – The Time Traveler at Silver Dollar City. It doesn't get better than ice cream and roller coasters in the summer!