Fresh, local fruits and vegetables is one of my favorite perks of summer. I love shopping at Farmer's Markets and picking produce from my own backyard. With such a great selection of fresh produce, it's easy to throw together a simple fruit salad for a barbecue, potluck or picnic.
Here are 20 unique and easy fresh fruit salad reicpes you can make. If you have leftover fruit (and you don't want it to go to waste), try these frozen fruit cups. You can use any type of fruit you want and they are a perfect cool summer snack.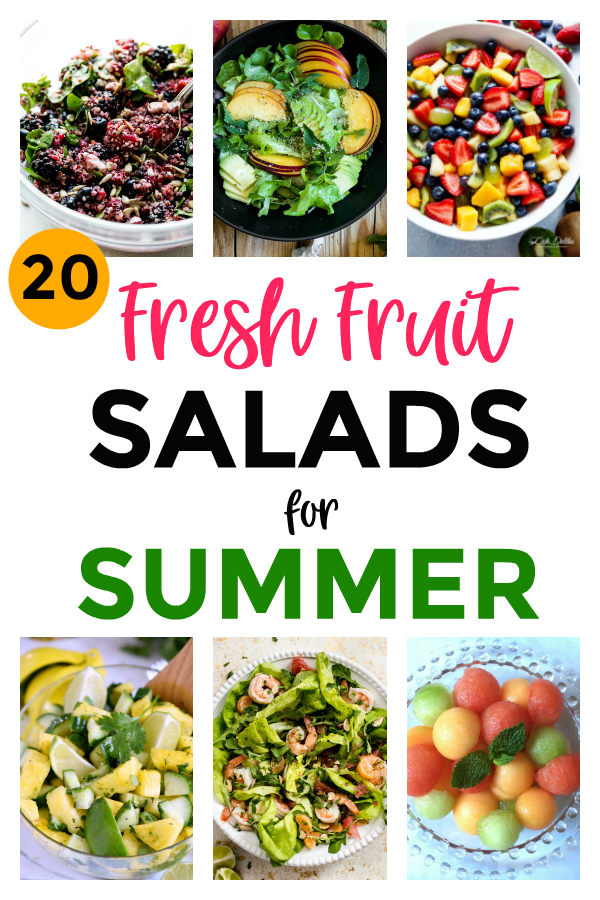 Summer Fruit Salad Recipes
Cherry Summer Kale Salad – This salad has a homemade balsamic vinaigrette that is amazing!
Fresh Berry Quinoa Salad (pictured above) – This easy quinoa salad is big on flavor with blackberries, blueberries, raspberries, spinach and gorgonzola cheese.
Thai Mango Salad With Peanut Dressing – If you like spice, try this zesty salad with lettuce, mangoes, jalapenos, bell peppers and a homemade peanut butter thai dressing.
Grilled Peach and Bacon Salad – Everything is better with bacon and buttermilk dressing, including grilled peaches!
Honey Lime Fruit Salad Recipes (pictured above) – This is a refreshing simple fruit salad lightly coated with a blend of honey and natural fruit juices.
Strawberry Avocado Pasta Salad – Try this unique and delicous pasta salad with strawberries and avocados with a creamy balsamic glaze.
Melon Ball Salad (pictured above) – Use these melon balls for a refreshing melon ball detox water.
Green Papaya Salad – Try this scrumptious 'slaw' style salad for a unique side dish.
Grilled Peach Salad – Get ready for your new go-to summer salad with grilled peaches, fresh mozzarella and a homemade mint & basil pesto.
Nectarine Salad With Dill Vinaigrette (pictured above) – Enjoy a perfect lunch with this salad, nectarine, and avocados with homemade dill vinaigrette.
Shrimp And Citrus Salad (pictured above) – This unique combination of citrus, lettuce and shrimp with homemade honey dressing will be your new favorite!
Baby Kale And Blackberry Salad – We love this protein rich salad with just a few simple ingredients and a basic lemon dressing.
Skinny Ambrosia Fruit Salad – Try light version of the classic creamy fruit salad.
Berry Watermelon Fruit Salad – Watermelon, strawberries, blueberries, raspberries, cherries and blackberries – oh my!
Citrus Salad with Basil Vinaigrette – Enjoy your favorite citrus fruits over salad with a homemade basil vinaigrette.
Citrus, Fennel, and Avocado Salad – You have to try this blood orange, clementine and grapefruit with fennel and avocado drizzled with a citrus maple vinaigrette.
Watermelon Greek Salad – Your favorite Greek salad with a fruity twist!
Pineapple Cucumber Salad (pictured above) – Try this beautiful salad with only 4 simple ingredients.
Blueberry Caprese Salad – Who can resist blueberries, tomatoes, mozzarella cheese, and basil coated with balsamic dressing?
Stone Fruit Kale Salad – This summer kale salad is loaded with peaches, plums, nectarines, goat cheese, and pistachios.
What's your favorite summer fruit salad?