We love grilling in the summer months. There's always steak, brats, hot dogs and chicken on our grill, but it's nice to throw side dishes on the grill too. The whole point of grilling is to not have to turn on the oven or stove and heat up the house. We decided to start grilling our side dishes so everything is cooked outside.
I compiled a list of 25 of my favorite grilled side dishes so you can cook your entire meal outdoors on the grill too! There are vegetable side dish ideas, kabobs, grilled corn, potatoes and even a delicious grilled peach salad. Some of these side dishes are so hearty and delicious you may decide to make them your main entree.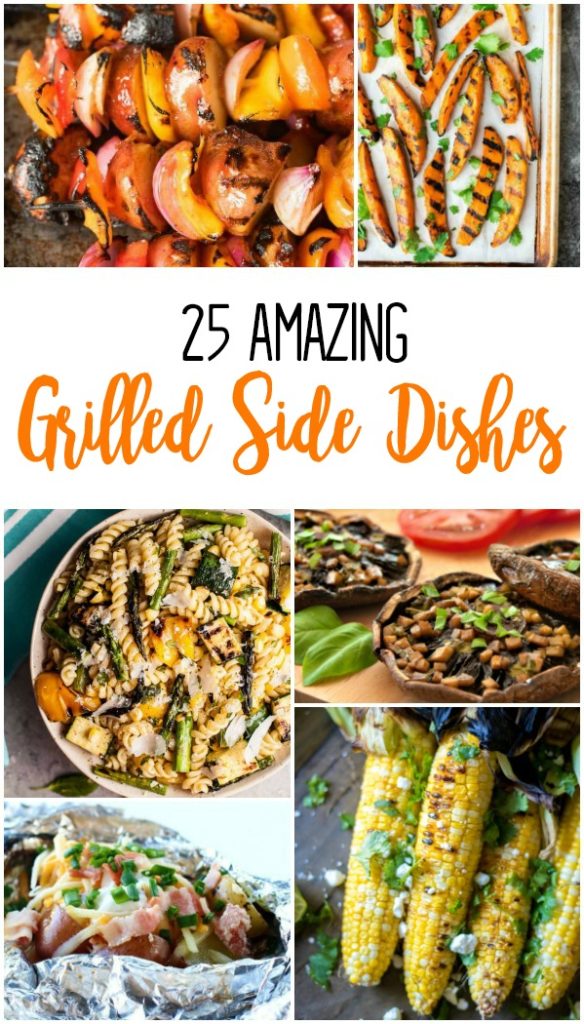 1. Rainbow Grilled Vegetable Kabobs
2. Grilled Loaded Baked Potatoes (pictured above)
4. Grilled Bacon Wrapped Green Beans
5. Wasabi Plum Grilled Mushrooms
7. Mexican Grilled Corn (pictured above)
8. Grilled Sweet Potato Fries (pictured above)
9. Ginger-Marinated Grilled Portobello Mushrooms (pictured above)
10. World's Easiest Grilled Vegetables – How to Cook Vegetables on the Grill
11. Grilled Veggies with Lemon Herb Vinaigrette
12. Grilled Peach Panzanella Salad
13. Pesto Grilled Veggies with Penne Pasta
14. Grilled Rainbow Vegetables and Portuguese Chicken
16. Grilled Baked Potatoes with Onions
17. Grilled Potato Salad Moroccan Style
19. Greek Marinated Grilled Vegetables
20. Grilled Summer Vegetable Pasta Salad (pictured above)
22. Grilled Vegetables and Couscous Salad
23. Easy Grilled Vegetable Marinade (pictured above)
24. Lemon Marinated Grilled Vegetables
25. Spicy Honey Vegetable Kabobs
Here are a few of my favorite grilling accessories to make cooking side dishes on the grill easy!


Which of these grilled side dishes are you most excited to try?