We're not vegetarians at our house – we have meat at every dinner. We eat ground beef quite often, but a lot of our meals are chicken. But lately, I've been branching out to other kinds of meat and I've loved smoked sausage. Until about a year ago, I don't think I have ever had it, but I saw a recipe that looked tasty, so I bought some and loved it! We don't have it every week – probably closer to once a month, but I love it. My husband loves it. My young boys even love it. That's a winner in my book!
I love this recipe on the grill, but in the winter months, I've also took to making a baked-in-an-oven version. You know, for when the grill is surrounded by a foot of snow and you just don't want to stand out there and fire it up.  It also works if I'm not able to get outside to man the grill myself – with 4 boys under the age of 5, it isn't always possible for me to babysit a grill.  With this recipe, I can just stick it in the oven and attend to other things.
When I was working full-time, I would prep these packets in the morning and place in the fridge.  My husband would often get home before I did, so he'd start up the oven and get them started.  Make it easy on him to help!  Make it easy on me to have dinner on the table!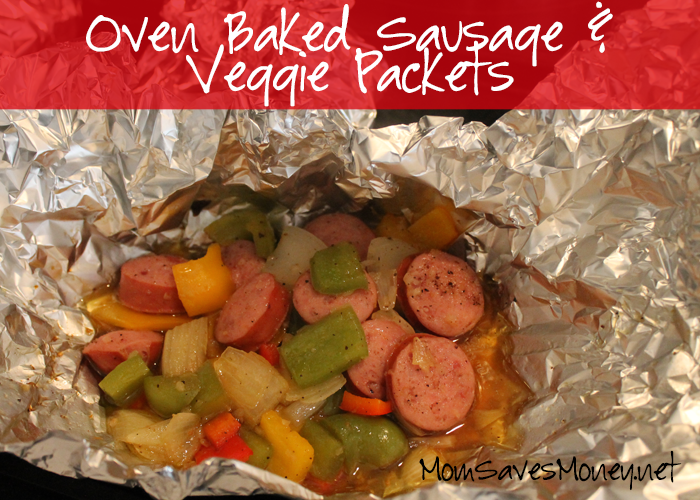 This recipe is very versatile. Don't like the veggies I have listed? No problem! Switch some out for what you do like. Want to make it without the smoked sausage? That's okay too – just add a 2-3 more cups of vegetables instead. It's just wonderful!
Oven Baked Sausage & Veggie Packets
Ingredients
1/2

pound

Smoked Sausage, cut into 1/2-inch pieces

2

medium zucchini, sliced

2

medium tomatoes, sliced (or a pint of cherry tomatoes)

1

pint

of mushrooms

1

red pepper

1/2

large onion, sliced

1/4

cup

olive oil (or melted butter)

1

envelope onion soup mix (or you can substitute 2 Tbsp dried onions and 1/4 teaspoons onion powder if you prefer)

1

tablespoon

brown sugar

1/4

teaspoon

salt

1/4

teaspoon

pepper
Instructions
In a large bowl, combine all the ingredients. Divide between two pieces of double-layered heavy-duty foil (about 12-in. square). Fold foil around sausage mixture and seal tightly.

Bake for 30-40 minutes. Check that the vegetables are tender. Open foil carefully to allow steam to escape.
Jayme is a wife to 1 and to four little boys. She coupons, but isn't super extreme about it. She price matches and loves it! While she likes to cook, she's in the stage of life where simple is usually better. She never knows how many hands she'll have free at dinner time. You can find her at No Regrets Living.