Disclosure: Contains affiliate link.
I absolutely love mystery boxes and I look forward to That Daily Deal's Christmas mystery box every year! The 2019 version is now available to order, but will sell out fast. I've been ordering these for close to a decade and this will be the LAST year they offer the Mystery Santa's Christmas Bag of Awesome. You won't know what's in your mystery box until it arrives and that's what makes it so fun (and a complete mystery). Order one for yourself or as a gift.
There are 2 Mystery Box options this year:
Standard Mystery Bag $34.99
Upgraded Mystery Bag $49.98
The value of the mystery box far exceeds the cost and the entire box is full of fun suprises and gifts. This is the last year of this amazing mystery box and they do sell out, so get it while you can. Order Mystery Santa's Christmas Bag of Awesome now.
Want a smaller surprise or a white elephant gift? Check out this White Elephant Gift Edition Mystery Box for only $10 each!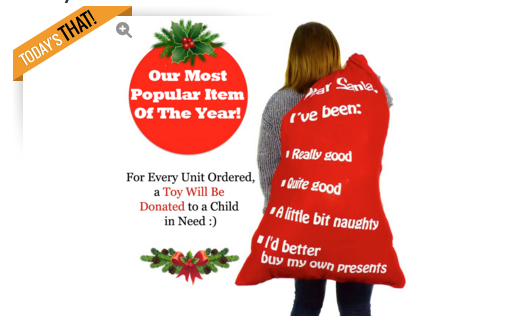 The mystery boxes will ship around the week of December 5 and will arrive in time for Christmas.
To give you an idea of what to expect, here are a few examples of what I've received in my mystery box over the years. Many of these items were given as gifts and I kept several of the items for myself. I've ordered the Christmas mystery box every year for over 9+ years and am always happy with the amount of goodies I get for what I pay. Definitely one of my favorite packages to receive every holiday season!
The last few years, as you can see in the pictures, I received many giftable items in my mystery box. Every mystery box will be different. My mom and I both order these and end up with a few of the same items, but most of the contents are different. Order Mystery Santa's Christmas Bag of Awesome now. These sell out and you don't want to miss it.
Love mystery boxes? This company also offers regular monthly mystery boxes so you can get a fun surprise every month!