Disclosure: Contains Amazon affiliate links. All opinions are mine.
If you have kids in your home, chances are, you've done a craft project or two. There's nothing worse that sitting down to have some crafty fun only to find you don't have the supplies you need to finish the project. I suggest creating a craft stockpile so that never happens again. Gather these 20 kid's craft supplies be make sure you always have what you need on hand.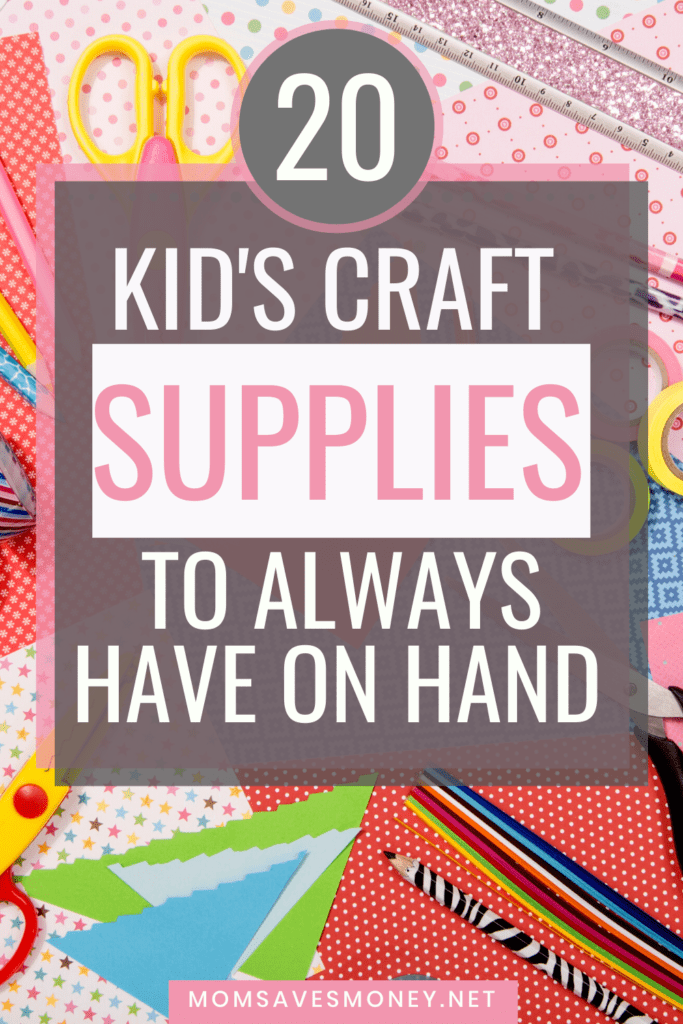 Paint is a fun craft supply that you must have in your arsenal. Just make sure it's washable, so you can easily clean up the (inevitable) mess.
Colorful construction paper is another must-have supply because it can be used in so many ways. It's durable, yet easy for your child to cut and rip, if needed.
3. Crayons
Crayons are a must. They're the perfect craft to supply when you want to easily entertain your child for a few minutes without having to worry about them making a mess in the process.
Crayons may be your go-to drawing supply, markers are a great option when you really want your child's artwork to pop.
While glue sticks may be better for paper projects, there's just something about squeezing a bottle of glue that makes a kid happy. Buy the washable kind, because you know you're going to have to clean up when you're finished with your project.
6. Scissors
In addition to making crafting a little more fun, learning to use scissors helps your child improve their fine motor functions and hand-eye coordination.
7. Play-Doh
Play-Doh is definitely a childhood staple, perfect for sculpting masterpieces. Add a few accessories to your craft supply stash for even more play-doh fun.
Used for sculpting, jewelry making, and fine motor practice, pipe cleaners are a great addition to your kids' craft supplies stockpile.
9. Pony Beads
Pony beads aren't just for making cute bracelets! You can use them for so many fun projects, from bubble wands to butterflies.
10. Googly Eyes
Because you never know when you're going to need to have to add silly eyes to something!
11. Pom Poms
These soft, fuzzy balls are great for craft projects, and they're to play with, too.
12. Paper Plates
Paper plates aren't just for eating! Use them as a paint palette or to make a fun mask.
13. Foam Stickers
Stickers are a great way to reward your child for a job well done, but they're also wonderful for adding some fun texture and design to a piece of art. Stickers are a perfect mess-free alternative to other craft supplies on this list.
14. Feathers
Your kids will love the fun texture and bright colors feathers add to their next craft project.
15. Kraft Paper
A never-ending roll of paper is the perfect kids' craft supply. You can use it to cover your table for messier projects or give your kids a huge canvas for a large piece of art.
16. Yarn
Whether your kids enjoy making string art, friendship bracelets, or adding bows to their paintings, you'll want to have some yarn on hand.
17. Tape
Plain tape is a must for hanging artwork when it's finished or to hold their craft pieces together. Colored masking tape or decorative washi tape are other fun ways to incorporate tape into your kid's designs.
18. Glitter Glue
All the fun of glitter without the mess. Glitter glue is a great way to add some sparkle to any project.
19. Contact Paper
Whether you need to protect a priceless piece of art or create a fun suncatcher, you'll want to have a roll of contact paper on hand.
These simple craft sticks are great for making anything from puppets to catapults to bridges. 
With these 20 craft supplies on hand, your kids will be equipped to create masterpieces any time or even make your own DIY school supplies. When you need to find an activity to keep the kids busy and entertained, you'll be ready!
What craft supplies do you always keep on hand? Leave a comment.