I'm not a huge fan of Italian food. There. I said it. It's not so much that I don't like it. It's okay…it's just not something I crave. But this creamy tomato spinach pasta has been a part of my meal rotation in some form or another for years. It's simple and delicious and filling, and a quick vegetarian meal option ready in just 30 minutes that looks like you tried a lot harder than you did. Sounds like a win to me!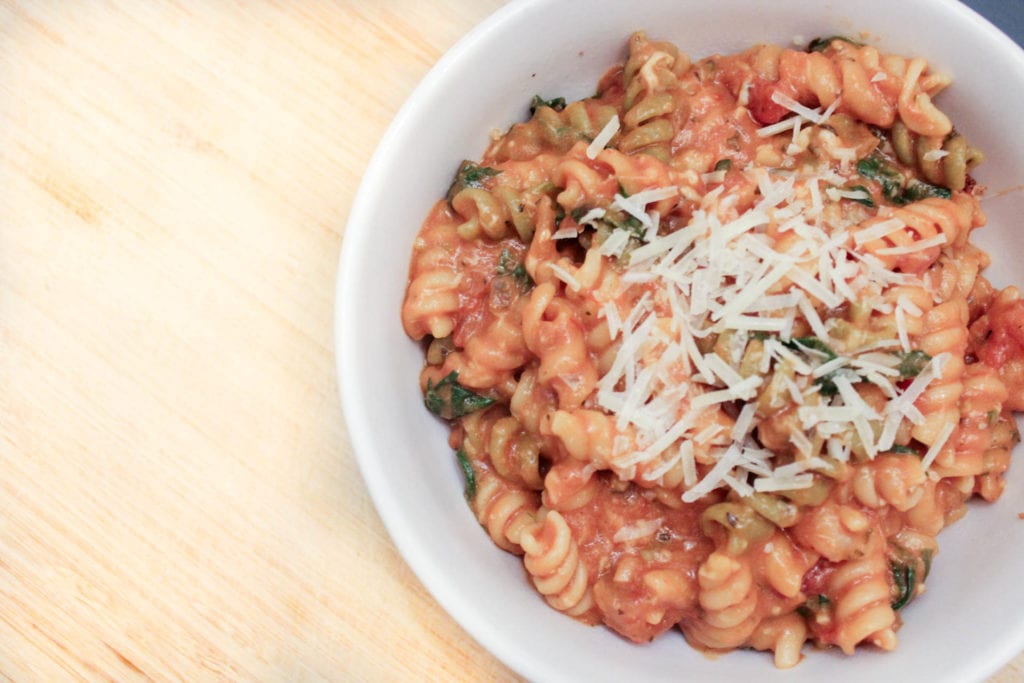 How to Make Creamy Tomato Spinach Pasta
So how does one go about making this fabulous dish? First I like to get the veggie prep out of the way. I chop up my onion (and garlic if I'm using whole cloves but usually I'm too lazy for that and just go with minced), and then I also like to roughly chop my spinach just because my kids are less bothered by the texture of smaller pieces. Then, I warm up a large skillet or pot, drizzle a tablespoon of avocado oil (but feel free to use whatever you have on hand) and sauté the onions until they begin to soften. While they are cooking, I set the water to boiling for the pasta (you can totally do this in the microwave.) Add the garlic and Italian herbs to the onions and saute for another 1-2 minutes. Add the tomatoes, tomato sauce, and balsamic vinegar and cook another 5 minutes until it starts to bubble up. Then, I add in the dry rotini pasta and the boiling water. 
One Pot Pasta-Cooking Magic
At this point it's gonna look like a big watery mess since you're cooking it all in one pot (less dishes, yes!) Just hang with it for 10-12 minutes and it will begin to look MUCH better and the results will be amazing. Feel free to add more water if your pasta is looking too dry…types and brands of pasta will vary in their requirements. Once the pasta is cooked through, add the chopped spinach and basil paste (or fresh if you have it!). Continue to cook until desired pasta consistency is reached. Then add the piece de resistance…the cream cheese! Stir until it's fully melted, and then salt as needed and serve.
I like to top it with a sprinkle of fresh Parmesan cheese, and my pasta loving family gobbles it up in no time flat. One pot, simple ingredients, comes together quickly….what more convincing do you need?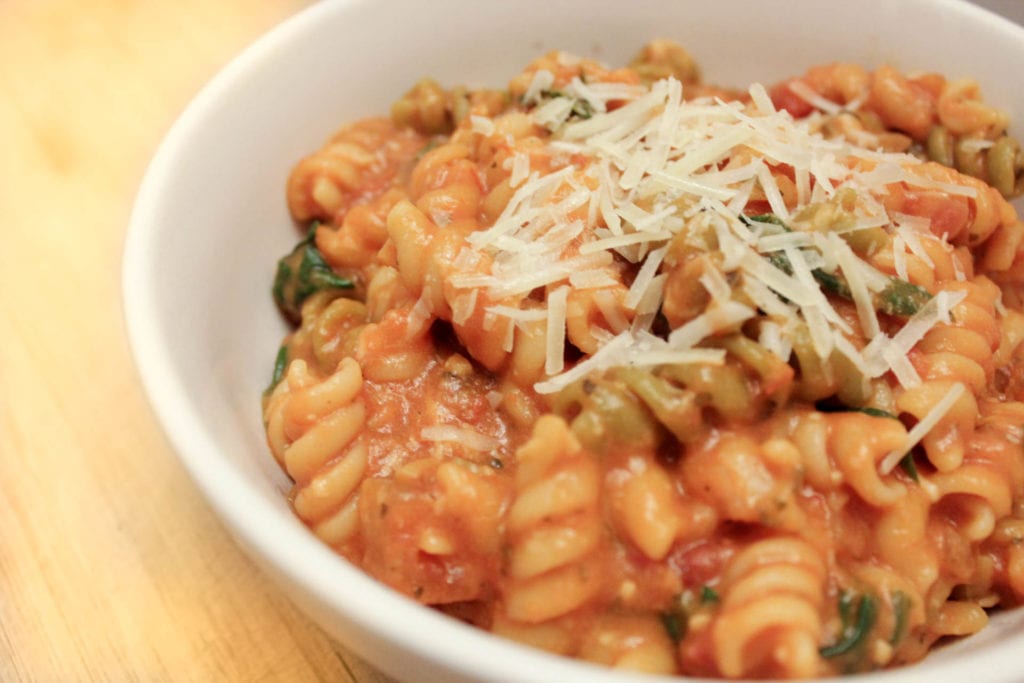 Love easy pasta dishes? Try these recipes:
Creamy Tomato Spinach Pasta
Easy and delicious one pot Vegetarian pasta recipe
Ingredients
16

oz.

rotini pasta

or your choice of pasta

1

Tbsp

avocado oil

or your preferred variety

1

medium red onion

minced

5

tsp

minced garlic

1

Tbsp

Italian seasoning

28

oz.

can chopped tomatoes

16

oz.

can tomato sauce

1

Tbsp

balsamic vinegar

3

cups

boiling water

you may need more

2-3

handfuls of fresh spinach

chopped

1

Tbsp

basil paste

or 2 Tbsp fresh chopped

4

oz.

cream cheese

cut into small pieces
Instructions
In a large skillet or pot, heat your oil and sauté your onions until they begin to soften.

Add the garlic and Italian seasoning and sauté for another 1-2 minutes.

Add tomatoes, tomato sauce, and balsamic vinegar. Cook for about 5 minutes on medium heat until bubbling.

Add 3 cups boiling water and the pasta and bring to a boil, then simmer for 10-12 minutes or until pasta reaches desired firmness. Add more water as needed.

Toss in your spinach and basil and stir over low heat until the spinach is wilted, about 2-3 minutes.

Add your cream cheese and keep over low heat until melted and thoroughly incorporated. Add salt to taste and serve, topped with Parmesan cheese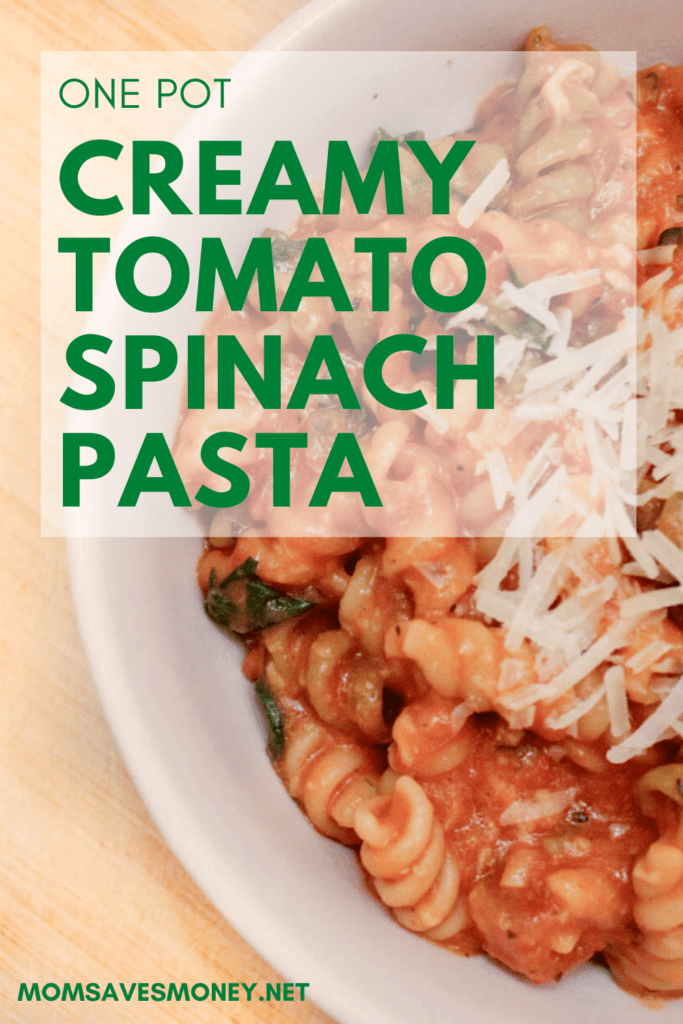 Jenny is a wife and stay at home mother of two. She loves good food, and enjoys experimenting in the kitchen. When she's not busy chasing kids, you can find her digging into a good book, enjoying the great outdoors, and trying not to kill her houseplants.