Disclosure: Contains affiliate link.
I received a new Instant Pot for Christmas and I'm so impressed with how simple it is to use and how quickly you can make meals. Pasta is one of the easiest foods to make in a pressure cooker and most of these recipes only take 10-20 minutes total! And, the great thing about pressure cooking is you don't have to babysit the food like you do when you cook over the stovetop.
I'm new to pressure cooking, so I had no idea you could actually saute your meat in it. I love that because it means less dishes to wash after dinner. Here are 20 easy pasta recipes for your pressure cooker. Let me know which one is your favorite.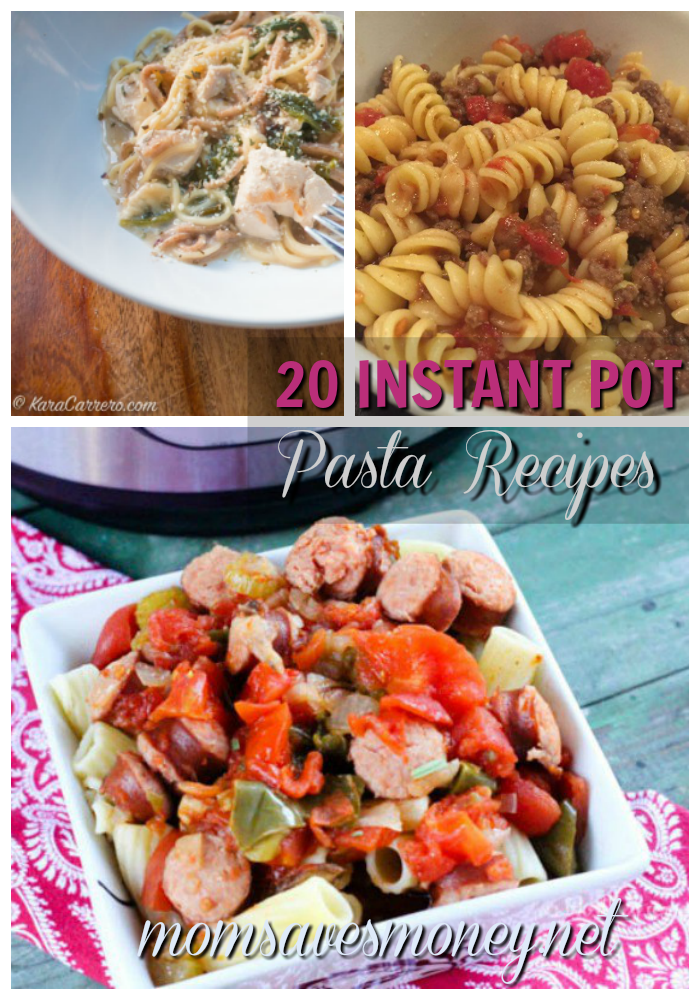 Vegetarian Pasta Recipes:
1. Macaroni and Cheese
2. Penne Rigata Pasta
3. Lunchtime Veggie Pasta
4. Easy Basil Pesto Pasta

Beef & Pasta Recipes:
5. Instant Pot Quick & Easy Spaghetti (pictured above)
6. Enchilada Pasta
7. Pressure Cooker Lasagna
8. Instant Pot Ravioli
9. Pressure Cooker Beef & Macaroni
10. Taco Pasta
11. One Pot Penne and Meatballs
Chicken & Pasta Recipes:
12. 20 Minute Chicken Florentine (pictured above)
13. Broccoli and Cheddar Pasta
14. Chicken & Bowtie Pasta Alfredo
15. Chicken Cordon Blue Casserole (with Rotini Pasta)
Sausage & Pasta Recipes:
16. Sausage Cacciatore (pictured above)
17. Instant Pot Creole Pasta
18. Sausage & Peppers Pasta
19. Pasta e Fagioli
Tuna & Pasta Recipe:
20. Tuna Noodle Casserole
Have you cooked pasta in your pressure cooker? What's your favorite recipe?