One of the absolute favorite snacks at our house right now is this homemade chocolate granola. It's packed with protein and healthy fats, and is a great filling treat. It's amazing plain, in a bowl full of milk, or sprinkled over some yogurt. Not to mention that as it bakes it fills the house with the most heavenly smell. My husband has asked me if I could make it every day purely because of how good it smells. But also because one batch doesn't last long in this house.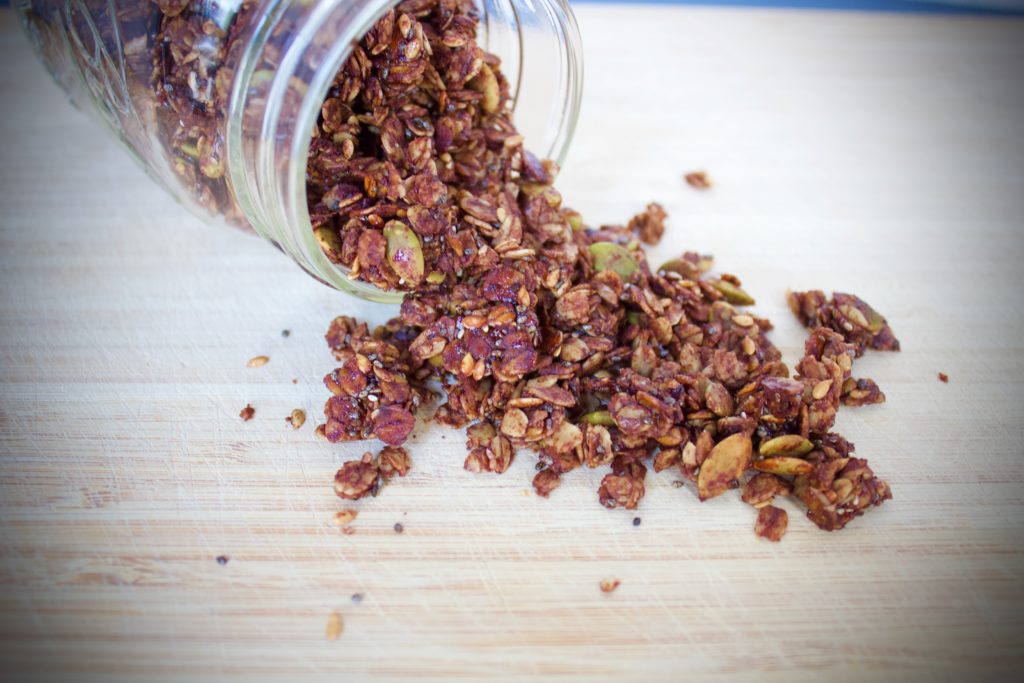 How to Make Chocolate Granola
Homemade chocolate granola is super quick to throw together, and only slightly high maintenance to bake. First, in a large bowl mix together the avocado or coconut oil (healthy fats!), honey (or real maple syrup if you'd like it to be vegan), cocoa powder, vanilla, cinnamon, and sea salt. Continue to mix until it's a smooth, chocolatey sauce. Then add in your dry ingredients, including rolled outs, pepitas, flax seeds, and chia seeds. Mix it all together until the oats and seeds are thoroughly coated and sticking together. 
Place parchment paper onto a large baking sheet and spread the mixture into a thin layer across the pan. Bake in a preheated oven for 45 minutes, mixing every 15 minutes. Be careful to watch it towards the end so it doesn't burn. You want the oats to be slightly crispy, but not overcooked.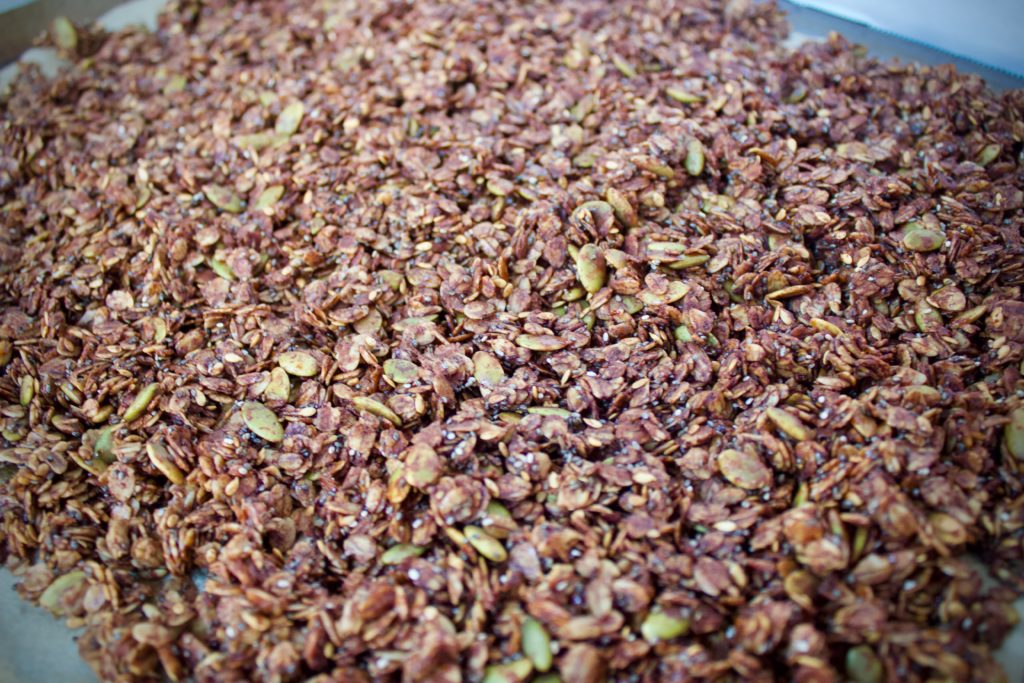 How to Store Homemade Granola
Allow the granola to cool completely before storing in an airtight container or glass jar. If you don't wait until it's cool you could end up with granola that isn't very crunchy due to the steam from the heat. But feel free to enjoy some while it's still warm. It's just as tasty fresh out of the oven as it is room temperature!
If you'd like to up the ante on the sweetness you can add some chocolate chips to the finished granola. I tried that once and it was good, but I also think it's plenty sweet enough without. Enjoy!
Love homemade granola? Try our cinnamon maple granola recipe too.
Homemade Chocolate Granola
Healthy and Delicious homemade granola
Equipment
Mixing Bowl

Baking Sheet

Parchment Paper
Ingredients
1/2

cup

avocado or melted coconut oil

1/2

cup

honey or maple syrup

5

Tbsp.

cocoa powder

1

tsp.

vanilla

1/2

tsp.

cinnamon

1/2

tsp.

sea salt

3.5

cups

rolled oats

1/2

cup

pepitas

1/4

cup

flax seeds

1/4

cup

chia seeds
Instructions
Preheat the oven to 275°F and line a large baking sheet with parchment paper.

In a large bowl, mix together oil, honey/maple syrup, cocoa powder, vanilla, cinnamon, and salt until you have a smooth chocolatey sauce.

Add oats, pepitas, flax seeds and chia seeds. Mix thoroughly until fully coated.

Spread the mixture in a thin layer across the baking sheet.

Bake for 45 minutes, stirring the granola every 15 minutes.

Allow to cool completely before storing in an airtight container. Enjoy!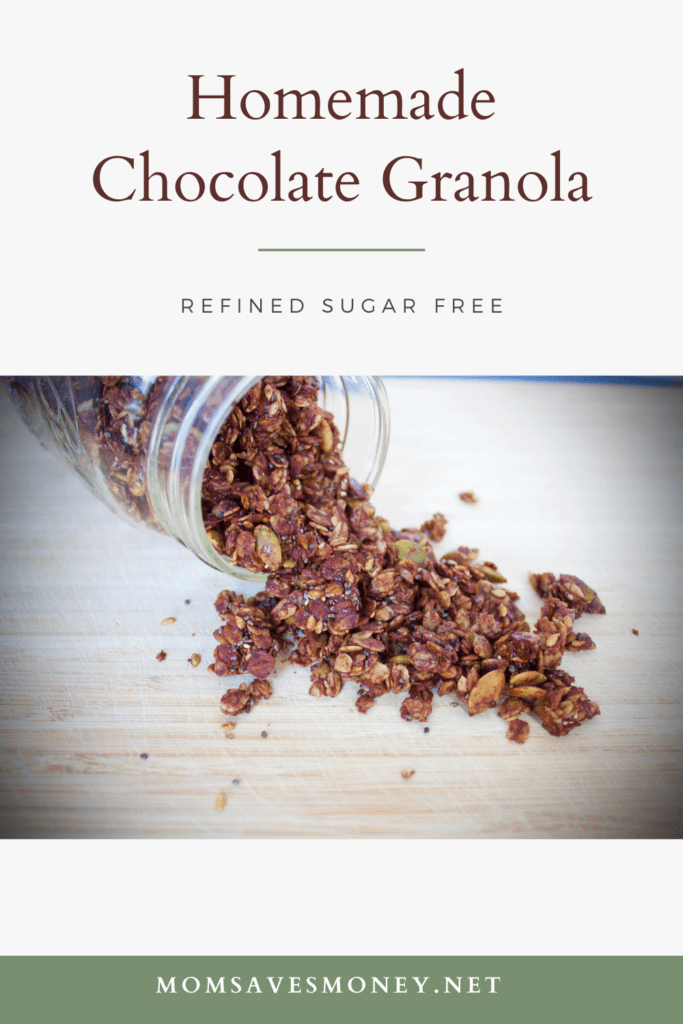 Jenny is a wife and stay at home mother of two. She loves good food, and enjoys experimenting in the kitchen. When she's not busy chasing kids, you can find her digging into a good book, enjoying the great outdoors, and trying not to kill her houseplants.