Recently, my husband decided he wanted to start eating healthier, so he's been monitoring his portions and being more selective about what kinds of things he eats. After a week or so he realized that he needed to have some more filling, but healthy snacks, and suggested I buy granola. Unfortunately, most granola is pricey, and higher in sugar. So I decided to make some from scratch, and my people… this cinnamon maple granola absolutely blew my socks off!
Now I had actually attempted granola once before, and had been rather disappointed at the results. It wasn't really crunchy at all… it had more of a half-soggy texture that just wasn't appealing. No one ended up eating it and I eventually threw it away. This time around I discovered the trick is to make sure it cools off COMPLETELY before you store it so that the condensation doesn't ruin the whole batch.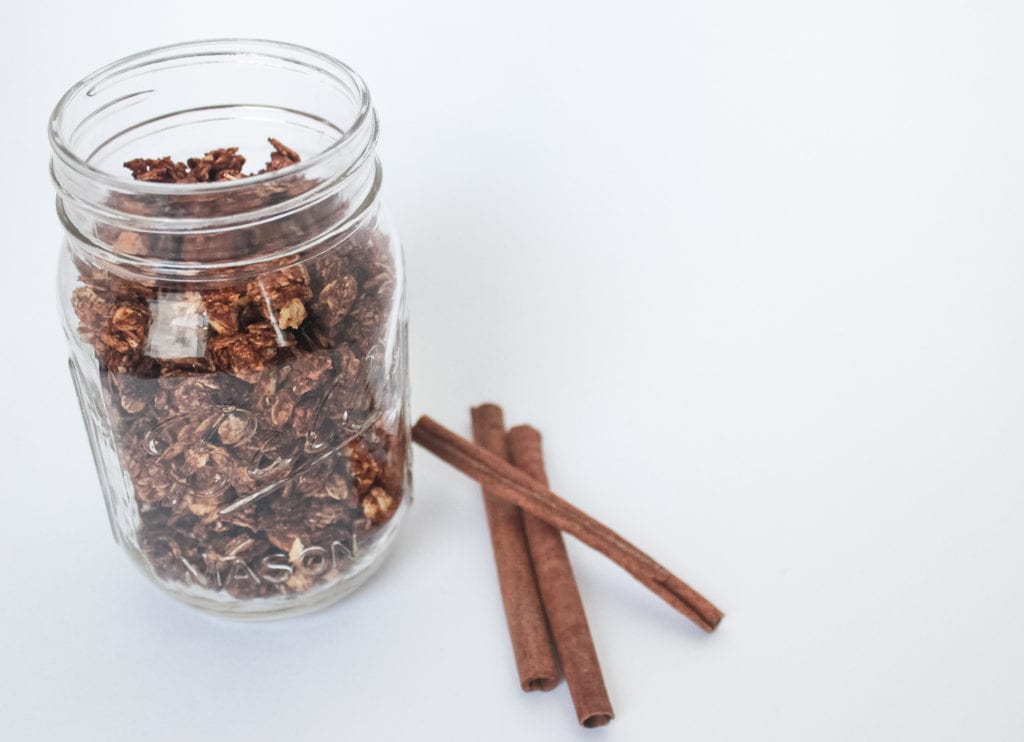 I actually can't decide what I love best about this granola. How relatively healthy it is, how easy it was to make, or how inexpensive it was. (I love saving money on my grocery bill.) But I'm pretty sure my husband is just thrilled it tastes so dang delicious. You also might just want to make this because of how glorious your house will smell while it bakes.
This recipe uses no refined sugar and only has 7 ingredients. It's also vegan, gluten, and oil free! I mean. Come on. I love that I can feel so good about feeding this to my family, and I love that they love it! My husband took a bite and declared he was unwilling to share. Good thing for the rest of us that the cook makes the rules.
Enjoy this with a bowl of milk, sprinkled on top of some yogurt, or munch on a handful as a snack. Just do your best to wait until it cools before you sample your creation… your taste buds will enjoy it a lot more if they're not burnt to a crisp (ask me how I know).
If you love simple and delicious breakfast recipes, you can try my healthy banana oatmeal breakfast muffins or one of these 15 easy breakfast recipes.
Homemade Cinnamon Maple Granola
Vegan, gluten free, and oil free granola
Ingredients
2

cups

rolled oats

½

cup

almonds

crushed

¼

cup

real maple syrup

¼

cup

roasted almond butter

2

Tbsp.

cinnamon

1

tsp.

vanilla extract

pinch

of salt
Instructions
In a large bowl, whisk together almond butter, maple syrup, vanilla extract, cinnamon, and salt until smooth.

Pulse your almonds in a food processor.

Combine rolled oats and almonds, then add to wet mixture. Stir until well blended.

Line a baking sheet with parchment paper and spread granola out evenly. The more evenly spread, the more evenly it will cook.

Bake for 10 minutes, flip or toss granola, then bake for another 10-15 minutes until golden brown.

Let cool completely before storing in an airtight container. If it lasts that long!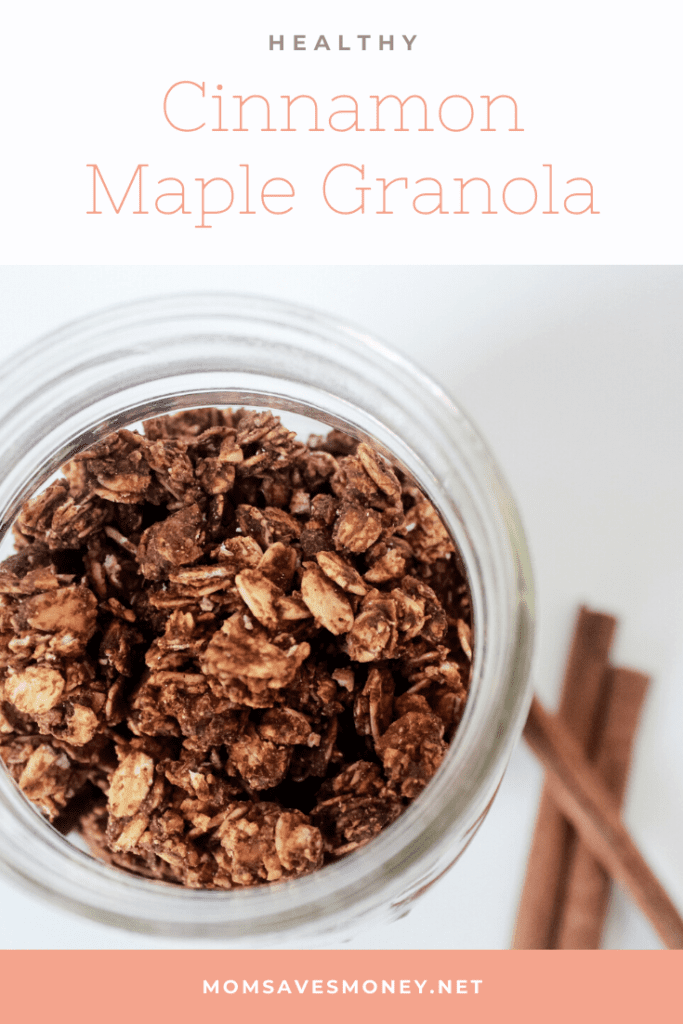 Jenny is a wife and stay at home mother of two. She loves good food, and enjoys experimenting in the kitchen. When she's not busy chasing kids, you can find her digging into a good book, enjoying the great outdoors, and trying not to kill her houseplants.