Disclosure: Contains affiliate link. All opinions are mine.
Are you excited? Amazon Prime Day officially starts tonight, July 10, at 9pm ET with 30 hours of deals! There will be new deals as often as every 5 minutes. This is an exclusive shopping event for Amazon Prime members that you won't want to miss.
Want a head start on the deals? Amazon has listed the upcoming lightning deals. If you are interested in a deal, simply click 'Watch this Deal' to get notified when it goes live. There are thousands of deals, so preview the list now so you don't miss out.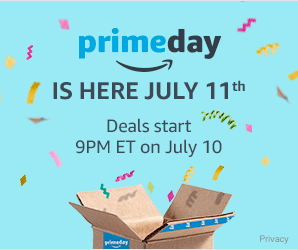 Upcoming Deals on Prime Day: (Just click each category to see the deals)
Toy Deals & More – Find great prices on toys, clothes, car seats, baby products and all things for the kids!
Deals for Techies – Amazing prices on bluetooth speakers, headphones, laptop accessories and even a laptop for less than $190!
Beauty Deals – Scrubs, makeup, cleansers, brushes, tools and much more.
Deals for Gamers – Video games, headsets, gaming chairs, gaming glasses and all things for your gamer.
Deals for Home Chefs – Markdowns on air fryers, kitchen utensils, coffee makers, cooking sets, grills and many kitchen gadgets.
Fitness & Health Deals – Find deals on everything from sports drinks, goggles, tennis shoes and outdoor games.
Deals for Bookworms – Reading lamps, books & more!
DIY Deals – Score deals on tools, outdoor lighting & all things DIY.
Pet Deals – Find great prices on pet food, toys, accessories and more for your furry pets.
Movie Lovers – Movies, speakers and more!
There are even more deals, so make sure to check out the Prime Day page to preview everything and start watching those deals!
Alexa Exclusive:
If you have an Alexa enabled device (Amazon Echo, Echo Dot, Echo Show, Amazon Tap, Amazon Fire TV, Amazon Dash Wand or compatible Fire tablets), get exclusive access to Prime Day deals 2 hours early, starting at 7pm ET! Just ask 'Alexa, what are your deals?' Preview upcoming Alexa deals now.
Amazing Prime Deals Available NOW:
Kindle Unlimited – Save up to 40% on a Kindle Unlimited membership with more than 1 million titles available. I subscribed to Kindle Unlimited last year on Prime day and have already saved several hundred dollars on ebooks.
Audible – Save 40% off your first 6 months of Audible.
Amazon Music Unlimited – If you haven't tried Amazon Music Unlimited, get four months for only $0.99. This is on-demand music service with tens of millions on songs!
Prime Pantry – Save up to 35% with coupons on select food and household items.
Not a Prime member? Start a 30-Day free trial now to get access to these amazing deals on Prime Day.